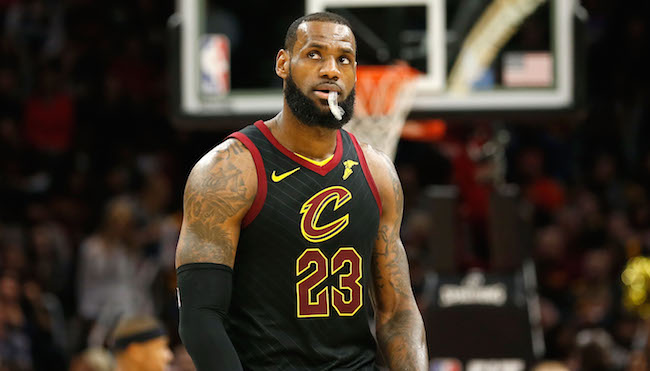 All eyes are on the Cleveland Cavaliers as the NBA's trade deadline approaches on Thursday afternoon. Everyone assumes the team is going to do something, but for a squad that is trying to figure out whether it makes sense to go all-in when there's no guarantee LeBron James returns next season, the move (or moves) they make may not be blockbuster-worthy.
For ESPN's Adrian Wojnarowski, it's actually pretty simple. With how big of a mess the Cavaliers are right now, there isn't anything that the team can do to fix their myriad of issues in such a way that they become a threat to unseat the Golden State Warriors and win a ring.
Wojnarowski appeared on Zach Lowe's The Lowe Post podcast to discuss the upcoming trade deadline. Things kicked off with Wojnarowski discussing the Cavaliers and how they're stuck in no man's land right now.

"I think the worse this team gets, the worse the environment, the relationships — and the relationships are frayed at every level, player on player, coach on player, owner on player, front office [on] star player — that there's no savior for them," Wojnarowski said. "There's no trade that's going to fix this, certainly not anybody who's available or who they can get with what they have."
At the center of those bad relationships are that last one: The relationship between the front off (i.e. Dan Gilbert) and the star player (James). Let's head to Sam Amick of USA TODAY Sports for more.
If Gilbert didn't have all the emotional baggage of LeBron's 2010 departure weighing him down, he'd see that any other team in this situation would do anything and everything they could to keep a player of his ilk. Instead, the noise about Gilbert being more than happy to say goodbye to James when the summer rolls around grows louder. And while only Gilbert knows how he truly sees it, there are members of James' inner circle who have been hearing this narrative for months now.

Gilbert wants his team back. C'est la vie LeBron. It's a self-fulfilling prophecy, one that could result in a relatively quiet trade deadline for the Cavs and with Gilbert likely living to regret the ill-advised tact he took – again.

This brings up a really interesting crossroad for Cleveland. If everyone hates everyone else, and there's no way for the team to fix its various issues through a trade, why not just let this season play out and approach this summer as a chance to start over? The response to that, of course, is that James might leave, but Wojnarowski kind of made it sound like that's something the organization expects will happen.
"I think the Cavs are really weighing how much, if at all, do we give up, do we cut into our future assets, whether it's draft picks, even their own pick, which has been readily available, their own 2018 pick, not the Nets pick," Wojnarowski said. "Do they do that, even? Anything that short circuits the rebuild that I think they feel pretty confident is going to come here based on how this has gone, how much do they want to do to mortgage any of their future? I get not doing the Nets pick, but why trade even their own pick?"
The Cavaliers have three days to figure out if it's worth going for broke or playing the long game. If Wojnarowski is right, the team has a pretty good idea of what direction it's going to go in.