It has been three weeks since George Karl gave Phil Jackson a breather and became the most hated man in the NBA. His new memoir, "Furious George," has had the former NBA coach in hot water because his stories seem bitter and mean-spirited to many. This has left him surprised and disappointed, because he's not out to hurt anyone. After all, Karl still wants to coach in the NBA again, so burning bridges isn't the best strategy for a comeback.
We'd be foolish to believe that Karl's phone won't ring again, with the way coaches are fired and recycled. But he will still be scrutinized for calling Carmelo Anthony a diva who put his brand above all else; using the dreaded P-word in describing his complications with coaching J.R. Smith; claiming the NBA has a huge steroid problem; fueling conspiracy theorists (*points to self*) who believe the NBA favors certain teams; and blaming Damian Lillard for Portland's woes (not actually in the book, but still related). And that's only based on the excerpts the media has reported on, because the book was only released on Tuesday.
Just as Karl admitted in his book that constantly answering questions about Anthony in Denver wore him down, he also sounds tired of talking about the backlash to his book. Still, even he must admit that it's at least funny, if not incredibly frustrating, that he's being ripped for calling out diva players at a time when Derrick Rose walked away from his team after fighting with his coach. Or Rajon Rondo is openly disagreeing with his coach. Or Ricky Rubio saying that he needs to "get on the same page" as Tom Thibodeau, who isn't always the easiest coach to play for. Or we're patting Tyronn Lue on the back for breaking LeBron James after he ran David Blatt out of Cleveland. Or… you get the point.
But Karl doesn't admit it. Instead, he's very diplomatic about it, which is the telltale sign of a guy who just learned a lesson about dishing dirt in a memoir.
"Every NBA season has its mysteries, and it has stresses," he tells me. "Part of understanding coaching is understanding that these are going to be there. You try to stop them from happening, but when you're in an NBA season and you lose 40, 50 games the coaches are going to say things that will be misinterpreted. It's just a part of the process."
Part of Karl's process, as we learn from his stories, has been trying to find some sort of common ground with his stars. In the same story about his difficulties with Kenyon Martin, who recently ethered his old coach on The Players' Tribune, Karl mentions a similar problem he had with Gary Payton in Seattle:
I was pissed at the insubordination. Also incredulous: who'd ever seen such a thing? But if I came back hard, with anger, I knew I'd only make the situation worse. I remembered how Gary Payton and I were at each other's throats until, after more than a year, we found some common ground. I knew I had to work with this guy, keep trying to figure him out.
What was it, then, that made the relationship with the Glove work?
"Communicating with him, getting to know his mom and dad, his family. It takes time for trust to be built up. We were combative early in our relationship, we fought and pushed, and we ended up being good friends. We still are."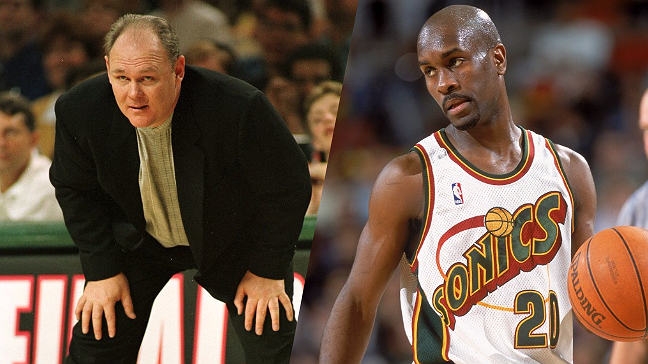 Karl can't pinpoint the exact year that things changed in the NBA, but he readily offers the obvious: "The game that was played in 1980 is different from the game that's played today." Part of that, he says, is the ushering in of the social media era. With Facebook and Twitter, the stars' brands have grown. He doesn't remember #BRANDS mattering as much as they did in the '90s, but in today's NBA, they matter too much. "The game is changing, it's getting bigger," Karl says as if he's rubbing a crystal ball. "The money is really big, and it's moving so fast."
On Thursday, Adam Silver addressed the media about the future of the All-Star Game, offering the latest evidence that the NBA will inevitably expand beyond North America, a grand sign of how fast things move. Let's not get too far ahead of ourselves, though, because Russell Wilson has also promised to bring the NBA back to Seattle. That's obviously something that Karl is eager to see.
"I hope so. Seattle deserves a team, there's no question in my mind. It was a very good basketball town when I was there. Seattle's a beautiful city, even with the rain, and it's a beautiful place to live. Basketball was a big factor in that city for about 30 years and all the sudden they feel naked."
Expansion is a delicate idea because it stretches a league that is already short on stars even thinner. But as long as teams that were once sold for $10 million are now worth billions, including the star-less perennial underachievers, forever stuck in the rebuilding process and wasting lottery picks, the NBA will consider every option.
The new CBA will also make players wealthier than ever, even offering absurd financial incentive for stars to stay with small market teams instead of jumping to the Lakers or Celtics or wherever Nike wants them to play. Does that kind of brand inflation concern Karl? Will making players even wealthier become a bigger headache for coaches and possibly ruin the product for fans?
"I think the fans are going to figure that out. Will the fans still like the idea of it being multi-billion-dollar business? The players, today, compete at a great level, and that's what the fans want. If they sustain that, the fans will be fine."
See? Diplomatic.
Just because he isn't coaching right now, it doesn't mean Karl isn't paying close attention. He isn't as intense with his NBA viewing as he would be during a season, but Karl still watches plenty of basketball. "Probably five days out of the seven," he says. If there's a good college game on, he might choose that over TNT's NBA game of the night (when we spoke, he was settling in for North Carolina-Wake Forest), but even as he claims to be a little more relaxed now, he can't take off his coach goggles.
"I still look at the game as if I'm involved with it, trying to figure out what's going on with a team or what teams are trying to do against each other. I'm analytical, very much analyzing the strategy, the substitutions, the patterns."
So, with so much negativity tied to his name lately, I wanted him to tell me something positive about what he's been watching. Is there a player that is dazzling him? Is there a team flying under the radar with the ability to sneak up on a superteam or the defending champs when the playoffs eventually begin? Is someone doing something that makes you want to be a better man?
"The team I'm a fan of is Houston. I've been very impressed with James Harden, but also how they've committed to D'Antoni's system. They play it like they've been in it for a couple years. I might not have seen them play a good team yet, but when I've seen them play I've been impressed. Their defense is much better than it was last year, and I don't know if they can win games with defense, but I think they can."
Karl doesn't like to play that dumb game we all play, awarding the MVP to a player "if the season ended right now," but he can see Harden taking the hardware if he keeps this up. Even if Russell Westbrook is also having the season of a lifetime, too. What about the bigger picture, though? The MVP is fun and all, but how can we be excited for our teams when only a few teams really matter?
"Cleveland and Golden State are heads and shoulders right now. But there's still a trade deadline, there are still injuries, and probably a couple surprises that we don't even know about. That's what is fantastic about the season. Maybe my best year in basketball, we started 17-16 and finished the season 57 and whatever. Sometimes you get off to a good start, sometimes the schedule gets you in the wrong way. You just have to stay patient because it is a long year. You can change your ways, you can change your destiny."
He's not nearly as angry as headlines made him sound, but being Mr. Nice Coach doesn't sell as many copies. Karl is just a fan of the game right now, with a few stories he felt like sharing, and whether he's loved or hated because of it, he'll still be watching and analyzing, and probably pulling for the Rockets.