This NBA season has blessed hoops fans with the most exciting Rookie of the Year race in recent memory, and just as things were winding down, it helped us get #PettySZN off on the right foot.
Donovan Mitchell and Ben Simmons are both bonafide superstars in the making, and each has a strong case for ROY. But alas, there can be only one. Mitchell, for this part, ascribes to the popular notion that Simmons isn't a true rookie since an injury kept him sidelined for his entire first season in the league.
And in keeping with the times, he fired a sartorial-based shot across Simmons' bow by wearing a hoodie with the dictionary definition of the word "rookie" printed on it. This was, of course, in response to Simmons' earlier claim that he has no competition for the award. It went on like this for a few days, and everyone agreed that a good time was had by all.
The more overarching existential dilemma of what constitutes a rookie in the NBA notwithstanding, we have a great deal more pettiness to look forward to when the first round of the playoffs kicks off this weekend. Here's our primer for the matchups most likely to bring out the petty in the league's second season.

Giannis Antetokounmpo vs. Aron Baynes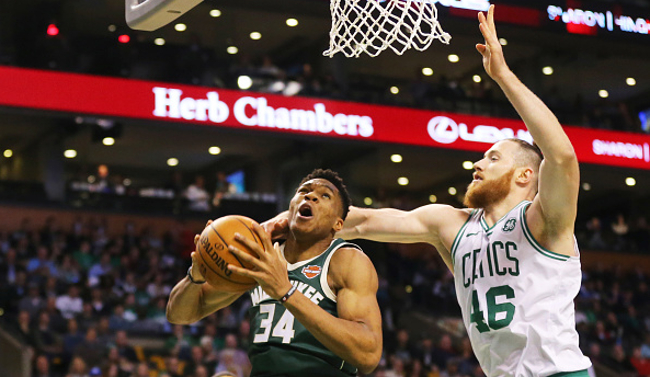 Earlier this season, the Greek Freak had a field day dunking all over a hapless Aron Baynes, simply because he could. For Giannis, Baynes is like that one friend you can't help but be mean to even though you know it's cruel, but he just elicits such a visceral reaction in you that it's nearly impossible to fight it.
When the Bucks match up against the Celtics in the first round, we cannot wait to see how many times Giannis tries to posterize sweet, innocent Baynes just for the pure pleasure of doing so.
LeBron James vs. Lance Stephenson
Indiana tends to bring out the best in Lance Stephenson, both as a basketball player and as an instigator. Back in the halcyon days of the Pacers-Heat rivalry earlier this decade, Lance gave us one of the best memes in NBA history — and history in general — when he blew in LeBron's ear during a playoff game.
Lance, of course, is older now and has ostensibly been humbled by life as he nearly played his way out of the league after a disastrous stint in Charlotte and a few other stops along the way. So we can safely assume we'll see a more mature, even-keeled version when the Cavs and Pacers square off in the first round … oh, who are we kidding? We're talking about Lance Stephenson. In the postseason. Against his old nemesis. On the biggest stage. This is going to be glorious.
Zaza Pachulia vs. The Spurs (and the people of San Antonio)
Zaza Pachulia has been persona non grata around San Antonio — and everywhere else among fans of fair play — ever since he stepped under Kawhi Leonard as he was shooting a jumper in the playoffs last year, spraining Leonard's ankle and effectively torpedoing any hope of the Spurs pulling off an upset against the eventual champs.
And his antics didn't stop there. The Warriors' resident enforcer has a reputation for dirty play, and with the way the overall intensity dials up during the playoffs, it feels inevitable that there will be some sort of incident. Either way, there will be plenty of antipathy for Pachulia among the people of San Antonio.

Joel Embiid vs. Hassan Whiteside
Joel Embiid and Hassan Whiteside have something of a history. Things got testy during a disproportionately competitive preseason game last fall in which they trash talked relentlessly while Embiid went 1-for-7 from the field and Whiteside nearly fouled out in less than five minutes of action. Then they kept it going on social media after the game, which is where Embiid really tends to shine.
Unfortunately, Embiid is still out with a facial fracture and won't be available for Game 1, but here's to hoping he comes back soon so we can see these two go at it, on and off the court. Both are supremely talented and will have a lot to prove, and we can pretty much guarantee that whoever wins this battle will not do so graciously.
Players vs. Refs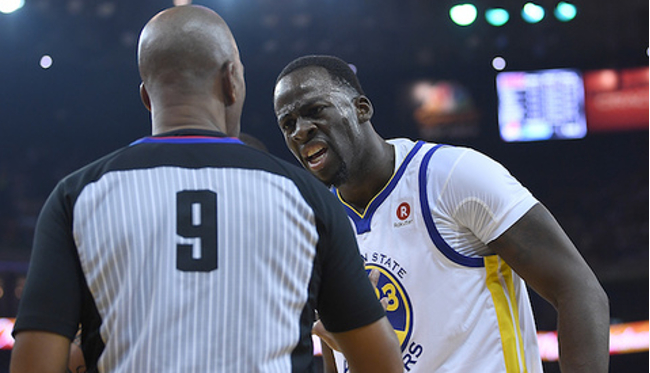 The animosity between the players and the referees reached a tipping point this season, with several of the NBA's biggest stars earning ejections and numerous public pleas for the league offices to institute some sort of change. It didn't help matters when almost no one showed up for an arranged summit between the two parties during All-Star Weekend in Los Angeles.
The playoffs are notoriously difficult to officiate. To make matters worse, the players will have to walk on eggshells so as not to hurt their team with potentially costly suspensions. All in all, the dynamic between the players, referees, and coaches is definitely one to watch when the postseason kicks off this weekend.