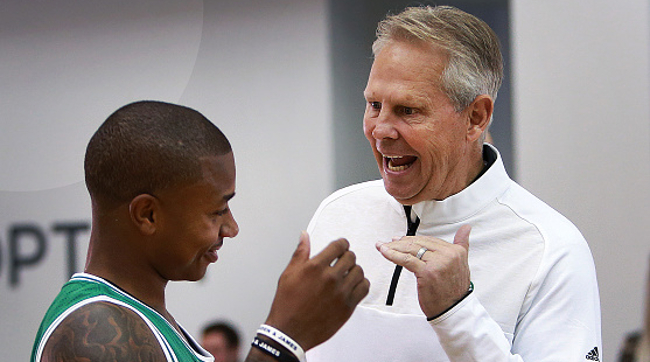 Isaiah Thomas made his much-anticipated Cavs debut on Tuesday night against the Blazers, and the early returns certainly look promising. Thomas had missed all of the season up to that point as he continues to recover from a nagging hip injury, but the All-Star guard barely missed a beat as he put up 17 points in just 19 minutes to help lead Cleveland to a 127-110 win.
But the organization is still wisely proceeding cautiously with Thomas, and as a result, the former Celtics star will be back on the sideline on Wednesday for the second night of their back-to-back in Boston. That development came as a major disappointment for the NBA world, many of whom were eager to see an Isaiah Thomas revenge game, and for Celtics fans who wanted to show their appreciation for his brief but illustrious stint with the franchise.
All of this has come amid an ongoing war of words between Thomas and Celtics president Danny Ainge over both how his injury was handled and his subsequent trade. The two hadn't been on speaking terms up to this point, but prior to tip-off, it appeared tensions had thawed significantly.
"Have I forgiven Danny?" Thomas said responding to a question from the media scrum. "Yeah, he texted me last night, so we're good."
There weren't any further details about the content of that exchange, but it's a remarkably different tone from Thomas, who said recently in an interview with Rachel Nichols on The Jump that he had no immediate plans to contact Ainge.
Thomas' next opportunity to make his on-court return at TD Garden will be when the Cavs travel to Boston on Feb. 11., and although he and Ainge seem to have buried the hatchet, it still promises to be an emotional return for a player who had become a beloved folk hero for the organization and the city.