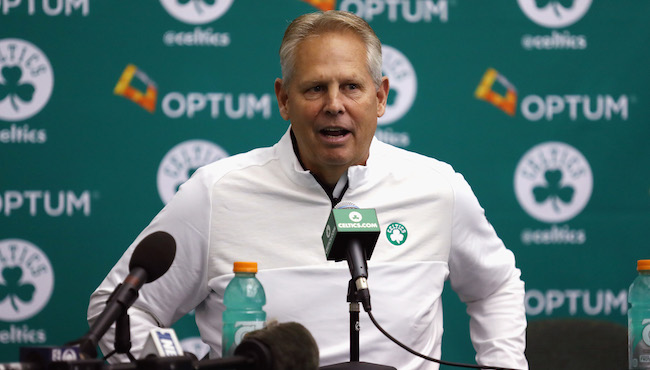 Isaiah Thomas and the Boston Celtics had a rather strange breakup. The Celtics flipped Thomas to Cleveland in a deal that sent Kyrie Irving to Boston, and based on Thomas' reaction to the deal, it really bugged him that the team he gave so much to moved him for another point guard.
An example of his devotion to the team came when he played for several months with a hip injury, one that has kept him sidelined into the 2017-18 campaign. Thomas has said that he would not have played in the postseason last year with a bum hip given what he knows now, but as it turns out, he may not have even known how badly he was hurt at the time.
Thomas did a sit-down interview with Rachel Nichols of ESPN before Cleveland's Christmas Day matchup with Golden State. Right in the midst of the interview, Thomas decried the Celtics' training staff for their handling of the injury.

Nichols asked Thomas about the advice he got from inside the organization, which led to Thomas saying "I do wish I had more information. It was never 'this could be something that can possibly shut you down for a while.' Cause if that was the case, I definitely wouldn't have played. But there's a time for that, and that time will … people will know what really went on and we will see about it."
The implication here is that Boston's training staff did not handle Thomas and his injury properly, which is an extremely serious allegation from the veteran guard. It's also one that Celtics executive Danny Ainge doesn't think is true.
Ainge went onto a local radio station and discussed Thomas' comments and wasn't especially happy.

Via NESN.com:
"I don't know what he's referring to," Ainge said. "I really don't remember what he's referring to."
When asked whether Thomas received a second opinion on his hip, Ainge simply said, "Yes, he did."
Ainge was in a situation where he kind of had to plead ignorance whether that was true or not. It's very possible he doesn't know what Thomas means with his vague statement, but even if he did, saying anything that would implicate his own medical staff would put him in a position he wants to avoid.
Regardless, this is the latest example of the grudge Thomas holds against Boston's general manager — he said that he may never speak to Ainge again for trading him, to which Ainge replied that he a ton of love for his team's former guard.