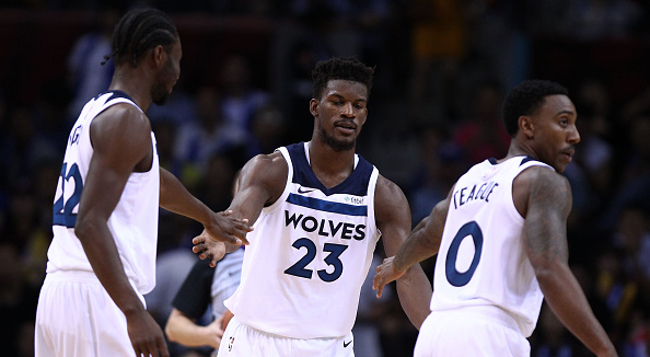 It's looking more and more like the honeymoon in Minnesota was over before it even started. By all appearances, the Timberwolves should be destined for bigger and better things. They staged one of the major coups of free agency last summer when they orchestrated a trade for Jimmy Butler, while simultaneously bolstering that core with savvy veterans like Jeff Teague and Taj Gibson.
The result was the team's most successful season since the heyday of the Kevin Garnett era. They had their first winning season since 2005, and ended a 14-year postseason drought with a dramatic win in their final game of the regular season over the Nuggets to secure the eighth and final playoff spot.
But their young stars — Karl-Anthony Towns, in particular — had a rough showing against the Rockets in the opening round, and no sooner had they been eliminated that rumors started to emerge of discord among their ranks. Those rumors gave voice to the pervading feeling that both Towns and teammate Andrew Wiggins weren't crazy about the idea of taking a backseat to Butler, and now it appears there was some ongoing friction between all parties involved.
Via Sean Deveney of Sporting News:
Sources familiar with the situation told Sporting News that Butler is uncertain about playing with Wiggins — Butler had problems last season with Wiggins, his work ethic and his approach on the defensive end of the floor. Thibodeau has had similar problems with Wiggins in the past, too, and he had some hope that bringing a tough-minded veteran like Butler into the locker room would spur Wiggins to improve. It didn't.

The security of a contract extension would be welcome for Butler. But the Wolves are locked into Wiggins for five years, starting next season. If Butler signs on to stay in Minnesota, he could be locking himself into playing with Wiggins for the foreseeable future. That's risky from Butler's perspective.
Despite some trepidation from both upper management and head coach Tom Thibodeau, the organization inked Wiggins to a massive five-year deal last summer. That certainly complicates the situation with Butler, whose contract expires after next season.
The Wolves doesn't necessarily have to make any drastic decisions about their future this summer, but they'll absolutely need to address whatever lingering issues remain between their core trio if they want to improve up their success last season and grow into a legitimate contender in the West.