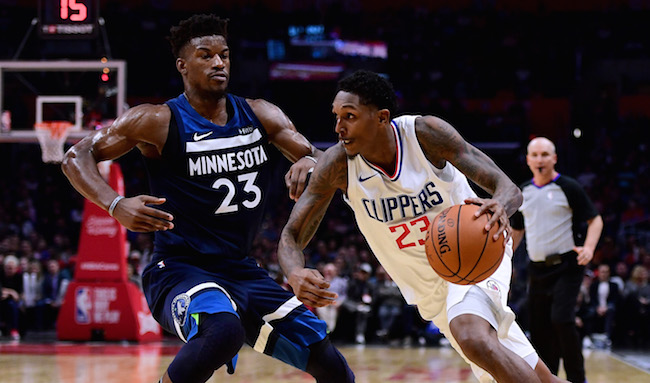 Jimmy Butler wants out of Minnesota, preferably sooner rather than later. The star shooting guard has one year remaining on his deal, but he'd like to spend this coming season somewhere else to get a jumpstart on the next chapter in his career.
Butler made his trade request known on Tuesday night in a meeting with Tom Thibodeau, as reported on Wednesday by Shams Charania and Jon Krawczynski. Not only did his trade request go public, but so did his list of preferred destinations, which has the Knicks, Nets, and Clippers (but not the Lakers) on it.
Butler clearly wants to be in a big market and to be the top star, at least for now, as his desire to join the Lakers was lessened by LeBron James' signing there this summer. While the New York teams were in the mix early, according to ESPN's Adrian Wojnarowski, the Clippers are his top choice. In fact, the latest report from Woj says Butler is "determined" to get there.

The Clippers have, well, never been a free agent destination, so this is big news for them. Having cleared significant cap room for next year means Butler can try to convince one of his friends to join him. There have been rumblings that he and Kyrie Irving have discussed teaming up next summer, and this could be the start of putting that plan in motion.
Still, the Clippers will have to convince the Wolves to deal Butler to them, which may not be the easiest thing to do in the world. They aren't exactly flush with young assets, but if they combine a Butler deal with the Suns' desire to land Patrick Beverley into a three-teamer and can get the Suns to part with someone like T.J. Warren, that may be the best route, as I laid out in this look at possible Butler trade packages.