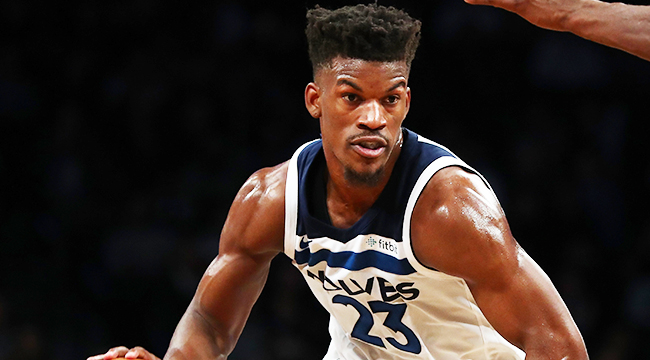 After months of speculation about whether he wanted to be in Minnesota, Jimmy Butler finally requested a trade during his meeting with Tom Thibodeau on Tuesday in Los Angeles.
Thibodeau reportedly still doesn't want to deal his star shooting guard, and may opt to keep him around for at least the start of the season to continue trying to mend fences — Minnesota is favored to still have Butler when the season starts for this reason. However, it seems like Butler has made up his mind and will, eventually, have to be traded.
Butler's shortlist of preferred destinations is reportedly the Clippers, Nets, and Knicks (not the Lakers, though), and he and his camp made sure that was public knowledge to help with leveraging a deal to one of those spots. That also could explain Thibs' determination to keep Butler being floated by ESPN's Adrian Wojnarowski as well, as that would keep them from looking desperate to move him and, possibly, allow them to hunt for a better deal.
The big question is trying to determine Butler's value. Few doubt him as one of the top-20 players in the NBA, but he's at a position (shooting guard) that isn't a premium spot. On top of that, he's not a great three-point shooter, and the wear and tear on his body certainly raises some concerns. He's a terrific player, but as we saw when the Bulls dealt him last summer, the value in return for Butler was far less than what most fans and media had expected. Now, he's got only one year left on his deal and may not re-sign with your team if you aren't on his shortlist, which only further hurts his value.
Beyond that, we don't know exactly what the Wolves want. Theoretically, they'd be wise to look in the direction Indiana went last year with Paul George, trying to find a young starter that has star potential if put into the right spot. However, Thibs might see this as a last gasp effort to save himself and look for a more immediate fix than one that would benefit this young Minnesota core in the future, since he might not be there to reap those benefits if things don't go well this season.
We'll start with the three teams on Butler's list and work from there, trying to find the best trade packages that seem reasonable for Butler based off the value the Bulls got for him last year and the Pacers got for Paul George in a similar situation.

Brooklyn Nets get: Jimmy Butler
Minnesota Timberwolves get: D'Angelo Russell, Kenneth Faried, and the right to swap first-round picks in 2020
If we're talking about young players that have tantalizing potential but have never quite put it all together, D'Angelo Russell is going to be near the top of the list. Putting him with Andrew Wiggins and Karl-Anthony Towns could be a very nice young trio, as he and Towns working in the pick-and-roll seems like a match made in heaven. There would be significant questions about that group on the defensive end, but those already exist in Minnesota as is.
Kenneth Faried seems like a guy Thibs would want, although DeMarre Carroll's contract also fits in that spot. Either way, they have to put one of those veterans in there to make money work and both seem like the kind of players Thibs would love to have.
Brooklyn's been burned too many times to straight up deal away a first, but toss in a 2020 first-round pick swap (like what Chicago got from Minny last year) and the Nets get two years to try and leap into the East playoff conversation before their pick is up for grabs. Minnesota, should it remain on an upward trajectory, can hope Brooklyn strikes out in free agency next summer and is in the lotto again in 2020.
New York Knicks get: Jimmy Butler and C.J. Williams
Minnesota Timberwolves get: Frank Ntilikina, Courtney Lee, Ron Baker, and a 2020 first-round pick swap
Again, we'll toss the pick swap in because I really don't think they're getting a first on its own for Butler, but they may be intent on getting some possible draft asset and the Knicks may believe by 2020 — with Butler, Kristaps Porzingis, and possibly someone else — they'd have a chance at being better than the Wolves. Minnesota gets a veteran shooting guard they can start right now in Courtney Lee, with only two years left on his deal, so it's not a tremendous financial commitment.
Frank Ntilikina is the centerpiece of the deal as a young, defensive-minded point guard that can continue to develop and hope he adds expand his offensive game. Baker makes contracts work and gives a little added depth on the wing, but is also an expiring.
The question here is mostly how valued Frank is by both Minnesota and New York. The Knicks are saying the right things about Ntilikina, but already have plans to move him off the ball. If there were ever a time to punt on an young asset that still might have value due to the unknown, it's here. Knicks fans would riot if they gave Frank away for nothing, calling it a wasted top-10 pick, but getting Butler would be a pretty easy sell.
Los Angeles Clippers get: Jimmy Butler
Minnesota Timberwolves get: T.J. Warren, Lou Williams, 2019 CLE or ORL second round pick via LAC
Phoenix Suns get: Patrick Beverley and Milos Teodosic
I really, really don't think the Wolves will want to deal Butler to the Clippers, simply because that makes L.A. a contender for the playoffs and only clutters the bottom of the West playoff picture. However, they're on the list, and as such, we might as well try to figure things out. We know Phoenix wants Patrick Beverley, and from there we can start to work on a three-team deal.
The Clippers unclutter their backcourt after taking two guards with first round picks by moving Beverley, Lou Williams, and Milos Teodosic. The Suns get not only one, but two point guards and give up T.J. Warren in the process, which opens up room on the wing for Trevor Ariza and first round draft pick Mikal Bridges. The Wolves add a young wing in Warren that has shown flashes of solid play, but never put a complete season together, and get a certified bucket-getter in Williams to lead the second unit in his sixth-man role. They also get a valuable second round pick in either the Cavs or Magic second rounder this season, whichever is better (or Portland or Houston if something goes horribly wrong there).

New Orleans Pelicans get: Jimmy Butler
Minnesota Timberwolves get: Nikola Mirotic, E'Twaun Moore, and 2020 first-round pick
I love the idea of the Pelicans landing Butler, even if it's pretty difficult to make happen with the Pelicans roster. Because of that, this is the rare spot where I think a first rounder has to go to Minnesota in return, because Nikola Mirotic on an expiring and E'Twaun Moore, who was good last year but doesn't move the needle a ton, isn't going to be enough.
Mirotic and Moore are both former Bulls, so that might pique the interests of Thibodeau, but they also fill some important roles for a Wolves team that will still want to compete this year. Moore as a reserve on the wing is quite solid and Mirotic would give them some needed floor-spacing from the power forward position between Towns and Wiggins. Getting a first here is the big prize in the long-term, but for the short-term, they get some pieces that can help. The Pelicans, meanwhile, suddenly have a very formidable trio of Butler, Jrue Holiday, and Anthony Davis that might be enough to convince Butler to sign on long-term.
Portland Trail Blazers get: Jimmy Butler and Justin Patton
Minnesota Timberwolves get: C.J. McCollum
This is the Kawhi-for-DeMar of the Northwest. I don't see this happening because C.J. McCollum is Neil Olshey's guy, but stylistically, I think this could work. Butler and Damian Lillard feel more complementary than Lillard and McCollum, given that they are both primarily scorers, and at this point, it's clear Portland could use to shake things up, much like what we saw in Toronto.
The Wolves bring in a dynamic backcourt scorer under contract for three more years, thus allowing them to keep their train rolling right along without the concerns other deals bring of taking a significant step back in the short-term. Minnesota, meanwhile, cuts bait with Patton and his injured foot.
For Portland, the worst-case scenario is Butler leaves and they've opened up cap space. But even then, they can sell it as a worthwhile risk to get better should Butler choose to walk next summer.
Philadelphia 76ers get: Jimmy Butler
Minnesota Timberwolves get: Robert Covington, Jerryd Bayless, 2019 CHI 2nd round pick, 2020 DAL 2nd round pick
The Sixers aren't giving up Markelle Fultz in a Butler trade, full stop. They're also not parting with the Sacramento first round pick they own and I'd be fairly surprised if they gave up a first at all for a possible rental. That said, of all their assets, I could see them parting with Robert Covington for the chance at Butler, coupling Covington's new 4-year deal with the expiring Jerryd Bayless contract to match money and ship off a couple quality second rounders to sweeten the pot.
The Wolves get a young player on a fairly team-friendly contract for the foreseeable future in Covington, as well as some more second rounders for future use. It's not a sexy trade by any stretch, but it sends Butler to the East and gets them a starting caliber wing. I think this is about as much as Minnesota could get out of Philly, who are the new Celtics in that they'll be involved in pretty much every rumor given their stacked pile of assets, but it would take something major for them to pounce.