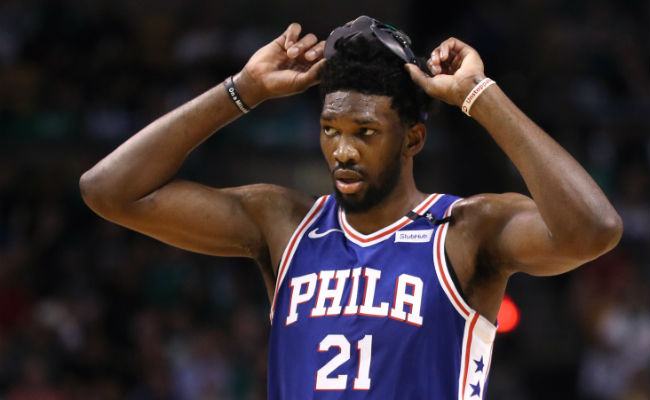 The Summer of Joel Embiid Dunks has gotten off to a rip-roaring start, with the Philadelphia 76ers forward taking his frustrations out on various members of the Philadelphia pickup basketball community. But after a while, yamming on some not-so-NBA-ready players can get a little boring, so it's nice to see that Embiid has upped his competition level as the days get longer.
Unfortunately for Mo Bamba, he suffered the same fate as the rubes on the outdoor courts. Embiid was playing pickup with some NBA players in Los Angeles on Thursday, including the Orlando Magic rookie, when The Process caught Bamba one-on-one in the post.
What followed is, plainly put, a learning experience for the sixth overall pick out of Texas and a lesson in the physical strength required of taking on the stronger centers in the NBA.

Embiid appears to initially lose the handle off the dribble, but his 7-foot frame easily went back up to bring the ball back down, find space inside and jam an easy dunk over an essentially helpless Bamba. To be fair to Mo, he does a pretty good job initially, but the play does show where he has to go as far as physical strength before he can reach his full potential as an elite NBA defender.
For good measure, Embiid screams "welcome to the f*cking league!" at him while he backed away, which is a pretty good exclamation mark on the play. The line drew a few laughs from people in the gym, so perhaps it's a good-natured barb, but it's clear Embiid isn't going to take it easy on the kid. It's kind of odd to picture Embiid growing into a veteran in the league given how little he's played in his career thus far, but moments like this make it clear he'll do fine in that role.
As for Bamba, well, at least his number choice with the Magic will give people something to enjoy this season even during what may be some growing pains for the talented, but raw young center.