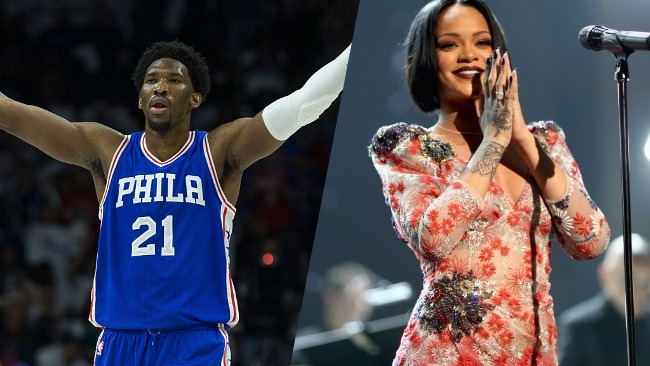 There hasn't been a ton to smile about in recent years for Sixers fans, despite all the top draft picks. But some of them are starting to pay off. Specifically, Joel Embiid who's averaging over 18 points, 7 boards, and 2.5 blocks a game while shooting 40 percent from beyond the arc. So if any player from Philly is going to be an All-Star, it should be Embiid. And if you don't want to vote for him just because he's awesome, how about just helping a man get a date with his crush?
Embiid is great because his entrance into super-stardom has gone just about how you think it might for anyone else who's never been this famous. Not willing to settle for the regular folks anymore, Embiid's tried to score dates with Kim Kardashian but then moved on to Rihanna a couple of years ago. He even succeeded, kind of, when she began following him on Twitter.
Now he needs the fans to help him finally get that date with Rihanna (we assume):
Guys, this is clearly the next step. We can do this! He's totally deserving from a stats perspective, if you're one of those "nerds" who thinks "the All-Star game should really represent the best the NBA has to offer."
He's also a hilarious bright spot on a franchise that's had a lot of down years but is supposedly always on the edge of success. Let's give him a shot to get the date just for the joy he brings to long-suffering Philly fans. After all, it's not like LeBron can fill all five spots on the Eastern Conference All-Star Team anyway.
(via CSN Philadelphia)