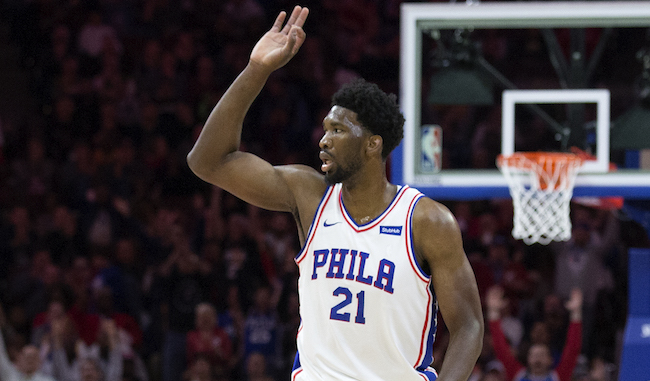 When the Sixers and Thunder met in Philadelphia back in December, the game resulted in a triple overtime thriller, with the Thunder edging out the Sixers in a game that featured a lot of trash talk.
Naturally, when the two met on Sunday evening in Oklahoma City there were some more fireworks in a 122-112 victory by the Thunder to sweep the season series. The biggest storyline in the budding cross-conference rivalry is the ongoing battle between Joel Embiid and Russell Westbrook.
The two exchanged pleasantries in their first meeting, but things heated up on Sunday thanks to some showboating from Embiid following a monster slam over the reigning MVP. Embiid was very proud of his effort in putting Russ on a poster, and made sure he let him know about it as he stared him down before returning to the defensive end.

Westbrook took note of that move and stared Embiid down all the way on the end of Philly's bench as he dribbled out the clock to end the game, as two of the league's masters of pettiness appear to be locked in a highly entertaining battle.
After the game Westbrook was asked about the apparent bad blood between the teams and noted that the triple overtime game got heated and some trash talk afterwards certainly contributed to Sunday's atmosphere. He was also sure to note that they took the season series 2-0.

One would think that would be the end of things, but Embiid was not going to be deterred from doing some trolling of his own after the game even after a 10-point loss. As the league's king of social media, Embiid posted an image of him dunking over Westbrook with the caption "Tough loss" and his propensity for using Instagram locations as a way to send jabs at opponents continued with "Crime Scene Investigation."
To this point, Embiid has gotten away with his trolling by backing it up with stellar play and most players generally accepting this is just how he does things. Draymond Green, Kevin Durant and the Warriors seem to enjoy the feistiness of Embiid and even his spat with Andre Drummond ended in the two embracing on the court. Westbrook, however, is a different animal and he will probably not find Embiid's antics as funny or endearing as others. It's a shame these two teams play in opposite conferences because this would be a really fun emerging rivalry to see play out more than twice a season.