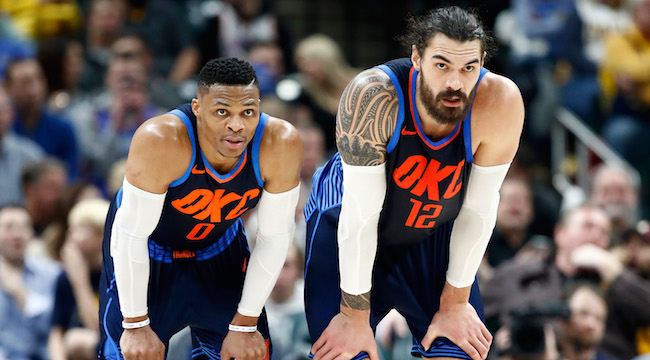 With ESPN dedicating quite a bit of coverage to Joel Embiid, Ben Simmons and company this week, there was plenty of attention on Friday evening's contest between the Philadelphia 76ers and the Oklahoma City Thunder. After 63 (!) minutes of game time, that hype was certainly justified, as the Thunder prevailed over the upstart Sixers by a final score of 119-117 in triple overtime.
The game was full of statistical nuggets that would be intriguing even if standing alone. The contest marked the first triple-OT game of the season in the NBA, and while it would be cumbersome to dissect each and every twist and turn from the end of regulation through the 15 minutes of additional time, suffice it to say there were many.
Andre Roberson had the opportunity to end the game in double-OT, but despite an apparent foul, the Thunder swingman was unable to finish a lay-up around the rim, sending things to yet another period. From there, Russell Westbrook and company managed to eek out the win, and while it it wasn't the sole reason, a wild dunk from Westbrook was a big part of that escape.
Yes, that is Russell Westbrook dunking in the third overtime after a wild coast-to-coast play.
From there, the Thunder were able to hang on in nail-biting fashion, but as you may expect, the box score reads in almost comical fashion. Embiid played a career-high 49 minutes for the Sixers, finishing with 34 points, eight rebounds and six assists. Elsewhere, Oklahoma City's trio of stars finished with 24 or more points each, with Westbrook throwing up a 27-point, 17-rebound, 15-assist triple double (joining just three other players in NBA history to match those numbers) that would be impressive in any context.
Oh, and despite the loss, Embiid did a number of wild things, including this block on Westbrook in the third overtime.
It wasn't the prettiest game in the world, but the Thunder and Sixers entertained for approximately three hours on Friday evening, and it was definitely a memorable showdown in Philadelphia. And Russ managed to get a parting shot in on Embiid before all was said and done, giving him the old "Bye Felicia!" treatment on his way off the court.
And if we know Embiid, he's not likely to let that go unanswered, regardless of the loss.