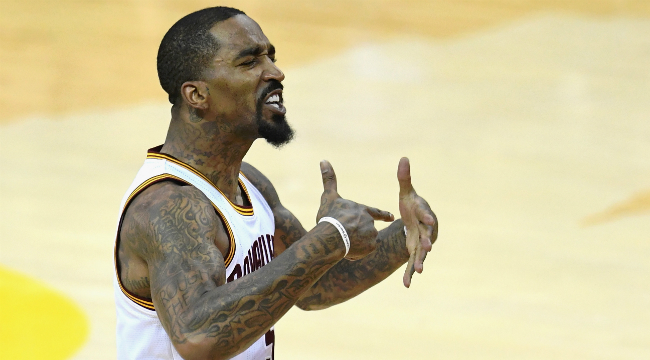 J.R. Smith remains frustratingly unsigned and thus, not officially a member of the Cleveland Cavaliers, but unless and until another team snatches him up, he's a member of that community of players. Sharing a locker room with LeBron James and befriending him has clearly rubbed off on J.R. too, because he wants to speak his mind on social issues more. The only problem is the public's perception of him as a goofball, or worse.
Smith would like to speak out, as his friends LeBron and Carmelo have recently, about police violence against African-Americans. But he worries about how he'd be interpreted. "I can't say what I want and how I want," he told me. "Because it's me. When I try to explain myself or express myself, it seems to come off the wrong way. Like, when I was in New York, four or five years ago, the anniversary of September 11th comes up and I make an Instagram post for all the people who died, to celebrate their lives."

The post read, "Celebrate the deaths of the people in 9/11!" "I was trying to say, We shouldn't mourn as much. We should celebrate their legacies," Smith explained. "Don't get me wrong: it's terrible what happened. The families going through it still—it's horrible. But we should celebrate. That's what I said. And the way it was interpreted by the New York Post was 'Yay! They knocked down the towers!' "
We feel for J.R., because even as he achieved the ultimate in professional redemption by playing a significant part of a title-winning team, he can't shake the public image of him. To be fair, however, he didn't put on a shirt for days after the Cavs won that title, which endeared him further to those who already loved his antics and persona and further annoyed those bothered by his behavior.
That's the bind J.R. is in, but it shouldn't prevent him from speaking his mind — although with a good deal more tact than his 9/11 Instagram post. Even comedians can get taken seriously if they do it right.
(Via The New Yorker, whose J.R. profile you should really check out)