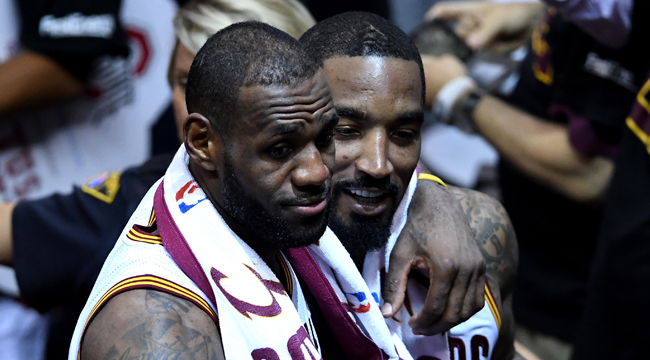 Last season, the Cleveland Cavaliers and Tristan Thompson were in the midst of a holdout that ended with Thompson signing a five-year, $82 million contract. Leading up to the signing, however, was a brief tug of war between LeBron James and the Cavs.
The Cavs removed all references to Thompson from the arena and team store. And James posted a photo of Thompson in his Instagram account while calling the whole ordeal "a distraction." Fast-forward a year and James is ostensibly in the middle of another holdout that isn't directly related to him — and he's tired of it.
J.R. Smith opted out of his contract back in July and is still waiting to see the contract he wants slide across the desk from Cavaliers brass. Smith has already missed the team's mini-camp and is currently missing training camp.
Smith was an instrumental member of a Cavs team that took home the 2016 NBA Finals over an incredible Warriors team. Smith averaged 10 points while shooting 38 percent from three during the NBA Finals including 20 points on 13 shots in a huge Game 3 win that allowed the series to get to the memorable 3-1 deficit (rather than a 3-0 death sentence) in the first place.
While most believe that Smith and the Cavaliers will come to terms, it's clear that James wants the deal done yesterday, and is frustrated with the process.