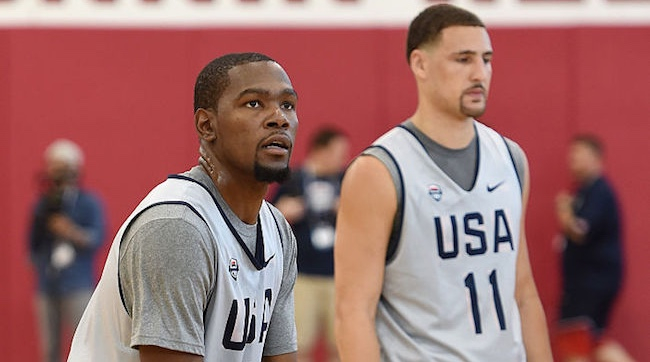 It's almost three weeks removed from Kevin Durant's decision to join the Warriors next season, and everyone (well mostly everyone) is still not over it. Charles Barkley and Reggie Miller have called Durant out publicly, Adam Silver thinks his decision is bad for the league, the Lakers are mad Durant didn't even meet with them, Jae Crowder is upset because KD stole all the Celtics' secrets, and of course people in OKC may never get over it, and it's gone as far as a sporting goods store selling Durant's jersey for less money than it costs to use a vending machine.
That's not even mentioning the abyss that is internet comment sections, which are still littered with scorching hot Durant takes and probably will be throughout the NBA season.
However, despite the fact that so many people are #madonline about Durant joining Golden State, the former NBA MVP recently told The Vertical that the reaction he's experienced in person has been quite different.
"All that stuff happens on the Internet. I haven't had one person come to me and say anything negative. … It's easy for the critics on the outside to tell you what to do, to tell you how to play. I'm the one that's going through it, so I can't really worry about the outside noise. The work don't stop. Everything stays the same."
It's not all that surprising that people don't have the same fortitude to call out an athlete in person than they do on the internet, as that's true in pretty much every circumstance. And that's not to say that Durant will never hear criticism to his face, either. I'm sure that he will, especially from his fellow players in-game. However, the percentage still largely favors the online critics.
Durant knew exactly what he was getting into when he decided to join Golden State, so I'm sure being criticized was something he decided he could handle before he made the choice to join the team with the best regular season win-loss record of all-time.
(Via Yahoo Sports)