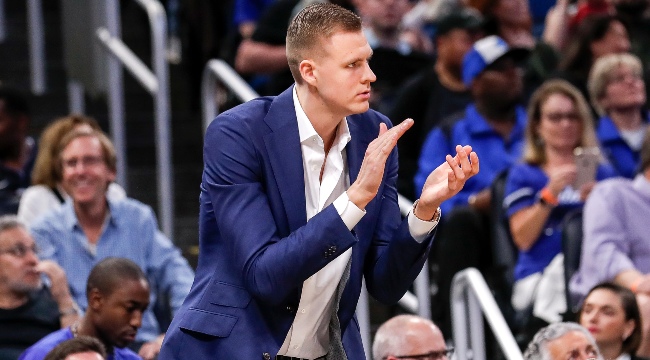 Despite the fact that he's never suited up for his current team, Kristaps Porzingis was expected to have a drama-free time on the free agent market. The Latvian center is a restricted free agent, and reports indicated the Dallas Mavericks — which acquired him prior to the 2019 trade deadline — wanted to give him a max contract extension.
Porzingis was reportedly agreeable to all of this, and on Sunday, right as free agency opened, that came to fruition. The two sides came to terms on a five-year max contract extension that will pay him $158 million, per Marc Stein of the New York Times.

The soon-to-be 24-year-old big man has not played in an NBA game in some time. Porzingis tore the ACL in his left knee back in February of 2018 as a member of the New York Knicks, and since then, he's sat on the sideline to recover. His status on the sideline did not change when the Mavericks put together a package centered around young point guard Dennis Smith Jr. to pair Porzingis with Luka Doncic. The gambit was largely dependent on Porzingis coming back on a long-term deal.
It's obviously risky giving a big man who suffered a major knee injury a monster deal, especially as there are serious off the court concerns stemming from rape allegations against Porzingis right now. The Mavericks, nonetheless, believe it is worth investing five years and major money in the big man.