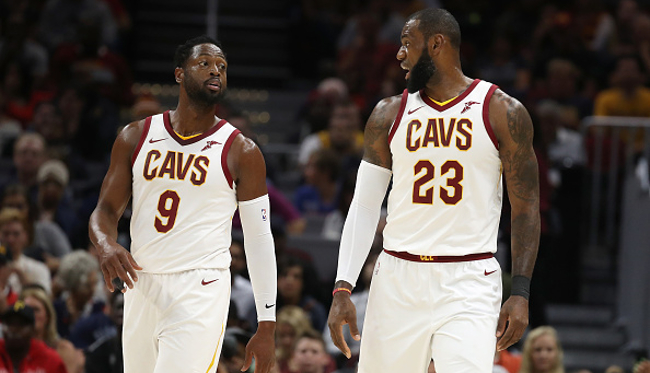 Dwyane Wade joining the Cleveland Cavaliers seemed like something of a foregone conclusion when he was bought out by the Chicago Bulls earlier this year. Cleveland needed help in its backcourt and when LeBron James went to the bench, plus Wade is at a point in his career when he can "ring chase." Also, he's tight with LeBron, so a reunion in Cleveland just made sense.
There has been a little turmoil with Wade getting settled in — just look at his move from the starting lineup to the bench — and as it turns out, he wasn't the most popular guy in the locker room, either. This is according to Jason Lloyd of The Athletic, who talked to a pretty good source of information: LeBron James.
According to the former MVP, bringing Wade in wasn't especially popular since it came at the expense of Richard Jefferson. As LeBron said, he was among a small group of players within the organization who wanted Wade to come on board, which bothered him.

Via The Athletic (h/t Ball Don't Lie):
"There was a couple guys with it," James said. "But it wasn't a lot."

The fact Wade wasn't openly embraced bothered James.

"I still know what he's capable of doing. Why wouldn't you want another guy in the locker room that brings a championship mentality and a guy who can still play?" James said. "So, of course, it bothered me, but f*ck it. It is what it is."
This is a reminder that the NBA can be brutal at times, as transactions happen because of something other than making sure people are happy. Wade seems to have settled into a role within the organization nicely — he's scored in double-digits in four straight games, his longest streak since joining Cleveland — but as LeBron pointed out, he didn't exactly come into a situation where he was immediately loved by everyone.