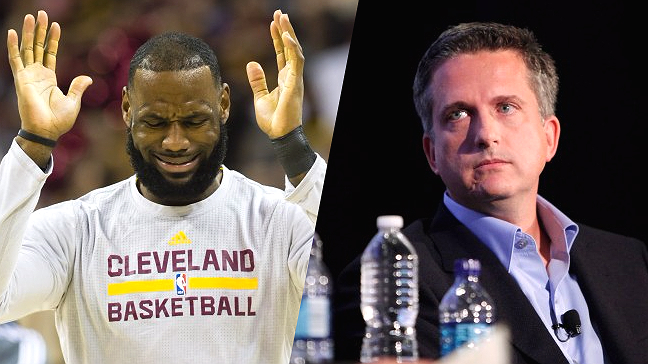 Much has been made of LeBron James' public exhortations for the Cavaliers to bring in "more bodies" to help Cleveland repeat as NBA champions as they struggled through January. It's gotten so bad that Charles Barkley's usual back-in-my-day shtick set LeBron off something fierce.
But another NBA media personality weighed in, and this time it's Bill Simmons coming down firmly on Barkley's side. From his podcast on January 27th, starting at around the 8:40 mark:
"I gotta say something about LeBron, who I think is the third-greatest NBA player of all time and is putting together the most incredible start-to-finish basketball career I've ever seen. Stop being such a baby. Just stop. You have Kyrie Irving and Kevin Love on your team. Your owner traded for Channing Frye and Kyle Korver. Your owner completely overpaid J.R. Smith. Your owner gave Tristan Thompson, like, an $80 million deal. You have nine, above average rotation guys at worst on your team and I'm including Richard Jefferson who's, like, a nice ninth guy on a playoff team. You can't be like, '[crying noise] I need help [crying noise]'. It's like, shut up. You guys had bad luck, stop b*tching about it."
Simmons has by now made the transformation from hip voice of young sports fans to cranky, middle-aged sports opinion-haver, and that's fine. You can quibble over specific points about J.R. Smith and Tristan Thompson's relative worth, or you can remember how Simmons complained about never getting enough support from a media company that gave him his own website and millions of dollars to run it and the parallels between that and LeBron's situation.
One thing that's undeniable is that the Cavaliers have built a very good roster around LeBron, miles ahead of what Cleveland surrounded him with before he left for the Heat in 2010. It's understandable that he's feeling the pressure to get better, considering the Warriors added Kevin Durant to what already was possibly a more talented roster than the one in Cleveland.
LeBron's honesty to the media is refreshing, though he might regret it now, considering the media firestorm it's created. But as long as a superstar athlete has any public concerns about his team's ownership, he's going to get criticized by stodgy sportswriters for it. It's just a little disheartening for Simmons, long a voice against billionaire owners, to be one of them.