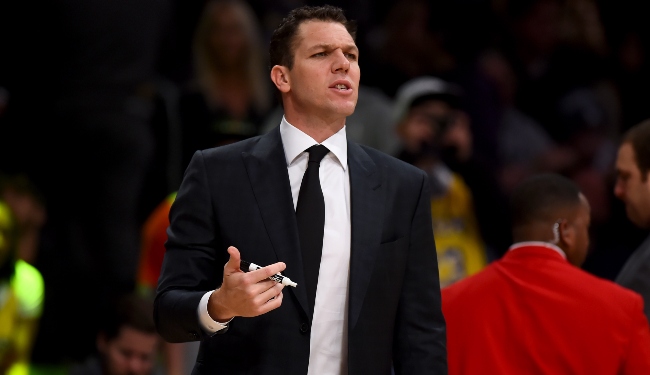 UPDATE: The extent to which Luke Walton and a collection of Lakers veterans got into it with one another is being called into question. According to Ramona Shelburne of ESPN and Tania Ganguli of the Los Angeles Times, the emotion that was on display in the locker room following L.A.'s loss to Golden State may not have gone overboard.

EARLIER: According to reports, tensions have finally started to boil over in Los Angeles. The LeBron James-less Lakers fell to the Golden State Warriors in Oracle Arena on Saturday night, 115-101. While the team fought valiantly and kept things close for three quarters, the two-time defending champions eventually pulled away in the game's final frame.
Issues started to arise after the game, according to Shams Charania of The Athletic. At one point, a group of veterans began expressing their dismay, with Charania reporting that things between head coach Luke Walton and veteran forward Michael Beasley nearly turned physical.

Walton was reportedly telling players about the importance of playing unselfishly, which led to Beasley, Lance Stephenson, and JaVale McGee speaking up, taking umbrage with things like Walton's rotations.
It makes sense that emotions would be high in Los Angeles. The team is currently in 10th place in the Western Conference and two games behind the eight-seeded Clippers, a slide that occurred right after James suffered his groin injury on Christmas Day that held him out until earlier this week. Beyond that, seemingly every Lakers player other than James has been mentioned in recent days as being on the table in a deal to acquire Pelicans star Anthony Davis, who reports indicate sees a long-term future for himself in the purple and gold.
These kinds of things can sometimes be good for a team. It can backfire just as easily, but every now and then, you just need to be able to vent some frustrations and have a knee-jerk reaction to something before taking a step back and coming to an understanding. Regardless, the next few days surrounding the Lakers guarantee to be fascinating, as tensions are high and things look like they can go off the rails at the drop of a hat.