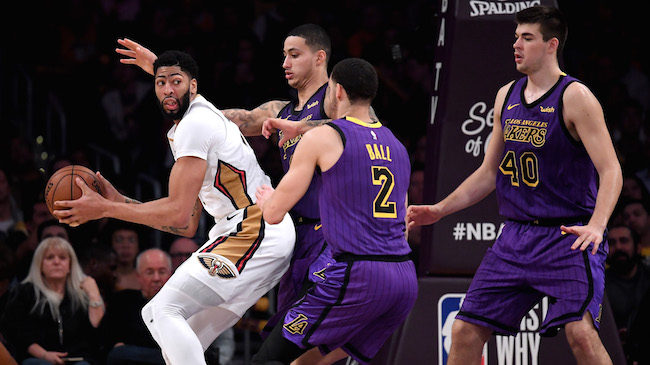 The Lakers have spent the past few days since Anthony Davis' trade request went public waiting on the Pelicans to return their calls. A report on Thursday morning indicated Dell Demps was talking with other teams, but refused to call the Lakers back over frustration with how Rich Paul and Davis handled his request and the clear desire to push him to L.A.
As the hours passed on Thursday, however, New Orleans eventually picked up the phone and spoke with Magic Johnson, Rob Pelinka, and the Lakers brass about potential trade packages.
According to Brad Turner of the Los Angeles Times, the Lakers have made it clear they want to get a deal done before the deadline, and would be less inclined to try and enter a bidding war with the Celtics this summer.

To get that deal done, L.A. has reportedly put five separate offers on the table for Demps to choose from, including one that includes a majority of the Lakers' young core and a first round pick.

That seems to be just about the best deal the Lakers can offer the Pelicans, and now it comes down to whether the Pelicans think there's a better offer out there this summer, whether from Boston or New York or someone else. The Lakers taking the stance that they will go after other free agents this summer if the Davis talks drag out to the offseason seems like hardball, and New Orleans could easily call their bluff given how many teams become potential trade partners in the coming months.
What New Orleans should do now is begin probing other teams to find out what their offers could be over the next week, both for deadline deals and what someone would put on the table this summer. If they can beat that Lakers deal, then you ride it out into the summer and expect the Lakers to still have interest even if they're also chasing free agents. If you can't, then it's possible a deal is done soon, but the animosity between both sides indicates New Orleans would have to feel like it's by far and away the best they'll get to make that happen.