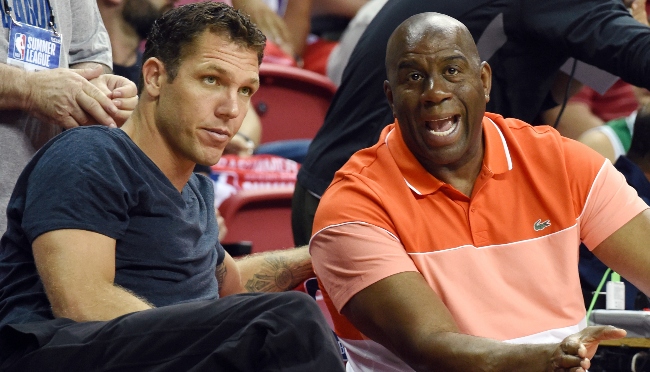 Magic Johnson's abrupt departure from the Los Angeles Lakers on Tuesday night provided one of the more bizarre scenes in NBA history. Johnson held an impromptu press conference prior to the team's last game, where he announced the news and made it clear that no one — not Jeanie Buss, not LeBron James, no one — had any idea that he was leaving his post as the team's President of Basketball Operations.
As is usually the case when everyone is caught off guard by someone leaving their job, it's unclear what the future holds in Los Angeles. This is mostly the case when it comes to head coach Luke Walton, because as we learned thanks to Chris Haynes of Yahoo Sports, he was in his final days in charge before Johnson's resignation.
According to Haynes, Johnson had reservations with Walton's ability to change things up during games and skills when it came to developing players.

Via Yahoo Sports:
Lakers owner Jeanie Buss recently gave Magic Johnson permission to fire coach Luke Walton at the conclusion of this season after being informed of Walton's unwillingness to "bulk up" his coaching staff, league sources told Yahoo Sports.

Johnson, who held an impromptu news conference outside the Lakers' locker room Tuesday to announce his resignation as president before the team's final game of the season against the Portland Trail Blazers, had been displeased with Walton's ability to effectively make in-game adjustments and he felt the coaching staff lacked the experience and expertise to foster player development, sources said.
Walton wasn't the only person in Laker Land who had drawn Johnson's ire. According to Shams Charania of Stadium, Johnson wasn't exactly happy with his arrangement with general manager Rob Pelinka. (Head to the 1:23 mark of the video below.)
"I think Magic Johnson just got sick and tired of being in the middle of the heat," Charania said. "Him and Rob Pelinka's names were attached at all times when there was any criticism with the Lakers. So, if you're Magic Johnson, you're probably looking at it like, 'Why am I being thrown in this mix if Rob Pelinka might be in on these calls or on this situation, pulling this trade, and my name is being thrown into this?' I'm told Magic Johnson had lost some faith and some trust in Rob Pelinka in these last few weeks and months."
The big question now is how the next few days/weeks will play out for Walton and Pelinka in the aftermath of Johnson's resignation. Speculating on what, exactly, will happen is nearly impossible, because outside of Shaq calling for Jerry West to get the job, there's no sense of how things are going to play out for anyone in Los Angeles.