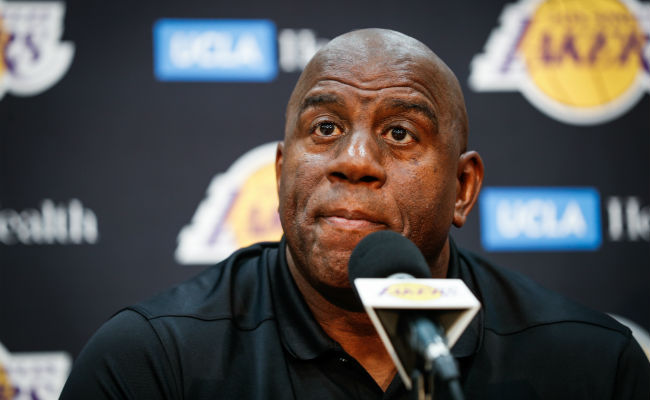 After just over two years as the Los Angeles Lakers' President of Basketball Operations, Magic Johnson announced he is stepping down from his post. Johnson held an impromptu press conference prior to the Lakers' regular season finale against the Portland Trail Blazers in Los Angeles on Tuesday night where he announced the news.
Johnson told the press that he did this without telling Lakers owner Jeanie Buss, but made it a point to praise her and say that he believes he is best able to help her as a "big brother and ambassador."

Additionally, Johnson cited a lack of fun as a major reason for his decision to step down.
The news of Johnson's decision comes on the same day that a story by Bill Oram of The Athletic labeled him as having a reputation for being an "absentee executive," something that was elaborated by Adrian Wojnarowski of ESPN following the news of his departure from his post.
As for the timing of this, Ramona Shelburne of ESPN brings word that this truly did come out of left field.
It goes without saying, but following the team missing the playoffs during LeBron James' first year in Los Angeles, this upcoming offseason was going to be gigantic for the future of the Lakers. Johnson, who was hired in Feb. 2017, had promised that he was going to go out and try and get a star to pair with James, but now, that responsibility will fall onto someone else.