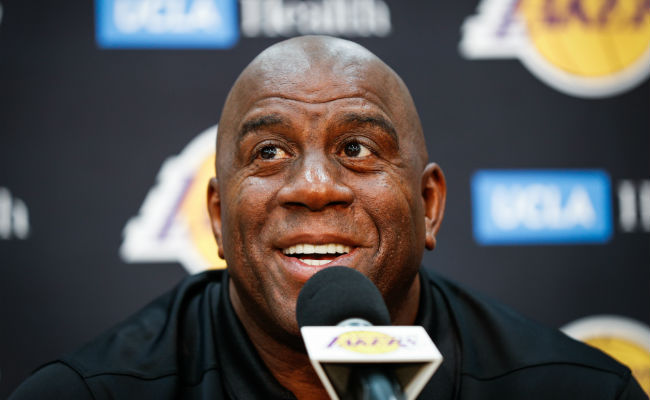 Magic Johnson is no longer the president of the Los Angeles Lakers, news he announced at an impromptu press conference at Staples Center on Tuesday night to the shock of everyone.
After two years at the helm of the Lakers — the peak of which was signing LeBron James — Magic announced his decision for a reason that is truly unbelievable, but at the same time, extremely relatable. Magic wants to have fun and be himself, and said he doesn't believe he can be himself in this role, citing his inability to send a congratulatory note to someone like Russell Westbrook after a 20-20-20 game.

He also channeled Mark Wahlberg from The Other Guys, insisting he's a peacock and needs to fly, in different words.
While stepping down so he can tweet and be a fan again is pretty tremendous, the absolute best quote was him talking about discussing the future with some people prior to the game and laughing internally about how he won't be here.
He also hadn't told Jeanie Buss he was quitting, saying he couldn't bring himself to tell her face to face, while also not wanting to fire Luke Walton.
Magic went on to say he was hurt by the Ben Simmons situation earlier in the year and how it was portrayed.
At one point he also lobbied for a job on ESPN, which was tremendous.

When asked about Rob Pelinka and whether he was the right GM for the job, he happily deferred that deferred that to Jeanie, while also noting he and Rob had never really met before being paired together to run the team.
It was truly one of the most surreal 45 minutes anyone has ever seen in terms of a press conference from an NBA executive.

Magic Johnson doubled down by speaking with Rachel Nichols for an ESPN interview, saying he's thrilled he now can tweet when he wants.
Nichols later offered him a job on The Jump with her and he promised to take her up on that, "This is a guarantee from the Magic Man, I'm gonna come on."