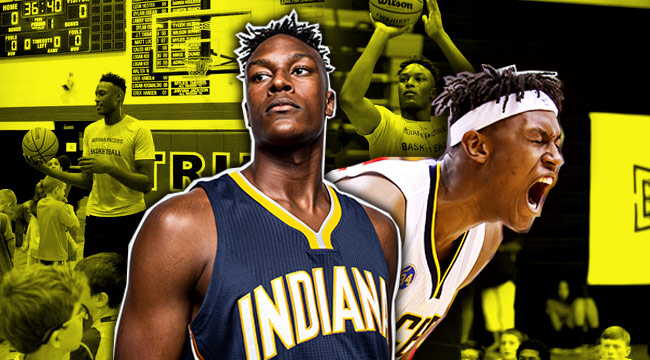 The rep for Myles Turner put us on hold at first. It wasn't anything new — talk to enough NBA players and you get used to waiting around — but the reason behind the delay wedged itself in our memory, and it stayed with us long after talking to him on the phone. Turner was too busy playing kids one-on-one at his inaugural camp in Euless, Texas, and it was clear when we did finally connect, that the campers, at least when he's in the middle of camp, are always going to come first for him — regardless of who might be waiting.
We didn't mind. It was refreshing, actually, and provided a nice introduction for the man trying to become Indiana's low-post force during a time when they're attempting to become something quite different from a big man's team.
That wasn't the case as early as the summer of 2015. That's when the Pacers dealt defensive mainstay Roy Hibbert to the Lakers for basically nothing; David West spurred an extra $10 million in the final year of his deal to sign with the Spurs, and — after some growing pains this past season — the very public, and embarrassing, dismissal of coach Frank Vogel. But Turner is a contemporary big man more in vein of what Larry Bird and new coach Nate McMillan are looking for from a five — a deft touch from the mid-range and the ability to protect the rim.
He might not have been a real Rookie of the Year candidate last year, and his Pacers may have just missed out on a playoff spot after attempting to pivot in one offseason to a speed- and shooting-based squad, but Turner is pretty happy where he's at.
After picking his brain late last week, he went back to schooling his campers at Trinity High School in Texas where he was a McDonald's All-American in 2014 before committing to Texas and entering the NBA Draft after his freshman season. He's really not that far removed from his senior year there, but a lot has been packed into the ensuing two years.
During the talk, we touched on why Turner enjoys working with kids so much, what parts of his game he spent time refining this offseason, and that transcendent block on LeBron towards the end of his first NBA season.
The below interview has been edited for space.
DIME: What's your camp all about and what are you hoping to do with it?
Myles Turner: With this camp, I really wanted to bring back a fun scene to my community. [Euless, Texas] is mostly thought of as a football town, but there's a lot of kids out here with a lot of talent, and I wanted to bring them all together under one roof and just get the challenge going a little bit. Guys are competing and playing hard for me with a lot of energy and I'm trying to match that intensity, so it's been a fun experience.
What provoked you to surprise your aunt and grandma with new cars?
Well, my grandma and my aunt, both of them were very supportive of me growing up. Any time my parents had to work extra hours, and what not, they would stay and take care of me. I would stay at their house; they would take me to AAU games. They're always so supportive of me, they got me from point A to point B billions of times and I wanted to do something nice for them. She's (his aunt) had the same car from the 1990s and it started to break down and run down on her, and it was a great opportunity to give them a small token of my appreciation.
https://www.instagram.com/p/BI5oV24BD32/
What's it like to be able to do stuff like that for your family?
They helped me with anything I needed, and this is one small thing I can do for them. So, not too much goes into it. I had a good team around me to execute the plan.
Do you count yourself as lucky having your parents around when a lot of NBA players did not?
I grew up in a very well-mannered, positive community, and I had a lot of support within the community growing up in my high school days; people wanted to see me be successful. And my family gave me the tools for that. Not everybody has that. Any time I see, any ways I can help, I try to do it. That's what I'm trying to do now.
Are you targeting specific kids who maybe don't have that support at home and come to this camp to interact with you?
Mainly it's about giving them a break. First of all, it gives the parents a break, you know, watching their kids all day. I know how hard that can be. And also for the kids to get out of their parents' way with some of their peers to get a sweat. So it's just a good opportunity to come together under a positive roof and really doing well for our community's future.
There have been a bunch of videos of NBA players destroying little kids on the court going one-on-one. Do you take it easy or do you bring it every time against them?
I bring it every time and I show 'em no mercy. No one's gonna show them mercy when they play against them, so it's a great way to get a good mindset at a young age.
How involved were you with developing your new logo?
Well, the logo was a good option for me, I was working with a graphic designer in my area. Him and me used to play against each other in a of couple rec leagues. Before the draft last year, he presented the logo to me. Me and him spoke about the logo for about a year, and I actually only released the logo in anticipation of this camp. It was the motivation for me, pretty much. And hopefully in the future we'll be able to do a little bit more with it.
Is there a specific component of your game you've been working on this summer? A lot of guys just tell us they work on everything, but can you get more specific?
Not necessarily. I'm kind of the same way. I work on all facets of my game. I know what my role next year will be and I kind of have to be a swiss army knife, to be able to do it all offensively and defensively. But if I had to nail it down, maybe just work on the pick and roll more, defensively; being able to guard multiple positions, so I'm working on my agility and what not. But I'm working on it all right now.
Describe what it was like to reject LeBron like you did at the end of last year? Do you even remember?
Yeah. It was a crucial moment of the game, it was the third quarter and he came down the lane and challenged me. I just went up and the next thing was my eyes closed, which was funny, and I got up and rejected it. But I didn't realize the magnitude of what I just did until like a week later when it blew up on social media — my friend kept texting me. To me, it was just another play, but to everyone else it was an incredible defining moment in my career, and that's pretty much how it played out from then on.
Which gets you amped more: a big block like the one on LeBron, or just going up and dunking on someone?
A big block like that. It gets the crowd hyped, it gets everyone going and my defense translates to my offense.