The NBA 2K franchise is having an outstanding summer. NBA 2K18 is set to release on September 19, and you have to applaud the way 2K Sports has managed to stay in the news with a slow drip of player rating releases, feature announcements, and demo information leading up to the announcement and release of their All-Time franchise rosters.
You can find the complete roster for each and every All-Time team here, along with our ranking of all 30 All-Time team rosters.
Unfortunately for NBA 2K18, with great power comes great responsibility, and some extremely important players are missing from said All-Time rosters. Most of the players included in these All-Time rosters for NBA 2K18 are part of the National Basketball Retired Players Association. If they aren't part of the NBRPA, NBA 2K would likely have to negotiate those deals separately.
It's safe to assume that acquiring player rights for the 100+ former NBA players NBA 2K did land for the game was an absolute nightmare, and that for one reason or another, the players who are missing just came down to rights deals that never materialized. In other words, I'm sure NBA 2K18 would love to include Reggie Miller on the All-Time Indiana Pacers, and I'm sure the folks behind NBA 2K18 understand that he's the greatest basketball player in Pacers history. He deserves a spot on the team. It's a no-brainer. This isn't a mistake on NBA 2K's part. It's business.

This isn't a new development, by the way. If you're a fan of the Madden franchise, you know that New England Patriots head coach Bill Belichick has been missing for years. If you're old enough to remember Michael Jordan in his prime, the Chicago Bulls star and resident NBA G.O.A.T. was missing from nearly every basketball video games in the 90's. It's unfortunate, but it happens.
We're going to omit players from this list who are in the game in some capacity. You might disagree with the team said included player is on, but at least they are in the game. I'd put someone like the Washington Wizards version of Michael Jordan in this category. Would it be cool to play as old man Jordan? Of course it would, but at least he's in the game on the All-Time Bulls squad. I can live with that.
All disclaimers aside, and regardless of reasoning, these are the biggest NBA stars missing from NBA 2K18's All-Time teams.
10. Greg Oden (Portland Trail Blazers)
Ok, ok, ok, I know, I know, this is a stretch. A big stretch, but I'm using the 10th and final spot on this list for my own personal preference. This isn't a perfect comparison, but if Joel Embiid is on the 76ers All-Time squad, I think you can sneak Oden on the All-Blazers for entertainment sake, if nothing else. Oden's NBA career was tragically cut short with injury after injury, but when he could play, he looked terrifying in a good way. For better or worse, I'm putting him on this list because I want him in NBA 2K18.
9. Carlos Boozer (Utah Jazz)
To put it simply, Al Jefferson is on the all-Jazz squad. Carlos Boozer was not only better than Al Jefferson by a fairly wide margin, but as a member of the Utah Jazz, it's not even a question. Boozer was a two-time All-Star on a highly-underrated Jazz team, and the dude spray painted his head with fake hair. I know the hair thing happened in Chicago, but that was an NBA moment worth celebrating. He's earned this spot.

8. Caron Butler (Washington Wizards)
Like Danny Granger, Caron Butler isn't the most memorable NBA All-Star of all-time, but he absolutely deserves a spot on the All-Wizards squad. The Gilbert Arenas, Caron Butler, Antawn Jamison-era Wizards were a lot of fun. Butler's career longevity is also worthy of praise — he suited up and played well for a really, really long time.
7. Danny Granger (Indiana Pacers)
Look, I'm not going to argue that Danny Granger was some league-defining NBA star, but when you look at the Pacers' All-Time team, you've got guys like Lance Stephenson, George Hill, and Roy Hibbert on that roster. Granger was an awesome Pacer for a long time, and while Stephenson has been a joy to watch in Indiana, this is supposed to be a meritocracy (I think), and Granger deserves a spot.
6. Brandon Roy (Portland Trail Blazers)
This one might be a stretch, but my goodness, Brandon Roy was awesome. His career was unfortunately cut short due to multiple knee injuries, but that only makes me want him in NBA 2K18 more. The basketball gods didn't give us enough Roy, but what we did see was fantastic. He was an easy All-Star in every year his knees held up, and despite his short career, I don't think any Blazers fans would disagree with me.
5. Gilbert Arenas (Washington Wizards)
I can't imagine negotiating anything with Gilbert Arenas is easy, but with that being said, there was a period of NBA history where Agent Zero was legitimately one of the best players in the entire league. He was a prolific scorer, three-time All-Star, three-time All-NBA player, and certainly one of the greatest Wizards of all-time.

4. Rasheed Wallace (Portland Trail Blazers, Detroit Pistons)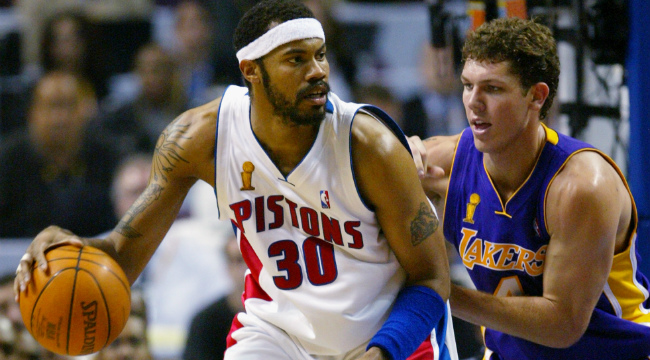 Rasheed Wallace's absence is a bummer on a few different levels. For one, he'd be an absolute lock for both the Blazers and Pistons All-Time teams, but maybe even more importantly, he's Rasheed Wallace! He can shoot with both hands! Ball Don't Lie! The technicals! He's the embodiment of NBA fun. I am going to miss him in NBA 2K18.
3. Moses Malone (Houston Rockets, Philadelphia 76ers)
Do I even need to make an argument here? Moses Malone's statistics for both the 76ers and Rockers are absurd. He's a no-brainer inclusion here, making you assume it has to be a rights issue.
2. Reggie Miller (Indiana Pacers)
We already touched on Reggie Miller's absence above, but this one hurts. He is the Indiana Pacers. Whether you're a Pacers fan or not, his iconic 8-point, 9-second performance against the New York Knicks in Game 1 of the Eastern Conference semifinals back in 1995 is one of the most memorable moments in NBA history. His prolific three-point shooting in NBA 2K18 would be deadly.
1. Charles Barkley (Philadelphia 76ers, Phoenix Suns, Houston Rockets)
Charles Barkley isn't just one of the greatest 76ers, Suns, or Rockets players of all-time, he's one the greatest NBA players ever, period. Barkley's absence, however, is nothing new. He's detailed exactly why he doesn't feel comfortable appearing in NBA 2K games in the past, and while we don't know if his reasoning has since changed, we do know he's not in NBA 2K18, which is really unfortunate.