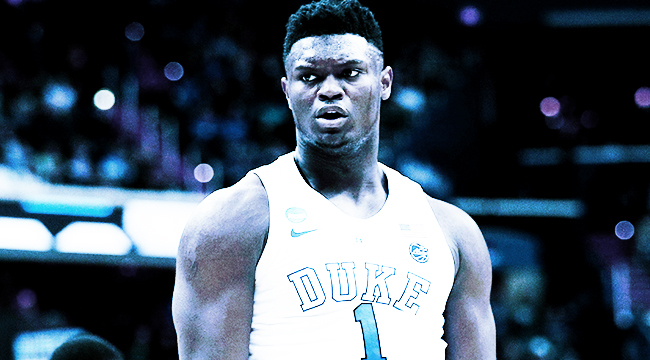 The college basketball season is over, which means the NBA Draft is coming. Once the collegiate competition comes to an end, all of the in-game data is locked for draft prospects and, for those who follow the draft extensively, the real fun begins.
As you might imagine, the evaluation process is far from over when players are simply done playing in fully sanctioned games and the upcoming NBA Draft Combine (in addition to individual workouts) will be key for a number of prospects. Still, this is a good time to check in on the landscape given that prospects are now shifting into full draft-prep mode, which brings us to an updated first-round mock draft.
It is important, as always, to note that the draft order itself remains fluid until after the lottery, for our purposes, the list reflects the final NBA standings, and we'll adjust when the ping-pong balls fly in May. Let's get it.
Note: Mock released before NBA breaks ties on Friday, Apr. 12.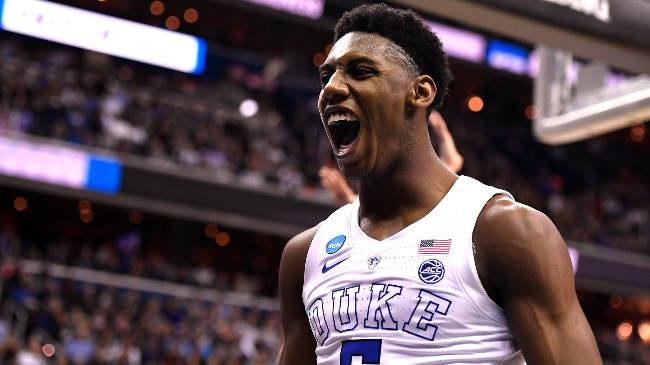 1. New York Knicks – Zion Williamson (F, Duke)
This is a match made in heaven, from Williamson's marketability and elite prospect status to New York's appeal as a market. The Knicks are kind of a mess but, if the ping-pong balls fall right, this is a no-brainer choice and Williamson would be a great piece for the future … and maybe the present if the Knicks land big free agents this summer.
T2. Cleveland Cavaliers – RJ Barrett (F, Duke)
In reality, Cleveland may trade down here and, of course, the draft order will determine everything. Still, the Cavs are in a weird position if they draw the No. 2 pick, with Ja Morant and Collin Sexton occupying the same position on the floor. Would Cleveland be crazy to draft Morant? No, but Barrett is still seen as a big-time prospect in league circles and it will be a surprise if he falls out of the top three.
T2. Phoenix Suns – Ja Morant (G, Murray State)
Phoenix would undoubtedly be thrilled to grab Morant, even if the fit isn't necessarily perfect. For me, Morant is the clear No. 2 overall prospect but he does have questions with his defense and shooting. The partnership with Devin Booker wouldn't be ideal defensively but, at the same time, it's been a while since the Suns had a point guard worth building around and Morant certainly qualifies.
4. Chicago Bulls – Jarrett Culver (G/F, Texas Tech)
The Final Four wasn't the greatest showcase for Culver but, in my view, he's still a top-four prospect in this class. Shooting is a concern but the Bulls could use his services as a versatile, talented player with defensive upside. There isn't a clear-cut pick here in the consensus view but Culver would be reasonable by any measure.
5. Atlanta Hawks – De'Andre Hunter (F, Virginia)
Atlanta would be choosing between Hunter, Culver and (perhaps) Cam Reddish if they fall in the 4/5 range. Hunter's showing in the Final Four certainly won't hurt his prospect status. It is important to avoid overreacting to one-game samples but Hunter's defensive profile is very encouraging and, if his recent shooting binge proves real, he has the look of a quality long-term starter in the NBA. That may not seem like the No. 5 overall pick but, in this class, the Hawks would be happy to get that kind of value.


6. Washington Wizards – Jaxson Hayes (C, Texas)
This is probably too high for Hayes in the grand scheme but, frankly, it is tough to find the perfect match for the Wizards. On the optimistic side, Hayes is the top-ranked pure center prospect in this class and Washington isn't exactly stocked at that position, even with the emergence of Thomas Bryant.
T7. Atlanta Hawks (via Dallas) – Cameron Reddish (F, Duke)
There are plenty of whispers that the Hawks like Reddish and he would be an interesting fit. In this case, Atlanta would have missed out on Hunter, and as the saying goes, you can't have too many wings. The Hawks could reach for a big man (Brandon Clarke?) but they can also afford to take an upside play on Reddish with the safety that accompanies Hunter in the top five.
T7. New Orleans Pelicans – Darius Garland (G, Vanderbilt)
This is a best player available pick for New Orleans because the versatility of Jrue Holiday opens many doors. Garland is a big-time offensive prospect, particularly with the ball in his hands, and he serves as a top-10 prospect in this class if all of the medicals check out after his lost freshman season in Nashville.
T7. Boston Celtics (via Memphis) – Sekou Doumbouya (F, Limoges)
This is an exceptionally fluid situation, as the Grizzlies will keep the pick if it falls in the top eight but send it to Boston if it doesn't. We'll project for the Celtics in this circumstance and give them a draft-and-stash player with a ton of upside. Doumbouya is still a relative unknown to most NBA fans but he's probably a top-10 talent in this class and Boston's war chest of picks is well documented, freeing them up to take a big swing.
10. Minnesota Timberwolves – Brandon Clarke (F/C, Gonzaga)
There is a distinct possibility that I pair Clarke with the Wolves in every mock draft until there is intel to suggest it won't happen. That's how snug the fit would be between the Gonzaga big man and Karl-Anthony Towns. I know Clarke is "old" for a prospect but he enjoyed a fantastic year at Gonzaga.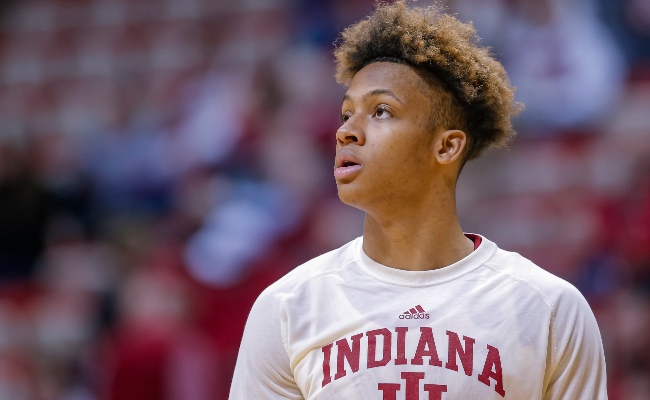 11. Los Angeles Lakers – Nassir Little (F, North Carolina)
Will the Lakers be making this pick? I have no idea, but Little would present nice value. He brings a ton of upside to the table and, in short, the negative blow-back to his performance at North Carolina has gone too far. Little is still a top-10 talent in the group.
T12. Boston Celtics (via Sacramento) – P.J. Washington (F/C, Kentucky)
Boston went with upside earlier in the lottery and they'll snatch safety with Washington. This pick makes more sense if the Celtics let Marcus Morris walk in free agency but Washington is competitive, talented and productive. There is something to be said for that combination of traits.
T12. Miami Heat – Romeo Langford (G/F, Indiana)
Doesn't Romeo Langford just feel like a member of the Miami Heat already?
T12. Charlotte Hornets – Coby White (G, North Carolina)
White has no business falling this far but it would be a coup for the Hornets if he did. If, by chance, Charlotte was going to invest the five-year max deal in Kemba Walker, they could likely move this pick (and the rights to White) for a hefty sum. If they wanted to keep him, White would be a big-time bargain at the end of the lottery.
15. Detroit Pistons – Kevin Porter (G, USC)
Porter is a big-time enigma but he does make sense for a Pistons team that needs some upside on the perimeter. Could this go badly? Yes, yes it could, but he's worth taking at this juncture.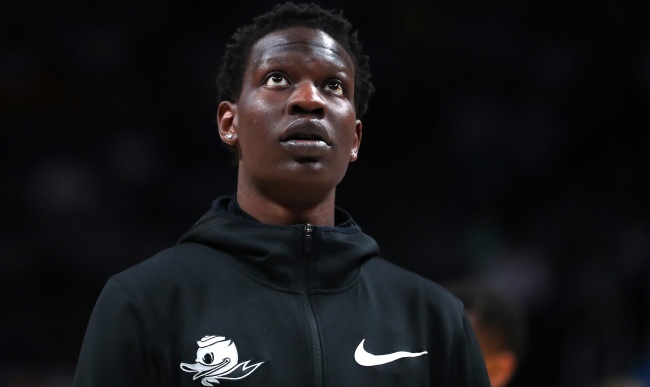 T16. Brooklyn Nets – Bol Bol (C, Oregon)
This isn't a perfect fit by any means, with Jarrett Allen firmly entrenched as Brooklyn's long-term starting center. What this pick would be, though, is a pure upside play, and the Nets have been willing to swing on guys with injury issues in the past. This may not be the spot but somebody's taking Bol in the first 20 picks.
T16. Orlando Magic – Nickeil Alexander-Walker (G, Virginia Tech)
Alexander-Walker may not be a game-changer at the point of attack but he does a lot of things well. Orlando is still lacking on the perimeter (even after a big year from D.J. Augustin) and, simply put, Alexander-Walker is the best guard available at this slot. He can also stretch the defense as a shooter, which is something the Magic need.
T18. Indiana Pacers – Keldon Johnson (G/F, Kentucky)
Johnson falling this far would've been a surprise a few weeks ago but a lot of people have cooled on him. On one hand, it is easy to see why, as Johnson doesn't really have a defining characteristic to "sell" himself. On the other, Johnson doesn't take much off the table and he plays a position that virtually every team needs to upgrade in the future.
T18. Boston Celtics (via LA Clippers) – Tyler Herro (G, Kentucky)
Back-to-back Kentucky picks and Herro is almost seen as more "sexy" at this point. Johnson is probably safer but Herro's ability to score — particularly from the perimeter, where he's capable of getting scorching hot — is very enticing.
T18. San Antonio Spurs – Rui Hachimura (F, Gonzaga)
Hachimura would be a very Spurs-y pick. He is often knocked for his passion for mid-range jumpers but, in San Antonio, they've found a way to make that work. The Spurs also need someone of power forward size, making this a quality match on both sides.


T21. Boston Celtics – KZ Okpala (F, Stanford)
Boston probably isn't going to make four first-round selections but it's nice to have options. Okpala is an intriguing player given his size and skill level but, more than anything, this is a "grab the highest player on the board" spot for the Celtics.
T21. Oklahoma City Thunder – Cameron Johnson (F, North Carolina)
Not every fit is this smooth but the Thunder's lack of perimeter shooting is a glaring weakness. Johnson is a terrific perimeter shooter. It's that simple, even if Johnson's age (23 already) isn't exactly great for a first round pick.
23. Utah Jazz – Grant Williams (F, Tennessee)
By all accounts, it appears that the internet may like Williams more than NBA scouts do. Still, this is a perfectly reasonable investment for the Jazz in the late first round, as he fits what they want to do on both ends and Utah could use the infusion of an NBA-ready player at the 4.
24. Philadelphia 76ers – Eric Paschall (F, Villanova)
Paschall spent his college career at Villanova and he wouldn't have to go far if this happened. Philly can be tough to peg from a draft standpoint but they are certainly in need of quality role players and that is exactly what Paschall projects to be as a solid, two-way option.
T25. Cleveland Cavaliers (via Houston) – Bruno Fernando (C, Maryland)
Twenty-three picks after adding RJ Barrett, the Cavs address the frontcourt with Fernando. There are other center options (like Daniel Gafford of Arkansas) available here and it doesn't have to be Fernando, but he's talented and would be a good option.


T25. Portland Trail Blazers – Talen Horton-Tucker (F/G, Iowa State)
One of the more polarizing prospects in the draft, Horton-Tucker finds a landing spot in the first round. Portland can unlock a lot of things with their terrific offensive backcourt and, in Horton-Tucker, they add a long, versatile player with considerable upside if he figures it out.
27. Brooklyn Nets (via Denver) – Admiral Schofield (F, Tennessee)
Schofield is the perfect contrast to Brooklyn's first pick in Bol Bol. He doesn't bring a ton of upside but he plays hard and can really shoot it. Role players are available at this point in the draft and he's one of them.
28. Golden State Warriors – Matisse Thybulle (F, Washington)
If Thybulle makes open threes in the NBA, he's going to be a good player. He's that good on defense and, with Golden State's backcourt tandem in place, they can afford to deploy Thybulle in an optimal manner.
29. San Antonio Spurs (via Toronto) – Ty Jerome (G, Virginia)
Jerome was absolutely terrific in helping Virginia win the national title, which helped his standing. Even before that run, though, he had fans in the NBA based on his combination of size and shooting ability. Jerome will be knocked as a sub-par athlete but, even if that's true at the guard position, he plays with great basketball IQ and can operate as a secondary ball-handler while providing floor spacing.
30. Milwaukee Bucks – Dylan Windler (F, Belmont)
The Bucks like to surround Giannis with shooting. Dylan Windler can really shoot it.