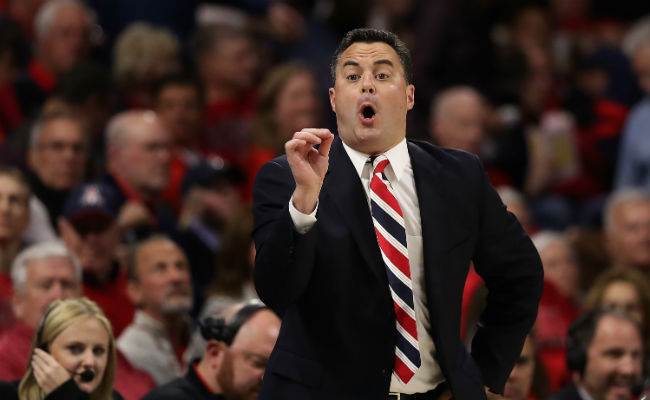 Sean Miller had strong words for those who accused him of wrongdoing as head coach of the Arizona Wildcats, and it appears that he might have very good reason to be publicly critical of those accusations.
Miller addressed the media on Thursday and denied he was involved in bribing basketball prospect Deandre Ayton. That report, which ESPN published last week, forced him to not coach a game last week as the school investigated the incident.
But now there's some uncertainty about that specific claim, though an FBI wiretapping investigation into Arizona basketball apparently did indeed happen. Sources for two different publications have raised doubt about ESPN's initial claims about Miller and Ayton, who both have publicly denied bribes.
Sports Illustrated reported on Thursday that the timeline for Ayton's recruitment doesn't match up with the dates during which the FBI tapped calls between Miller and ASM agent Christian Dawkins.
According to the source, relevant FBI wiretaps in the investigation did not begin until 2017—months after five-star recruit Deandre Ayton had already committed to Arizona in Sept. 2016. This account is consistent with reporting by Evan Daniels of 247Sports. The recruitment of Ayton, therefore, would have not been at issue in an intercepted phone call that occurred in 2017. To that end, the source told SI what Miller clarified for the first time Thursday: Ayton is not the player on whose behalf former ASM Sports employee Christian Dawkins allegedly sought a payment from Miller, and Miller never pursued or made any payments to a recruit associated with Dawkins.
That 247Sports report cited by Sports Illustrated also casts doubt on that series of events implicating any kind of payment to Ayton and his family.
A source told 247Sports that Dawkins (who had his phone tapped by the FBI) and Miller had calls intercepted between the timeframe of June 19 of 2017, through Sept. 25.

Sources say that the U.S. Attorney's office notified multiple parties who had conversations with Dawkins that their phone calls had been recorded specifically during the dates of June 19, 2017 and Sept. 25, 2017.

The fourth-ranked player in the 247Sports Composite, Ayton signed with Arizona on Nov. 10 of 2016. He arrived on campus on June 10 of 2017, according to a source. Ayton began orientation on June 19.

That's not to say Miller or Arizona can be completely absolved of any wrongdoing here, but that the ESPN report may not have been entirely accurate in pointing to Ayton as the target of the reported call. SI mentions there could be possible defamation lawsuits as a result of the erroneous reporting from Ayton and/or Miller, but pointed out it's much more difficult to prove "actual malice" in court than it is to admit that something went wrong in the initial reporting.
We don't know for sure what's happening here, but it seems like that's the problem for a lot of different entities at the moment. For now, Ayton will continue playing, Miller will return to the bench and we will await any updates from ESPN.