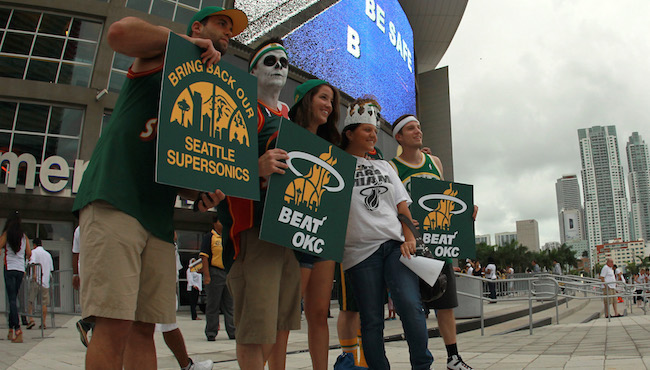 It's no secret the city of Seattle remains upset over losing its basketball team. Not only is there still a relentless campaign to bring the Sonics back following their relocation to Oklahoma City in 2007, but the city's hatred for the Thunder doesn't seem to be dying off, either.
This of course means that schadenfreude was alive and well in Seattle during Monday's Game 7 between the Thunder and Warriors. As Golden State successfully managed to climb back from a 3-1 series hole to stun and eliminate OKC, bitter Sonics fans cherished the opportunity to taste the salt from tears of Thunder followers.
The Wall Street Journal highlighted a few of these scorned fans this week, and some of the excerpts are pretty funny…unless you're a Thunder supporter, of course.
"If they had gotten swept, sure, we would've liked that they lost," said Paul Rogers, an editor and senior writer with Sonics Rising, a blog dedicated to bringing the NBA back to Seattle. "But the fact that they were up 3-1, then lost? It will sound petty, but to me, it's almost better that way,"
Though there's still fevered animosity towards OKC, the feelings towards Thunder star Kevin Durant are a bit more complicated. Durant, you'll recall, was drafted No. 2 overall by the Sonics and won NBA Rookie of the Year in the team's final season in Seattle.
"When I see disappointment in his face, I'm not happy about it, because we like Kevin. He even came back here a few years ago to play in a charity basketball game," said Rogers, the Sonics Rising editor. "It's just really hard to separate him from Oklahoma City. That's why we'd like to see him move to another team, so we can cheer for him again."
Well, considering Durant's contract is set to expire and his future is currently up in the air, Seattle fans may get even more enjoyment out of the upcoming offseason.
It's quite clear that until their city gets its basketball team back, Sonics fans are going to be putting everything they've got into hating Oklahoma City. One fan even said that he stopped drinking Starbucks because the coffee chain's owner sold the team to the ownership group that carried out the relocation.
Heck, not even Charlotte Hornets center Spencer Hawes, who hails from Seattle, can keep himself from holding a significant grudge against the Thunder.
"It's gonna be an open wound until we get another team," Hawes said at a Seattle bar days before Game 7. "It hurts to see them play."

But it didn't hurt on Monday night. Hawes went to Game 7 in Oakland, and he was spotted after the game, outside the Warriors' locker room, wearing a huge smile—and a Seattle SuperSonics shirt.
(Via Wall Street Journal)