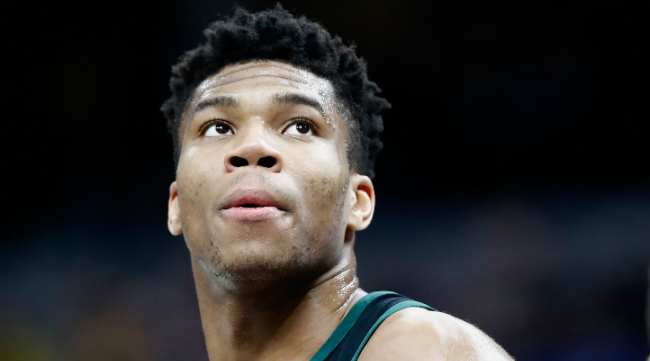 Slowly but surely, information is trickling out about the order that players were selected during the 2018 NBA All-Star Game draft. Kevin Durant getting selected by LeBron James with the No. 1 overall pick was something that just about everyone assumed, but Durant still confirmed that it happened prior to Golden State's game against Minnesota on Thursday night.
With the second pick, you can look at the rosters and deduce that Curry grabbed either Giannis Antetokounmpo or James Harden, with there being a strong likelihood that he picked the Bucks' star. Thanks to Marcus Thompson of The Athletic, we now know the answer.
Thompson reported that, much to the glee of fellow Warriors star Draymond Green, Curry snagged Antetokounmpo with the second overall pick.

Via The Athletic (h/t r/NBA):
After that, Curry took Giannis Antetokounmpo with his first pick. That's not much of a surprise as Curry has raved about last year's performance by the Milwaukee Buck known as The Greek Freak.

"I would've taken Giannis first, too," Green said.
From a basketball sense, it makes sense — Antentokounmpo's length and playmaking ability is a must-have for Curry with James and Durant on the same team. Antentokounmpo is also exploding this year, and it's always good to get an MVP candidate on the roster.
But this is the All-Star Game, so looking at things from a basketball sense is a waste of time. Instead, Curry got someone who was put on the earth to terrorize opponents in a fun exhibition game, so it was a great pick. It also prevents Curry from laying down because he does not want to defend Antetokounmpo 1-on-1 in the open court, which is the most important thing of all.