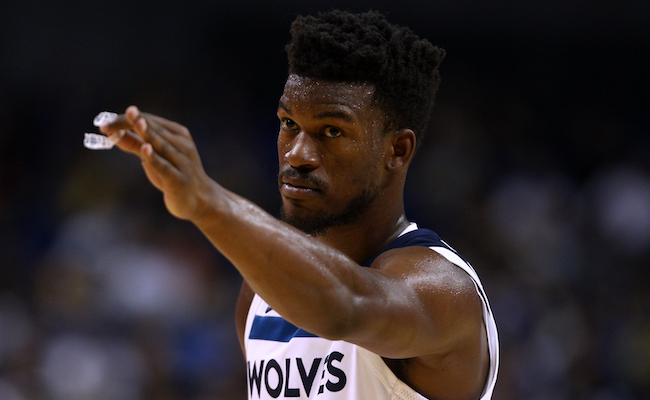 Despite Jimmy Butler's absence from Monday's Media Day festivities in Minnesota, head coach and principal decision-maker Tom Thibodeau publicly indicated that the Wolves will not be jumping to "make a bad deal" that would send the All-Star elsewhere.
In addition to those public comments, Thibodeau was reportedly making moves behind the scenes, as ESPN's Adrian Wojnarowski reports that a meeting took place between Butler and Thibodeau with an eye toward Minnesota attempting to bring one of the best players back into the fold.

It must be noted that Butler may not reciprocate the positive gesture in this case, even as rumblings swirled that he was actually in Minnesota while his current teammates were taking part in Media Day. With that said, it is anything but surprising to hear that Thibodeau is attempting to keep Butler in Minnesota, as that maneuver would be in perfect harmony with his reputation.
Still, reports indicate that Wolves owner Glen Taylor actively wants the team seeking out deals for Butler and all kinds of teams are linked to Butler through varying levels of trade interest. That puts the team in a tough overall position and, if Butler doesn't want to come around for training camp and the preseason, the urgency level can only rise on the part of the organization in facilitating a trade.
In the end, Thibodeau reaching out makes sense to some degree but Butler is wielding every bit of leverage he has and, with the apparent internal turmoil within the Wolves organization, the saga continues.