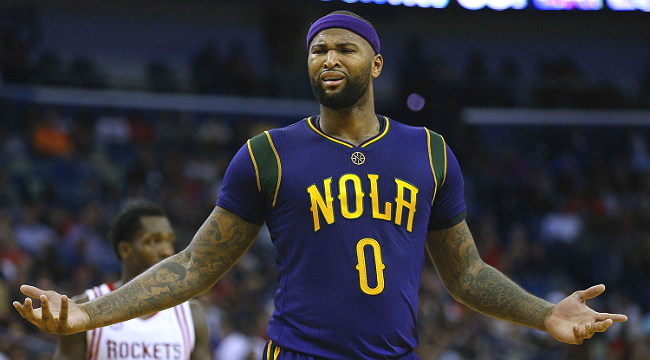 General manager Vlade Divac has been ridiculed for the Kings' trade of DeMarcus Cousins and Omri Casspi that netted Sacramento Buddy Hield, Tyreke Evans, Langston Galloway, a 2017 first-round pick, and a 2017 second-round pick. Cousins, one of the league's most talented yet mercurial stars, wanted to re-sign in Sacramento (even if only for the added $40-plus million the Kings could offer him), but the Kings and Divac chose to unload him on the Pelicans in the name of changing the culture of the organization.
Divac spoke with Ailene Voisin of the Sacramento Bee following the trade deadline in an extensive interview about the Cousins trade and more. Divac explained his comments that the Kings actually had a better offer two days prior to the Pelicans trade, insisting it was Cousins' camp which drove the price down from two first rounders to a first and a second.
He also did the one thing an executive should never do. Publicly say he'll step down if the trade doesn't work out for the Kings' betterment in two years.
"That's my job, and I take responsibility. And I totally understand why some fans would be upset. They supported DeMarcus, and I like DeMarcus a lot. But I believe we are going to be in a better position in two years. I want to hear again from these same people in two years. If I'm right, great. If I'm wrong, I'll step down. But if I go down, I'm going down my way."

Have we learned nothing from Jim Buss, who put a three-year ultimatum on himself to turn the Lakers around, only to give Kobe Bryant a two-year contract that crippled their ability to attempt a rebuild until last year? Now, Buss has been kicked to the curb (well, back to just being a part-owner) and Magic Johnson has stepped in to run the show in Los Angeles.
Divac has one-upped Buss by putting a two-year commitment on a Kings turnaround, which seems like an aggressive move for a franchise that hasn't been to the playoffs since 2006 and whose best young player under contract is, um, Buddy Hield. Maybe Willie Cauley-Stein? Georgios Papagiannis?
No one knows what the Kings really have right now in terms of talent on the roster, and Divac even admitted as much to Voisin.
"The good thing about our situation now is that we have some very nice assets, a few more shooting guards, and time to take a look at Willie (Cauley-Stein), Skal (Labissiere) and Malachi (Richardson) when he gets healthy, and Georgios Papagiannis."
This was the answer to a question right before the one in which he put a two-year ultimatum on himself, meaning, he literally just said they have no idea what they have in four of their five top prospects (with the other just arriving) and then said "I give myself two years." I hope for Kings fans that this all works out, they deserve it after everything they've been through, but in two years that quote is going to get thrown in Divac's face.
Even if everything goes well in this rebuild (which is asking a lot of the Kings) it's really hard to imagine there being tangible proof in the results on the court in two years. If that's the case, Divac better hope Vivek Ranadive is a more forgiving owner when it comes to self-imposed timelines than Jeanie Buss.