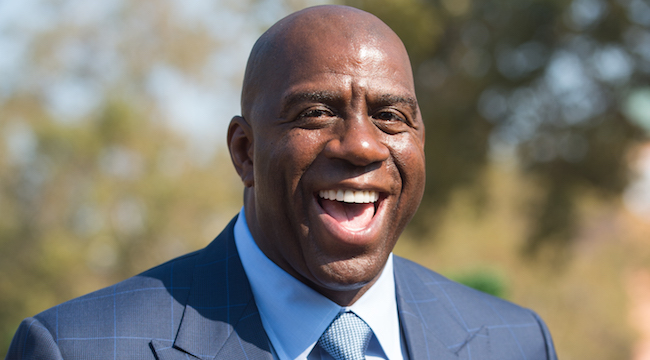 The Lakers made a stunning announcement on Tuesday afternoon as they fired general manager Mitch Kupchak, promoted Magic Johnson to President of Basketball Operations and moved Jim Buss out of his role as the Executive Vice President of Basketball Operations.
The move comes just weeks after Johnson joined the organization again as an advisor to Jeanie Buss, and he has made it known over the past two weeks that he wants to run the team. On Tuesday, Buss gave him that opportunity in a shocking move considering it came 50 hours before the NBA trade deadline.
"Today I took a series of actions I believe will return the Lakers to the heights Dr. Jerry Buss demanded and our fans rightly expect," Jeanie Buss said in a release. "Effective immediately, Earvin Johnson will be in charge of all basketball operations and will report directly to me. Our search for a new General Manager to work with Earvin and Coach Luke Walton is well underway and we hope to announce a new General Manager in short order. Together, Earvin, Luke and our new General Manager will establish the foundation for the next generation of Los Angeles Lakers greatness."

"It's a dream come true to return to the Lakers as President of Basketball Operations working closely with Jeanie Buss and the Buss family," Johnson said. "Since 1979, I've been a part of the Laker Nation and I'm passionate about this organization. I will do everything I can to build a winning culture on and off the court. We have a great coach in Luke Walton and good young players. We will work tirelessly to return our Los Angeles Lakers to NBA champions."
Johnson thinks the Lakers are close to contending and wants to land a major star, and he also has said his first move would be to make a call to Kobe Bryant to bring him in in whatever capacity he wants to take. Kobe can expect his phone to ring soon, and we'll have to see if Johnson tries to get aggressive before Thursday's trade deadline.
It was pretty clear from the moment Johnson came aboard that a shift in the Lakers front office was going to happen sooner than later, but to do it two days prior to the trade deadline seems like a strange decision. Without a general manager in place, the Lakers will be reliant on Johnson to be the decider when presented with offers and advice from whomever is left in the front office. This also could signal that the Lakers won't be active at this year's trade deadline and will instead use the next few months to find a new general manager and allow Johnson to settle into his new role that he has so coveted.