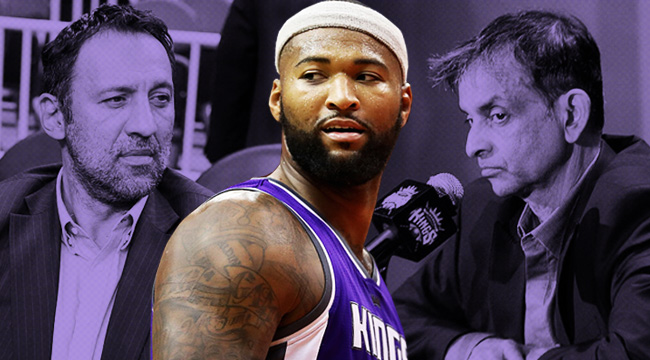 It took just 12 days for Sacramento Kings general manager Vlade Divac to break the promise he made to DeMarcus Cousins and the city of Sacramento. Divac had a "face-to-face meeting" with Cousins earlier this month, promising him he would not be traded, and then he spoke with ESPN's Marc Stein to do the same: "We're not trading DeMarcus. We hope he's here for a long time."
Instead, there was Divac, working the phones on Sunday night during the NBA All-Star Game — the one in which Cousins represented the Kings — finalizing a deal that made his statements to both Cousins and ESPN a lie. Cousins seemingly found out about the trade during the media scrum following the game, after noting that the scrum around him was larger than usual and something must have happened.
The following day, while the NBA was still reeling from the entire incident, Cousins bid the city a tearful goodbye and pledged to continue doing the great work in the community that he'd been lauded for over the past few years.
The entire incident was peak Kings, a team that has for nearly a decade – through two ownership groups and countless head coaches and general managers and two arenas – been the worst organization in all of sports. What followed was a day of madness, where Divac stepped in front of a gaggle of reporters and admitted that he'd had better deals for Cousins but foolishly turned them down. Then he seemed to burn the remaining remnants of whatever bridge was left between Cousins and the organization by saying the Kings were looking for culture and character and wanted to build through the draft.

He seemed woefully unprepared, out of his depths and in over his head.
Hoarding draft picks for an organization that has not shown the propensity to draft effectively in over a decade is a laughable tactic. Cousins is the only pick in the previous three regimes that could be labeled a success. The first pick of the Vivek era, Ben McLemore, is only still with the organization because they've yet to field a trade offer that they've liked. Their next pick, Nik Stauskas — a player Vivek vehemently lobbied for in a hilarious video that was the end result of him outsourcing to fans for draft advice — was traded after just one year with the team. Stauskas, who has evolved into a rotational player, is younger than the prized jewel of the Cousins trade, Buddy Hield, and currently scores more points on fewer shots and better shooting percentages than Hield.
In 2012, the Kings picked Thomas Robinson one pick before Damian Lillard and four picks before Andre Drummond. Robinson was traded just 51 games into his career in a deal where the most lasting and productive player they received in return was Patrick Patterson, who was traded after just 41 games with the team. The Kings' constant rummaging for a point guard and/or another big man to pair with Cousins in subsequent years makes those moves even more indefensible.
The worst pick of the previous regime's tenure in Sacramento may have been Jimmer Fredette. It was rumored that Fredette was picked for financial reasons, as a means to goose ticket and merchandising sales despite whatever on court affect his play would have. Coaches were said to have been pushing for Kawhi Leonard and Klay Thompson, a pair of future all-stars and NBA champions, only to be given Fredette in the end. The only seven starts of Jimmer's NBA career were in a Sacramento Kings uniform, and he would only play 64 more games in the two and a half years after the Kings bought him out in 2014. He's out in China now, but at least he's getting buckets.
Clearly, evaluating talent and developing young players is not the organization's forte. Trading away a bonafide — albeit flawed — talent for another opportunity to evaluate and develop a young player was absurd. The better play may have been to harness, and build around the surly talent they had. But they've proven inept at that as well.
Those are not the organization's only flaws. The biggest mistake of the past decade of Kings basketball may have been hiring Vlade Divac to begin with. A Kings legend, Divac was hired with no previous experience running or even working for an NBA front office. Divac was so green he didn't know the actual machinations of working out a trade, or finalizing it with the league via the standard conference call. Still, the Divac hire was a play towards pandering fans from a bygone era where the Kings were a successful, competently run organization.
Instead, those fans are treated to an owner in over his head who hired a general manager who is in over his head, and they're able to make organizational decisions with impunity. Whether Divac is simply acting out Vivek's orders is between the two of them, but it was widely reported Sunday night that the Cousins trade only went through after Vivek gave his approval, as is the case with all their decisions. It was also reported that the deal focused on Hield because of the owner's "fixation" with the shooting guard and his insistence that the rookie has "Steph Curry potential."
This, from the owner that tried to get previous coaches to implement strategies that he used when coaching his 12-year-old daughter's basketball team, including playing 4-5 on defense and cherry-picking for baskets like LaMelo Ball.
Vivek is hardly the only owner in the NBA to have outlandish requests of his team. Grizzlies owner Robert Pera suggested former Grizz and current Kings coach Dave Joerger wear an NFL-style headset during games to hear suggestions from the owner. The problem is it seems that Vivek's harebrained schemes come to fruition more often than they do for other owners.
And make no mistake, the Cousins trade is another one of those schemes. All explanations of the Cousins deal are easily rebuked. The talent they received in return is lacking, both in immediate impact and long-term ramifications. Hield is only three years younger than Cousins, just 13 months younger than McLemore and he's actually older than Stauskas.
Any talks of culture and character are simply fallacies and a commentary on the organization just as much as Cousins. For all of his faults, character hardly was one of them, even with how unpredictable and combustible he could be on the court. Cousins charitable endeavors around town are the stuff of folk lore. His tearful pledge to continue doing that work around town even in another jersey just further exemplifies what Cousins meant to the city of Sacramento and what the city meant to him.
In terms of character, Cousins might have been the most Sacramento of any Kings player ever. In a city that's known for being the Capital of the state, for a river, and for the sparkly new arena that Cousins called home just a week ago, everything seems to be a ploy for recognition and respect. With the flashier and more popular neighbors towards the west in the Bay Area and down south in Los Angeles, Sacramento and Sacramentans are always out to prove their worthiness.
Much like Cousins, who even in a small market on a team that constantly loses, fought for recognition and respect from the media, the NBA, the referees and his fellow stars around the league. Cousins, like the city of Sacramento, felt he was just as good as any of his competition, and he wanted the world to know it and worked hard to prove it.
If there are concerns over character and culture they won't be alleviated with Cousins exit. If "winning culture" was the issue, why was Vivek trotting Drake into the Kings locker room after a blowout loss that incensed the team so badly Cousins loudly lambasted coach George Karl in the locker room afterwards, as Drake waited for his grand entrance.
If there are character concerns, Ranadive and Divac need not look any further than the mirror. It was they who signed Matt Barnes, who looked past Darren Collison's domestic violence arrest this off-season, who signed Ty Lawson after a string of DUI arrests, and Rajon Rondo after reportedly quitting on his previous team. It was Ranadive who championed Kevin Johnson as a savior of the organization, a man who is an alleged serial sexual abuser of multiple minors. It was Ranadive who caused Cousins to be late to a charity event wherein he took hundreds of children on a shopping spree for Christmas, to discuss the merits of the decision to fire Mike Malone — a decision he'd clearly already made and Cousins clearly hadn't agreed with — despite the previous and delayed engagement.
This is not to say Cousins is without his flaws. His hemorrhaging technical fouls and cussing out a random Warriors fan recently are said to have been reasons the organization finally decided to move on from Cousins. He was set to be offered and accept the richest contract in NBA history this summer, a deal that would have been north of $200 million and kept him in a Kings uniform until 2023. He is every bit as talented as advertised but he's also every bit as rambunctious and abrasive as advertised as well.
Still, it could be surmised that the culture and character of the organization only amplified whatever flaws Cousins had coming in. It could be argued that the flaws of the organization helped create the flaws of the player, and then both only fermented from there. It could be argued that the Kings' egg came before Cousins' chicken, and that in a better situation Cousins could have blossomed. In an organization more keen on evaluating, developing, and nurturing both on-court and off-court talent, Cousins might have become the best player in the NBA. But in an organization where none of their prized plants seem to get the ample amounts of water and sunlight required to grow into something more than a seed with potential, Cousins was likely doomed from the start like every other Kings pick of the last decade.
Even in that situation he persisted and performed well, and his unique blend of talent and tenacity propelled him further than he ever should have gone under those circumstances. The likeliest of outcomes says the Pelicans find a way to force themselves into the playoffs, or close to it, thus lightening the Kings haul in the trade, giving them a mid-to-late first round pick rather than a lottery pick with a chance to be No. 4 overall. The likeliest of outcomes says the Kings whiff on that pick, and if they do land a player of value they either won't be able to develop him or will simply give up on him far to soon.
As for Cousins? Well, he just might be alright.