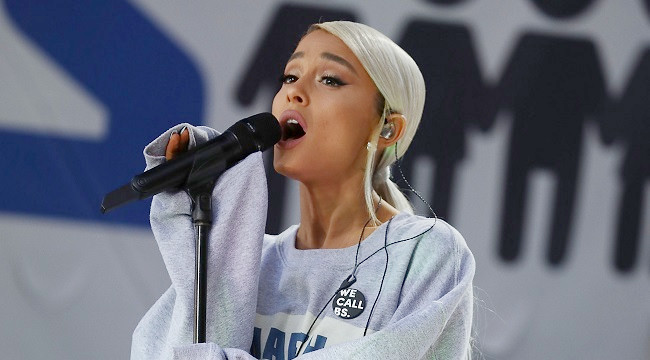 Ariana Grande has officially announced her next single. "No Tears Left to Cry" arrives this Friday, April 20, one week earlier than initially reported. She broke the news yesterday with some help from social media. Older brother and biggest fan Frankie took to Instagram to tease new merch bearing the single's name.
The biggest names associated with Ariana's upcoming fourth album have said to expect her absolute best. "Ariana Grande's album is amazing," says Pharrell, who chose to work on her new music over returning to The Voice. Manager Scooter Braun says to expect a more mature sound. "She has such an extraordinary voice and it's time for her to sing songs that define her. Whitney, Mariah, Adele… when they sing, that's their song. Ariana has big vocal moments, it's time for her song," he told Variety in November.
Meanwhile, producers and writers involved with Ariana's new music said that she has been writing songs "inspired by her experiences over the past few years." Since her last full-length, 2016's Dangerous Woman, Ariana has become a symbol of resilience during recent tragic times. Following the 2017 Manchester Arena bombing, she organized the "One Love Manchester" concert, covered "Somewhere Over the Rainbow" to benefit victims and performed at the March For Our Lives rally.