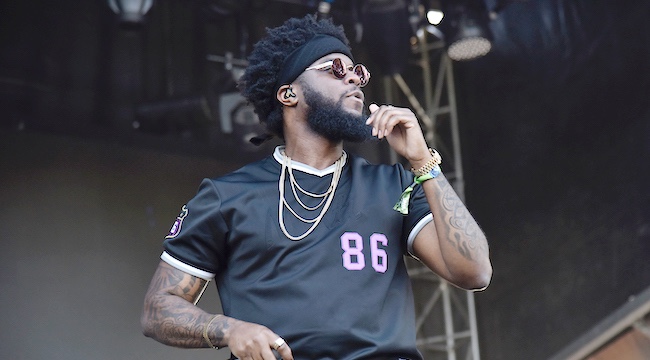 Only a year removed from his sprawling double album, 4Eva Is A Mighty Long Time, Big KRIT returns with a bite-sized reminder of his royal status on the three-song surprise EP, Thrice X. Dropping without warning amid a packed weekend for rap releases, the EP is a short-and-sweet statement that proves he can make efficient, concise bangers as easily as he does soulful, expansive concept albums.
The three songs each display a different aspect of the Mississippian rapper, not only showing off his versatility, but also allowing him to celebrate his accomplishments. "Higher (King Pt. 6)" finds him surveying his state of mind and surrounding circumstances, while the sultry "Glorious" is a slithering trap flex. "Look What I Got" is simultaneously boastful and introspective in classic KRIT style, with a spacey, throwback southern beat filled with organs and brush snares and a rapid-fire flow that proves KRIT's still one of the regions' best straight up rhymers.
Clocking in at under nine minutes, Thrice X joins the expanding list of short-players that rap has become increasingly fond of in 2018. While many of the genre's biggest players have begun stretching their tracklists to take advantage of streaming rules for first-week calculations, others have gone to the other extreme, dropping off three and four-track EPs to whet their fans' appetites for larger main courses at a later date. It's been a winning strategy for Young Thug, DRAM, and Chance The Rapper, and now it looks like Big KRIT is more than happy to join their ranks.
Check out Thrice X below and download it here.