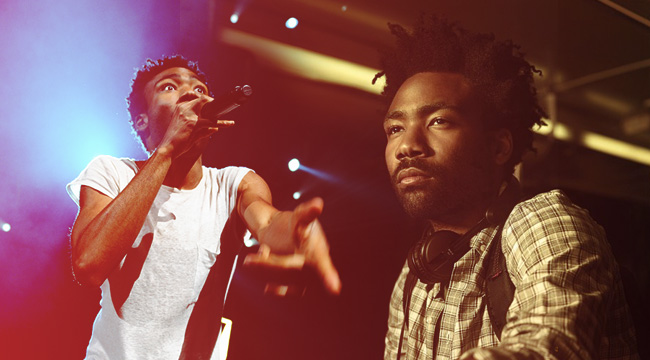 For the people who only know Donald Glover as "that guy from Community that also sometimes raps," there's far more to the story. Glover's career includes a long history of improv and sketch comedy, dramatic writing, and, of course, music. Over the years he's proven himself to be a tireless entertainer who always working to polish his craft in every department. 2016 is the culmination of all those years of quietly working behind the scenes; this year has been very kind to Glover, and he's reached a peak in every industry he works in.
The first season of Atlanta – for which he served creator, executive producer, and co-writer — was a hit, and FX almost immediately renewed the show for a second season. Then, he was cast as Lando Calrissian in the upcoming 2018 young Han Solo film, and finally, he just announced his return to music with the Awaken, My Love, the first Childish Gambino album in three years. From the sound of tracks like "Redbone," it's going to be an incredible album. We'll find out next week.
But none of this happened by accident, Glover has been steadily working on his craft before he even graduated from college. Let's look back at the groundwork Glover laid in order to take 2016 by storm.

2006: Comedy beginnings as a writer on 30 Rock
Shortly before graduating from NYU's Tisch School of the Arts with a degree in dramatic writing, Tina Fey and David Miner, producers for NBC's new show 30 Rock, were sent footage of Glover on a website for a comedy troupe he had been involved with during his time at NYU by none other than Amy Poehler, the founder of improv comedy school Upright Citizens Brigade, where Glover was a student.
Miner contacted Glover to set up a meeting with Tina Fey, who was instantly impressed. Fey described the meeting in a 2010 New York Times article:
All he had was a packet of sketch comedy pieces. One was about going on a date with a girl and slowly realizing that she was a Fraggle. She ate furiously, like Cookie Monster, and food fell out the sides of her mouth. That sketch made me laugh.
Glover would write three seasons of the Emmy award-winning show, with a few cameo appearances throughout.
2006: Derrick Comedy forms
To complement his safe-for-TV writing at 30 Rock, Glover reunited with fellow NYU alums Dominic Dierkes and DC Pierson to create a series of raunchy, incredible sketches under the name Derrick Comedy, employing the improv methods learned during their time at Upright Citizens Brigade during and after college.
For nearly five years, the group would continue to upload new clips to their YouTube channel as each of the members worked on their various individual projects, with their videos garnering a combined 200 millions views.
2008: Childish Gambino is born
After a Wu Tang Clan rap name generator spit out the moniker Childish Gambino, Glover had the last piece in the puzzle to self-releasing his first musical effort. The mixtape Sick Boi was released right smack in the middle of Glover's tenure at 30 Rock, and serves as something of a foreshadowing to Gambino's later, experimental work that is rooted in a overarching theme or story (see: Because The Internet). As one reviewer notes in a throwback review published four years after the release of Sick Boi, "the thing is Donald Glover for whatever reason decided to literally be a SICK BOY on this first album, rapping the entire time like he had a bad cold, tissue stuffed up his nose or both." What did the reviewer expect from an art student?

2009: Mystery Team
In early 2008, the Derrick trio took a break from their regular internet-based content to begin production on Mystery Team, the group's first and only feature-length film. The film would go on to premiere at the 2009 Sundance Film Festival, and, as with most cult comedies (one of my personal favorite movies of all time Wet Hot American Summer barely passed 30% on the Tomatometer), would receive lukewarm reviews from critics and an aggregate 53% on Rotten Tomatoes. Critics just don't get it, man.
2009: Glover Leaves 30 Rock and joins the cast of Community
Glover stepped away from the hit NBC show not long after the series won its third consecutive Outstanding Comedy Series Emmy in 2009. He moved to Los Angeles, where he was almost immediately asked to audition for the role of Troy in NBC's new show Community, which would keep him occupied from 2009-2014.
2010: The last Derrick Comedy video is uploaded
On May 26, 2010, Derrick Comedy uploaded a video called "Thomas Jefferson" to their channel. With no announcement whatsoever, this would be the last video the trio would produce. In it, Glover plays a Newsline investigative reporter researching the possibility that Thomas Jefferson (played by DC Pierson) might still be alive, able to bend the conventions of time and space. But "founding father/ageless being" Jefferson is only interested in talking about his band Thomas Jefferson And The Sailaway Boys, which features lead guitarist Jerry "Hot Licks" Appleton (played by a bare-chested Dominic Dierkes).
2010: #Donald4Spiderman
Soon after the announcement of an upcoming Amazing Spiderman movie, fans started suggesting that Glover would be perfect for the role of Peter Parker, starting the Twitter hashtag #donald4spiderman. Glover said he was interested in the role, ran with the hashtag on his own Twitter (since deleted), and even gained support from Spiderman creator Stan Lee:
He's a great actor. I've seen him, and he's terrific […] A lot of my Twitter followers have been saying that he ought to have a chance to audition for the role. So I tweeted back by saying, as far as I'm concerned … anybody should have a chance to audition for the role. I certainly think he should have a chance to audition.
Alas, Glover never ended up auditioning for the role and Andrew Garfield wound up playing Peter Parker. Check out Glover talking about the #donald4spiderman campaign and the "nerds" response in an interview up above.

2011: Childish Gambino explodes with Camp
A series of self-released mixtapes wasn't enough to satisfy Glover's hunger for music. In November 2011, Childish Gambino released his first proper LP Camp for Glassnote Records. The record has a 69 aggregate on Metacritic, and peaked at number two on the Billboard digital album chart within a month of release. Glover supported Camp with the IAMDONALD tour, which, according to a 2011 Village Voice feature, brought him around the country and back performing rap and stand-up, hitting 24 cities in 34 days.
2011: Weirdo
Just four days after Camp dropped, Glover's first and only stand-up special aired on Comedy Central in November 2011. "How many of you guys know me from my show Community?" he asks the crowd, to thunderous applause. "Just so all you guys know, this is going to be nothing like that." The ensuing hour is full of foul language, zany impressions, and what seemed to be the best depiction of Glover as a person — rather than a performer — to date. The whole special is available to stream on Netflix.
2013: Clapping For The Wrong Reasons
With seemingly no rhyme or reason, Glover and collaborator Hiro Murai released the 25-minute short film Clapping For The Wrong Reasons in August 2013. The film features an unknown 20-year-old Chance The Rapper and has no clear plot. A day after the film's release, we called it "a hipster wet dream" despite having no idea what was going on.
2013: Glover Leaves Community and signs pilot deal with FX to produce Atlanta
After 89 episodes starring as Troy in Community, it was announced that Glover would be leaving the show five episodes into the fifth season. Many fans thought that his departure could be attributed to a desire to focus on the next Childish Gambino record, but a series of Instagram posts depicting a few disturbingly honest handwritten letters on hotel stationary explained that he was just looking for some alone time to relax. Though the social media account has since been wiped, check out a transcript of the letters below.

I didn't leave Community to rap. I don't wanna rap. I wanted to be on my own. I've been sick this year, I've seen a bunch of people die this year. This is the first time I've felt helpless. But I'm not on that. Kept looking for something to be in with. Follow someone's blueprint. But you have to be on your own.

I'm afraid of the future. I'm afraid my parents won't live long enough to see my kids. I'm afraid my show will fail. I'm scared my girl will get pregnant and not the exact time we want. I'm scared I'll never reach my potential. I'm afraid she's still in love with that dude.

I'm scared I'll never grow out of [Derrick video] Bro Rape. I'm afraid people think I hate my race. I'm afraid people think I hate women. I hate people can say anything. I hate caring what people think. I'm afraid there's someone better for you… Or me.

I feel like I'm letting everyone down. I'm afraid people hate who I really am. I'm afraid I hate who I really am. I'm scared people will find out what I masturbate to. I'm afraid I'm here for nothing. I feel that this will feel pretentious.

I'm afraid this is all an accident. I'm scared I'll be Tyrese. I'm afraid Dan Harmon hates me. I'm scared I won't know anything ever again. I'm scared I never knew anything. I'm afraid I'll regret this. I'm afraid this doesn't matter at all.

The label doesn't want me to release in December cause it's not a holiday record and I'm not a big artist. I started the record last Christmas. Christmas always made me feel lonely, but it helped me restart the New Year. I want people to [sic] this album when everything's closed. When everything slows down and quiet. So you can start over.

I got really lost last year. But I can't be lonely tho. Cause we're all here. We're all stuck here. I wanted to make something that says, no matter how bad you fuck up, or mistakes you've made during the year, your life, your eternity. You're always allowed to be better. You're always allowed to grow up. If you want.
After taking a few months to get back in the right headspace, it was announced that Glover had signed on as writer, executive producer, and star of a new half-hour comedy pilot for FX "set against the backdrop of the Atlanta music scene." It would take three years for the project to see the light of day.
2013: Because The Internet
Glover stepped away from the spotlight for four months as he took time to relax while preparing to release his magnum opus. Against the wishes of his label outlined in his hotel letters, Gambino's second major-label album Because The Internet arrived in December 2013, demystifying the context (but not the content) of Clapping For The Wrong Reasons with a four-act screenplay meant to be read while listening to the record. At the top of the screenplay, readers found a note from Glover:
NOTE TO READER: THE PRELUDE TO THIS SCREENPLAY ("CLAPPING FOR THE WRONG REASONS") IS AVAILABLE ON THE WEBSITE YOUTUBE FOR FREE CONSUMPTION. IT MAY OR MAY NOT GIVE CONTEXT TO THIS WORK YOU'RE READING.
Internet is a loose four-part concept album that revolves around a group of wealthy California teens struggling to understand their liminal reality and coping with the expectations of their drug-dependent parents, all while trying not to end up just another viral video on Worldstar. Spanning nineteen tracks, the album received very positive reviews upon its release, debuted at number seven on the Billboard Top 200, and was nominated for Best Rap Album at the 2014 Grammy Awards. Glover supported the album with the extensive Deep Web tour that ran from February to May 2014 and was announced via a fake sex cam website.
2014-2015: Donald Glover disappears
Only two months after releasing the excellent Kauai EP, all of Glover's social media accounts including his official website were inexplicably wiped, and he would not be heard from publicly for a few months.

2015: Roles in The Lazarus Effect, Magic Mike XXL and The Martian
Three months after Glover disappeared from the public eye, he popped up in the trailer for the sci-fi horror film Lazarus Effect in a supporting role.
He would appear in two more immensely popular films during the remainder of 2015: as a male stripper in the popular summer flick Magic Mike XXL, then again as one of a member of the ensemble in Ridley Scott's Academy Award-nominated The Martian. Still, he rarely participated in interviews, and his social media remained blank.
2015: Wins MTVu Woodies "Best Video" award for "Sober"
Up against Bad Suns, FKA Twigs, Flying Lotus, Vic Mensa, and Beyonce, Gambino came out on top, pulling in the Woodie award for the Hiro Murai-directed surrealist romance clip soundtracked by Kauai cut "Sober." Glover didn't attend the event, and was unable to accept the award, but did appear in a video message thanking MTV for the honor.

2016: Cast in Spiderman: Homecoming

Six years after the original #donald4spiderman campaign, fans partially got their wish as Glover was finally cast in a Spiderman movie… but not as Peter Parker. Not much is known about the upcoming Spiderman: Homecoming, including Glover's role, but we do know that it boasts a pretty spectacular cast, including Tom Holland, who played Spiderman in Captain America: Civil War, Michael Keaton, Robert Downey Jr., and more. The film is currently in post production, and is set for a July 2017 release.
2016: Atlanta
Three years after FX ordered the production, Atlanta premiered in September 2016. Preceded by Glover describing the series as "Twin Peaks for rappers," many were excited to feast their eyes upon his first screenwriting effort since Because The Internet. Teaming up once again with Hiro Murai, Glover serves as creator, writer, executive producer, and star, and the results are nothing short of mind-bending and spectacular, displaying the breadth of Glover's abilities as a writer (the first season's ten episodes are filled with surreal narrative, comedy, and incredibly relatable drama) as well as an actor. After the series premiere (which we reviewed very favorably), FX immediately renewed it for a second season.
2016: Cast as young Lando Calrissian
After months of speculation, it was finally confirmed in October 2016 that Glover would be taking on the role of a young Lando Calrissian in the upcoming Star Wars origin story about Han Solo. Details about the films are incredibly sparse, but we do know that Glover is taking the role very seriously after his mother made sure to tell him "don't mess this up" after he agreed to take the role.
2016: Awaken, My Love
Glover's social media accounts suddenly roared back to life in early November 2016 to confirm what people knew was coming: a new Childish Gambino album. Some people had already heard new Gambino music at a special listening concert in the woods, but not even the smallest sound bite escaped from the event. Finally, on December 2nd, Awaken, My Love will hit shelves via Glassnote, boasting an album cover that might look a bit familiar for Atlanta fans. Gambino's third proper LP was preceded by the incredible single "Me And Your Mama" and "Redbone", both of which don't see Glover rapping at all, but instead singing like a '70s R&B/soul star over a slow-burning instrumental.
Considering Glover achieved all that in the last ten years of his life, we're looking forward to what he does with the next ten.