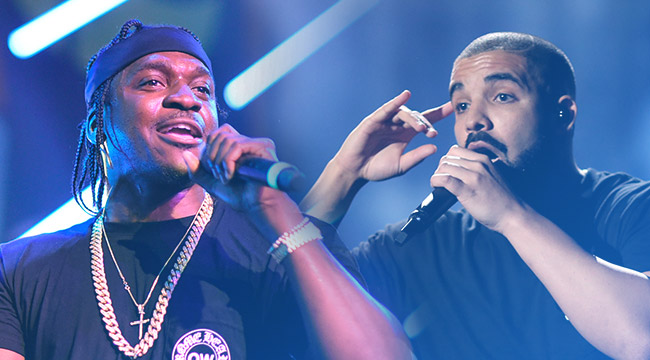 Less than 24 hours after Pusha T took shots at Drake, Lil Wayne, Baby (AKA Birdman), and Cash Money Records on his Daytona closer, "Infrared," Drake has responded with his own flurry of bruising haymakers in the form of "Duppy Freestyle."
The disagreement between the two rappers reaches back to Drake's early days attempting to climb the charts shortly after the release of his debut EP, So Far Gone. When their relationship soured over Pusha and his brother Malice's Clipse group sending shots at Drake's Young Money sponsor, Lil Wayne, the result was a cold war that found Drake and Pusha T exchanging subliminal references, with neither outright mentioning or dissing the other. Some doubted Pusha's drive to escalate the conflict into open beef, while Drake seemed content to let it simmer while he dealt with more open threats from the likes of Tyga and Meek Mill.
That all changed Friday, May 25, when Pusha dedicated an entire track on his 7-song comeback album to venting his frustrations with the Young Money/Cash Money team. It looks like Drake felt more than motivated when he heard it because, as one commenter noted, it took him less than a business day to respond with a full three minutes of vitriol of his own.
Containing missives like "Your brother said it was your cousin then him then you / So you don't rap what you did, you just rap what you knew / Don't be ashamed there's plenty n—-s that do what you do / There's 'no malice' in your heart; you an approachable dude," there's absolutely no doubt to whom Drake is referring this time around. Forget a cold war, both rappers have just released the opening salvos of a heavyweight slugfest. While there's plenty of room in hip-hop for cooperation, this is one competition that just might live up to the hype.
UPDATE: Drake has followed through on the final threat of "Duppy Freestyle" wherein he mocks Pusha's sales and promises to send him an invoice for the additional listens his incisive comeback will undoubtedly prompt. See below.