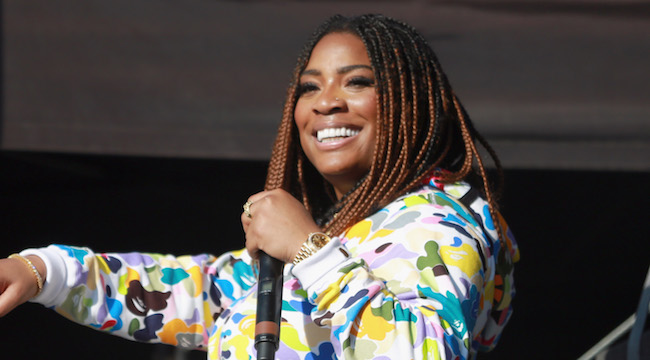 Kamaiyah refuses to let those pesky album delays slow her down or derail her good mood. She keeps making upbeat bangers to keep house parties bouncing. The latest in the Oakland rapper's hit parade is "Henny On Ice" featuring Bookie T, a fun, throwback ode to her favored remedy for the Friday night blues.
The song features all the trappings of a mid-'90s G-Funk hit: a catchy hook tailor-made for sing-alongs, a chunky bass groove to inspire hip-swaying good times, and a neck-cracking, swinging hand clap. Kamaiyah even pays homage to her favorite decade and one of its biggest stars with an oblique reference to Tupac's "Thug Passion" refresher — Hennessey and champagne.
The "Successful" rapper has been on a roll since the mid-album-promo-stream release of her independent mixtape, Before I Wake. Concocted after her Interscope debut stalled out over sample clearance issues, Before I Wake added steam to her promo machine. Combined with her renegade "Successful" video release, Kamaiyah pushed Interscope to give her a little more priority with the upcoming release of Don't Ever Get It Twisted. In the meantime, appearing in Sprite commercials alongside NBA star LeBron James hasn't hurt her standing either.
Overall, 2018 seems to be the year that justifies Yaya's sunny disposition — not that she needs it to. She's already told us all the ingredients she needs for a good time, and since one is as easy as popping open the freezer, she'll never be too far away from feeling great.