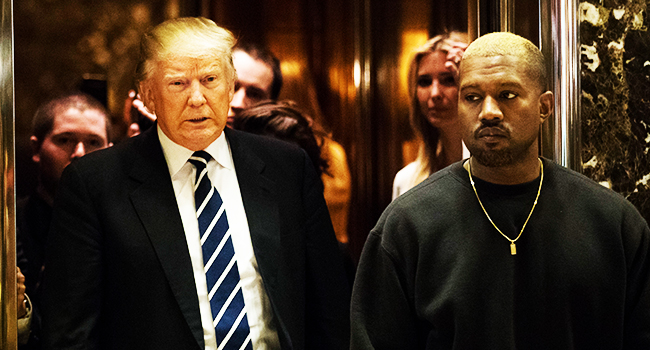 For someone who claims to want to Love Everyone and bring the world together, Kanye has become a polarizing, and divisive figure. After a famous falling out and making up with John Legend, being trolled by Questlove, sub-tweeted by Emma Gonzales, and politely deconstructed by Janelle Monae, the latest celebrity to clap-back at Kanye is rapper Nipsey Hussle. During a performance at the Washington, D.C. Broccoli City Festival, the Los Angeles rapper performed his Donald Trump protest song "FDT" in front of a picture of Kanye wearing his autographed "Make America Great Again" hat. While the rapper didn't specifically mention Kanye, the lyrics of the song are quite clear about how Hussle's feelings toward Trump and his supporters.
Look, Reagan sold coke, Obama sold hope
Donald Trump spent his trust fund money on the vote
I'm from a place where you prolly can't go
Speakin' for some people that you prolly ain't know
It's pressure built up and it's prolly gon' blow
And if we say go then they're prolly gon' go
You vote Trump then you're prolly on dope
And if you like me then you prolly ain't know
And if you been to jail you can prolly still vote
We let this ni**a win, we gon' prolly feel broke
You built walls? We gon' prolly dig holes
And if your ass do win (F*** Donald Trump)
F*** you!
It is reasonable to suggest the above lyrics could just as easily be attributed to a Trump supporter like Kanye. Meanwhile over on Instagram, Hussle posted a photo of the concert with the telling phrase "Performed #FDT in Washington D.C picture speaking a thousand Words."
Hussle's latest album, Victory Lap was released in February and the first of Kanye's reported five new albums will drop on June 1st with his solo album reportedly named Love Everyone. Kanye has yet to respond to the performance.