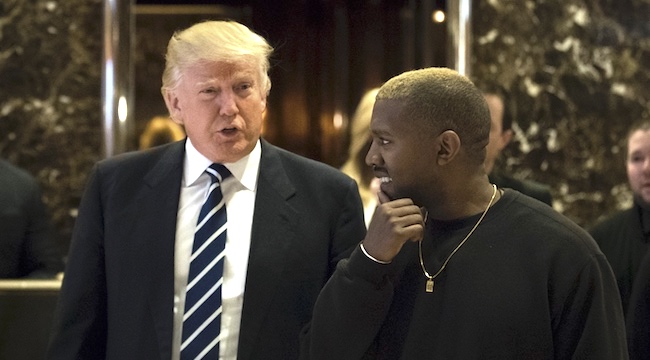 Ever since Kanye West got back to tweeting, he's kept his Twitter fingers in near-constant motion. He's been teasing sneakers, announcing album release dates, talking about philosophy, and now, he's decided to clear up some recent comments he made in support of Donald Trump.
He told Ebro a couple days ago that he loves the president, and he reiterated that today on Twitter, saying that the two "are both dragon energy," and that Trump is his "brother." He also added that he loves "everyone," including Hillary Clinton, and that he's neither a Democrat nor a Republican:
"You don't have to agree with Trump but the mob can't make me not love him. We are both dragon energy. He is my brother. I love everyone. I don't agree with everything anyone does. That's what makes us individuals. And we have the right to independent thought.

If your friend jumps off the bridge, you don't have to do the same. Ye being Ye is a fight for you to be you. For people in my life, the idea of Trump is pretty much a 50/50 split, but I don't tell a Hillary supporter not to support Hillary. I love Hillary too.

I love when people have their own ideas. You don't have to be allowed anymore. Just be. Love who you want to love. That's free thought. I'm not even political. I'm not a democrat or a republican."
Kanye has been making waves in one way or another over the past few days: Also this morning, he confirmed that Scooter Braun is no longer his manager.