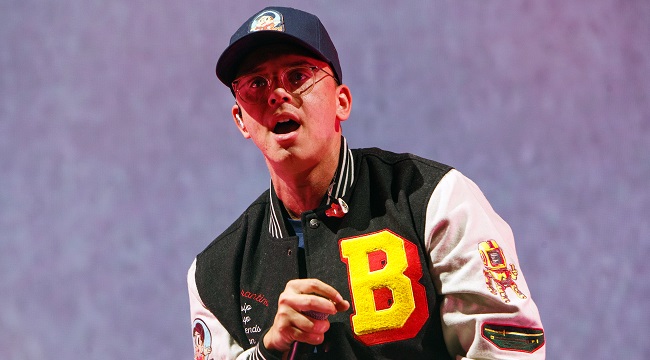 On Logic's recent "YSIV " freestyle, he shouted out a range of hip-hop favorites like Jay-Z, Nas, Big L, The Roots, and A Tribe Called Quest. While the Maryland artist hasn't had the chance to be on a track with any of the legends he referenced, he did get to check one notch off his legendary list — or perhaps we should say nine. Logic recently posted a short clip announcing that he had the "entire" Wu-Tang Clan on his upcoming YSIV album.
"You know how sometimes, you not supposed to give secrets on your album, but then you tell everybody that you have the entire Wu-Tang Clan featured on your album?" he proclaimed in the Instagram story clip captured by Logic fan account Lines Of Logic. He didn't divulge any more information about the song, but it will likely be one of the most heavily streamed and discussed tracks on the night that YSIV is released.
It seems like one of the major tropes of modern hip-hop is getting a legacy feature on albums. Whether it was Drake using Michael Jackson vocals — we hope — on Scorpion, Travis Scott having a range of legends from Stevie Wonder to Earth Wind & Fire's Philip Bailey on Astroworld, or Nicki getting Nas to record a track on Queen, today's stars are always looking to put the figurative cherry on top of their tracklist with a rare, hard-to-attain feature from a music legend.
Drake previously tried to get The Clan on the remix of Nothing Was The Same's "Wu-Tang Forever" song. He reportedly got verses from all nine living members of the Clan on the record, but the group had some miscommunication about whether the verses were for the original or the remix, and it fell apart. It looks like Logic was able to get all nine members on the same page, which is a feat in itself — hopefully, the song is great, too.