Shut it all down. Whatever you had planned for your Ciara-and-Russell-Wilson-inpsired "Shiggy Challenge" dance to Drake's "In My Feelings," it will never top the king of social media, Will Smith. After catching wind of the exuberant fad featuring fans busting out choreography over the ridiculously-popular Scorpion standout, Smith took to the top of a bridge in Budapest with a drone to film his own entry to the canon.
Although he admits his moves themselves are a little stiff, I think we can all forgive him, as he is clearly taking the Shiggy dance to a level it hasn't been seen on in the week since its existence exploded across every platform where a fan can post their joyous videos. Everyone from A-list celebrities to anonymous aunties have joined in, helping to propel the New Orleans-bounce sampling jam to a pretty much guaranteeded No. 1 spot on the Hot 100. It's even been remixed by up-and-coming St. Louis rapper Smino, to smooth effect.
Meanwhile, some more enthusiastic fans have taken on themselves to identify the "Keke" referenced in the song's catchy chorus and have settled on the theory that it's none other than widely recognized Drake ex Keshia Chanté, whom the Canadian rapper has previously honored with lyrics in other songs. She seems to be taking it all in stride, posting screenshots of the funnier DMs she's received on the subject, where fans have expressed their hopes that whatever she's riding, it's something cool and requested that she provide Drake with a solid answer so as to end the deluge of challenge vids currently flooding social media.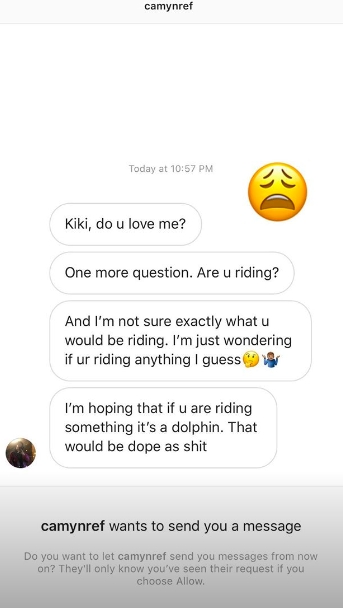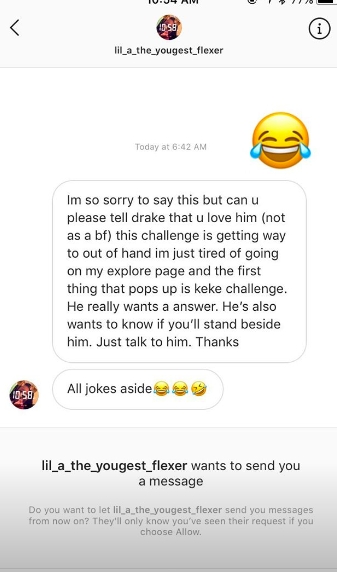 Unfortunately for those fans, it looks like the song is only gaining steam, already pulling early votes for song of the summer, despite strong competition from Ella Mai's "Boo'd Up," which ironically, also features lyrics about being "in my feelings." It's going to be an emotional summer.