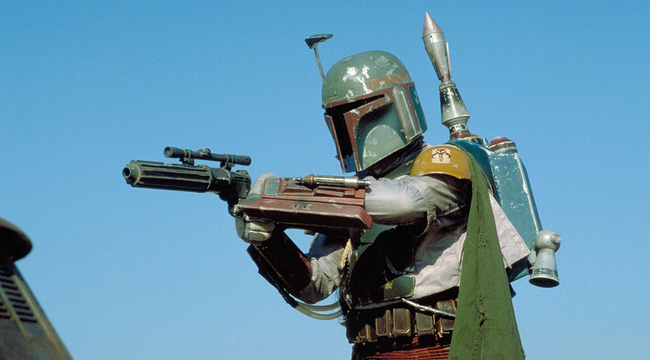 Jon Favreau has gone and revealed details about his upcoming Star Wars series, which was announced earlier this year and will run on Disney's streaming service. And he did so in the most 2018 way possible: Via Instagram. But he didn't simply post some random photo. To shill for his show, The Mandalorian, Favreau created a title card that resembles the Star Wars opening crawls: yellow lettering over a black screen (though sans stars, as it were…and in the wrong font).
To reiterate, it reads:
After the stories of Jango and Boba Fett, another warrior emerges in the Star Wars universe. The Mandalorian is set after the fall of the Empire and before the emergence of the First Order. We follow the travails of a lone gunfighter in the outer reaches of the galaxy far from the authority of the New Republic.
Said warrior, Deadline reports, hails from a race that sprang from the ones that sired Jango and Boba Fett, the latter being one of the most iconic characters from the original trilogy, despite only having two or three lines total. Film-wise, Boba first appeared in The Empire Strikes Back, though he made his Star Wars debut in the animated segment of the infamous Star Wars Holiday Special, in which the taciturn bounty hunter kind of won't shut up.
The second prequel Attack of the Clones dove into his backstory, showing his father, Jango, who also had a pretty rad suit.
Favreau's show, which he'll write and serve as EP, will, of course, follow someone who's following in Boba and Jango's footsteps. There is already a Boba Fett solo film being prepped by Logan director James Mangold. What Star Wars fatigue?