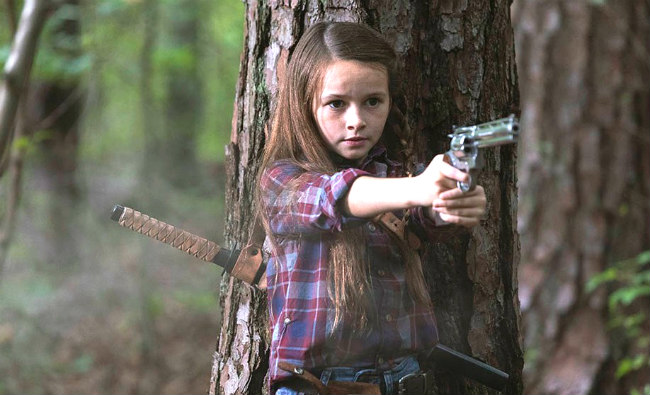 She's not so Lil' anymore.
At the end of Andrew Lincoln's final episode of The Walking Dead, the action leaps forward several years into the future. A group of newcomers, to the viewers at least, are surrounded by walkers, before they're saved by none other than Judith Grimes, a.k.a. Lil' Ass Kicker. Lori and Shane's daughter, who Rick raised as if she was his own, is a 10-year-old armed with a gun, a katana, and a hat that once belonged to Rick, then Carl. It's now all hers, though.
Cailey Fleming, the actress who plays Judith (well, this Judith; there's like 20 more), is only 11 years old, but she's already put together an impressive filmography, including roles on Better Things and One Mississippi, and she's also appeared in Peppermint and Star Wars: The Force Awakens. In fact, she played Young Rey in Episode VII. No wonder she took to the katana.
"She came in and she had so much personality and life and was a great person. We just knew she'd be a perfect fit for the cast," showrunner Angela Kang said about Fleming. "We were looking for the best actress and it just happens that she looks so much like Sarah Wayne Callies, who played her mother, and also bears a striking resemblance to Chandler [Riggs], her brother. It felt like all the pieces fell in place… She's such a professional actress at 11 years old."
Hopefully things turn out better for Judith than they did for, well, basically her entire family.
(Via Business Insider)