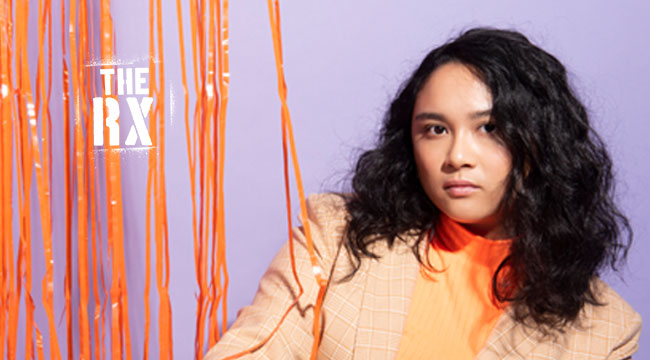 The RX is Uproxx Music's stamp of approval for the best albums, songs, and music stories throughout the year. Inclusion in this category is the highest distinction we can bestow, and signals the most important music being released throughout the year. The RX is the music you need, right now.
When you're a burgeoning indie-rock hero who insists on recording every album at home, it's important to have friendly neighbors. Melina Duterte, the 25-year-old musician and mastermind behind Jay Som, appears to have lucked out. She recorded all of Anak Ko, her effortlessly inventive new record, at home in Los Angeles, without incident. Except one.
"The only complaint we've gotten was from our neighbors next door, who asked our landlords if we could not do karaoke at 2 a.m.," Duterte says. Not a regular occurrence in Duterte's shared three-bedroom house — it was her birthday celebration — although she does have a deep-ingrained fondness for karaoke. "It's a Filipino thing for sure," she offers. "Everyone does it, but Filipinos love singing other songs." Indeed, there was a karaoke machine in her living room while she was growing up, and she once spooked some elderly bystanders on a seniors' cruise with her intense rendition of Bonnie Tyler's "Total Eclipse Of The Heart." Which is a striking mental image, considering that Duterte is polite, warm, and far from intimidating when you meet her.
We're chatting in the Manhattan offices of Jay Som's PR firm, in a meeting room/storage closet bizarrely outfitted with a Ghettoblaster and several avant-garde paintings. Colorfully dressed in pink socks and a purple button-down, Duterte is just back from a live session at WFUV in the Bronx, which prompts her to remark on New York's perennially defective subway. ("We went to Japan recently, and their train system is flawless," she raves.) When she leans forward, I can see a tattoo of her childhood dog on her forearm.
A lot has changed for Duterte since the last time I saw her in person. That was in early 2017, when she played a rousing show at Baby's All Right, shortly after the release of her career-making second album, Everybody Works. That was a transformational album, an unusually perceptive mix of slinky grooves and fuzzed-out guitars all tied together by Duterte's deeply generous songwriting; it's no wonder her life and career have been subsequently transformed. Back then, pretty much every article about Jay Som led with some variation of the words "Oakland-based" or "Bay Area music scene." Now she lives in Los Angeles. And for the first time, she is financially supporting herself entirely through musical pursuits. Indeed, she is more successful than she ever imagined back when she wrote "Everybody Works," a song about the bleak economics of an indie-rock career ("Try to make ends meet / Penny pinch 'til I'm dying"). And, after a winter of blacking out a few too many times, she quit drinking.
"I don't feel like I'm the same person," Duterte says, reflecting on that 2017 gig. "I grew up in the past two or three years. I feel like I had to really sacrifice a lot of my personal life so I could be comfy with my musical life, because you have to mesh them together to be a happy person."
One thing, of course, hasn't changed: Though Duterte now lives in a city that's home to some world-famous recording studios (Sunset Sound, The Record Plant, etc.), she still records everything at home, in a room even smaller than the one where she recorded the last record. (There's room for a bed, a studio desk with her iMac, a rack of guitars, some preamps, and not much more.) "I choose to do that partly because I'm a perfectionist when it comes to recording, but partly because it's so much cheaper," she explains. She also relishes the challenge — and autonomy — of mastering music production, which she describes as her passion. If you flip through the CD booklet for Everybody Works, you'll find this Prince-like declaration: "All tracks composed, arranged, produced, and performed by Melina Duterte."
The same is mostly true of Anak Ko, which she self-recorded and produced, except this time Duterte made room for contributions by friendly collaborators like Annie Truscott from Chastity Belt and Laetitia Tamko from Vagabon, as well as her live bandmates. There is even a pedal steel on "Get Well," imported from out-of-state. "I was in CVS one day and it clicked that I really wanted a pedal steel," Duterte explains, "so I made my partner text her friend's boyfriend, who plays pedal steel up in Seattle — Nick Merz." Merz, a member of the band Darto, emailed his part over the next day. Duterte describes it as "a little country tune" and readily identifies it as her favorite on the album.
It does seem like bedroom-pop is having a moment in 2019. Billie Eilish's goth-pop debut When We All Fall Asleep, Where Do We Go?, which spawned five Top 40 singles and became one of the biggest-selling albums of 2019, was recorded in Eilish's tiny bedroom in Highland Park — the same neighborhood where Duterte lives today. Clairo, the extremely online 21-year-old singer, has turned the viral success of her lo-fi Youtube sensation "Pretty Girl" into a sustained recording career, with a well-received album out this month.
But while "bedroom-pop" evokes a vision of a goth teen hovering over a Macbook, Duterte has more eclectic leanings — she grew up playing trumpet in high school band, and Anak Ko counts strings, live drums, and the aforementioned pedal steel among its ingredients. Besides, Duterte has grown to resent that term: bedroom-pop. "I've never gotten why that's stuck forever. It's only because I actually record in my bedroom," she says. "Who's a bedroom artist? People like Clairo and Frankie Cosmos, but people have been recording in their bedrooms since forever."
Of course, it's not just the recording method that distinguishes Duterte's work. There is also the matter of her skill and ingenuity as a songwriter, which her bandmates have long recognized. "I think when Melina comes up with melodies or riffs, the song just writes itself," says longtime bandmate Zachary Elasser, who plays drums on Anak Ko and has known Duterte since the two went to high school together a decade ago. (They were originally in a band together called Summer Peaks.) "There's this sense of intuition that comes out in Melina's music that seems so natural and right," Elasser adds. "I've always been so enamored with that side of expression, ever since high school. No joke, she soloed on the trumpet in jazz band with such ease that she enhanced the musical."
Here's a story about how resourceful Duterte is when she's in album-making mode.
Last year, she was producing a fellow musician (whose name she won't reveal) at her house for a month. (Did I mention she's a producer now? She also co-produced Chastity Belt's new record.) "She had her hard drive over all the time," Duterte continues, "and then I had to clean her hard drive once and there was a folder that said, 'Vintage Drum Machines.' I was like, 'Oooh?' So I just copied and pasted it onto my computer."
That folder contained intriguing sub-folders full of WAV files. "Each folder said, like, 'Roland 808' or 'Akai MPC,' and I ended up using the Linn LM-1 drum machine, which is the one that Prince uses. The famous one." Indeed, the LM-1 provided the iconic pulse of "When Doves Cry," among other Prince classics. Duterte proceeded to build a drum set out of the LM-1 files on Logic, played it through the sampler, then quantized it to make it seem like the actual drum machine. "I can just make a drum set out of it through MIDI," she says proudly.
The back-to-back songs that make prominent use of these bootlegged beats comprise the funkified centerpiece of Anak Ko. "Tenderness" begins with a heavily syncopated LM-1 groove, then suddenly blossoms into live-instrumentation widescreen in time for its radiant hook. "That's an obvious Steely Dan song," Duterte says, identifying the track's prime influence. It's an irresistible slice of soft-pop nostalgia, and its lyrics evoke the nervous excitement of a new crush: "Show me / Before you haunt me on the screen / Will my affection pull the strings?" Then there is the title track. Anchored by a rustling trip-hop beat, that song is slower, moodier, but worth the payoff as its trippy mid-section gives way to a tantalizing climax in which Duterte's voice is chopped and manipulated beyond recognition.
It's no coincidence that Duterte has a much sturdier grasp of funk groove than most of her indie-rock peers (see: "One More Time, Please"). She grew up in the East Bay with music-loving parents; before she was born, her father was a disco-era DJ. "I think the reason why I like the music I like is because of my dad's music taste," Duterte says. From a young age, she was exposed to '70s funk and R&B. Earth, Wind & Fire and Michael Jackson were mainstays in her household. "I would steal his cassette tapes and I would steal his vinyl and just listen to everything," she says.
One tape that her dad made in the 1980s was especially formative. "It had Lisa Lisa and Cult Jam," Duterte recalls. "There's this one song called 'I Wonder If I Take You Home,' and that was the first time I remember hearing really awesome drum machine, bass, '80s music that's so dancey but really melodic. I think that's why I like '70s and '80s music so much — it's so intelligent the way they use pop music." This pop influence is palpable on Anak Ko's groove-soaked latter half. And her obsession with Cocteau Twins emerges in the dreamy guitar roar of the first single, "Superbike." That's another band Duterte discovered at a young age: "I just remember being like, 'What is she saying?' Being a kid and being like, 'Wow, you can make music like this?'"
The songwriter's parents have been supportive of her decision to pursue music, although "my mom does have her moments where she's like, 'Are you gonna be a nurse?'" Duterte admits. "It's very common in Asian cultures that you follow in the footsteps of everyone [and] enter caretaking roles for your job. But when I expressed I wanted to be a musician at a young age, they were super supportive but also like: 'You need to learn yourself. You need to learn how to take care of your equipment. We're not gonna hold your hand.'"
In 2015, at 21, she adopted the moniker Jay Som and, in a spur of alcohol-fueled audacity, released a bunch of demos on Bandcamp. Those decidedly lo-fi recordings eventually became her debut album, Turn Into. It was not an easy time. "I was working at deli restaurants in the Bay Area, doing coffee stuff, too. I was living paycheck to paycheck, and I was barely paying rent," Duterte recalls. "It was pretty chaotic." Yet some sliver of redemption arrived when those Bandcamp recordings gained momentum in the Bay Area, eventually landing her a manager and a record deal with Polyvinyl. "I'd been buying music from them since I was a kid, like listening to Of Montreal and Mates Of State. I was like, 'I know who Polyvinyl is, this is like a dream come true.'" In 2016, she wound up on tour with Mitski and Japanese Breakfast, fellow Asian-American women jostling for space in a heavily white rock scene. "For me, it felt like we had a mission," she told Pitchfork some months later.
Polyvinyl quickly rereleased Turn Into, but 2017's Everybody Works was where Duterte came into her own as a songwriter and arranger, merging dream pop, shoegaze, indie rock, and ambient expanse into a remarkably self-assured and hooky melange. (It's telling that Jay Som's press materials refer to this, and not Turn Into, as her proper debut.) Duterte was taken aback by how much notice the record received, including a Best New Music rave from Pitchfork and a No. 1-album-of-the-year placement from Paste, which described it as "personal and vulnerable and, above all, beautiful."
The most surreal episode in her rise to an indie fame came when she found herself opening for Paramore in straight-up arenas. "That was crazy," Duterte says. "Literally everyone loves Paramore and had their phase with them in the early 2000s. I did, too. They were so nice to us. Hayley [Williams] was the second person we met the first day. She was just like, 'Hey guys, what's up, I'm Hayley!' We're like, 'We know!'"
In November of 2017, fresh from the success of Everybody Works, Duterte chose to leave the Bay Area, decamping 375 miles south to Los Angeles and moving into a Highland Park house with her best friend since age nine. It was a much-needed change of scenery: She had lived in the Bay Area her entire life up to age 23.
Yet during that first month in L.A., Duterte found herself binge-drinking more than seemed healthy. "When you move somewhere, there are people that are like, 'Come out to this bar, come out drinking.' I think I was just tired of blacking out all the time, and I'm tired of how it's very encouraged to drink in music," the singer says. "You go to shows, and instead of giving you food or money, they give you beers. When you mix that with touring, it's extremely chaotic. I think I just wanted to feel more like myself. Luckily, my partner — she really, really helped me find out that being sober is one of the best things you can do for yourself and the people around you."
She has now been sober for more than a year, a life change that's reflected in "Get Well," Anak Ko's plaintive closer. It's a quiet rumination on addiction, seemingly addressed to a friend: "How do you find peace / With a drink in your hand?" she sings. Opening for Paramore was her first experience touring sober. "At first I thought it was gonna be insane and I was gonna have a breakdown and start drinking," she admits. "But it brought me a lot of clarity and not much frustration."
Still, by early 2019, Duterte felt burnt out and self-conscious about how her music was perceived. She needed to be free of distractions to write the new record. So she rented a house alone in Joshua Tree. Much of Anak Ko was written there, secluded in the middle of the desert. One day she opened her curtains and was stunned to see snow. "I was mostly cooped up," she recalls. "I did walk around a lot, but it was so secluded that it was literally just land and the desert."
When I ask what themes came through during this remote songwriting expedition, Duterte thinks for a moment. "I think I always return to themes about acceptance and giving," she answers. "I think in my personal life, I just love to give and share ideas and give my time to people, and I love to write about that because it's so cathartic. I think sometimes a disconnect with me is that I love to give and give, and when I receive, I don't know how to handle it."
That spirit of generosity comes through in the album's title, Anak Ko, which translates into "my child" in Tagalog. "It's this really endearing term that Filipino parents give to their children," Duterte explains. "It just puts this comfy blanket on the album." She was drawn to the name after stumbling upon texts from her mom, who always uses the phrase in motherly greetings: "Hi Anak Ko, I love you"; "Hi Anak Ko, where are you?"
"I was thinking about how I want to connect to my culture more and connect to my family more," the songwriter says. "This is an album dedicated to them, in a way, and Filipino people. I feel like I've reached a phase in my life where I really like to connect to my roots. It's topical more than ever to really be proud of yourself—and stand out for yourself."
Anak Ko is out on Friday via Polyvinyl. Get it here.