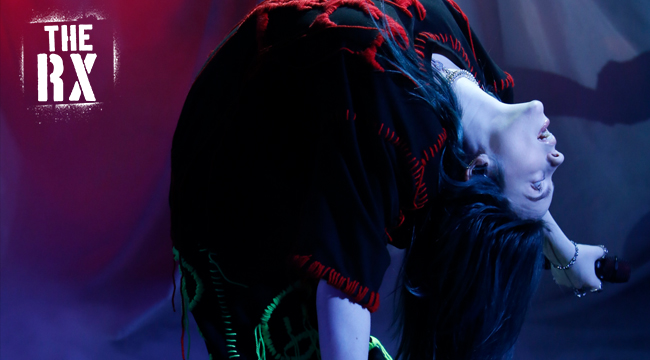 The RX is Uproxx Music's stamp of approval for the best albums, songs, and music stories throughout the year. Inclusion in this category is the highest distinction we can bestow, and signals the most important music being released throughout the year. The RX is the music you need, right now.
Running errands in south Austin one day last November, I was startled to notice a line of yellow beanies and orange track pants snaking down the side of a venue named Emo's and through its entire parking lot. Dressed alike and waiting outside the venue doors, the crowd of girls looked like the city's biggest dance troupe, or a cult waiting for their meeting space to open up. Cars stopped and squinted at the line, and passengers got out their phone for a quick Google to see what was happening. Ah, Billie Eilish is playing tonight.
Teen idols have existed since time itself, but I'm not sure there have been any quite like Billie Eilish. For one, she looks like a Tim Burton animated character come to life, with big, bright blue eyes and hair to match. You expect a spider to come crawling out of her mouth at any minute. She's certainly not the first pop star to have that kind of give-no-f*cks attitude — Avril Lavigne was doing it the year Eilish was born — but her LA kid ennui is a fascinating companion to her striking artistic vision. At just 17-years-old, Eilish has crafted a sound and aesthetic that feels like both the culmination of every current trend and the first wave breaking on the new ones. She's on the cutting edge. She's the knife.
Eilish's popularity with young people can't be overstated. She bewitches them to stand outside of venues for hours at a time, dressed in copycat neon and apathetic stares. Dave Grohl, who has young daughters himself, compared Eilish's influence to that of Nirvana's in the early '90s. Her tour, already booked in huge amphitheaters before she'd even released an album, sold out in minutes. To those who look up to her, Eilish is God, or maybe Lucifer.
With the release of her long-awaited debut album When We All Fall Asleep, Where Do We Go?, the grownups of the world have finally woken up. Every review of the album seems to be written with a little bit of incredulity, like the writers are witnessing some kind of magic they don't entirely understand. Her music is fresh and exciting — indebted to Lorde, Lana, and the weirdo sadgirls that paved the way for her, but with a venomous streak we haven't seen from a new artist in a long time. Even if When We All Fall Asleep, Where Do We Go? peaked with its singles, it'd still be a touchstone pop album of the 21st century so far. All the new stuff meets the hype and then laughs in its face.
Eilish delights in her dramatic, apocalyptic stage persona, and despite the bleak themes it touches on, When We All Fall Asleep, Where Do We Go? is undeniably fun. She opens with a spoken introduction, a spitty, slurp-y sound effect of sucking her dental gear, announcing that she has "taken out her Invisalign, and this is the album." Her maniacal cackle breaks immediately into "Bad Guy," a trap-pop banger and spot-on thesis statement for the album. Over dark, driving synths, Eilish tells you exactly who she is: "That bad type / Make your mama sad type / Make your girlfriend mad type / Might seduce your dad type." In short, she's a specter of everything society finds terrifying in young women, the "bad guy" villain born out of every misogynist stereotype.
The early high-concept theatrics carry through the rest of the album. On the drum-driven "Bury A Friend," Eilish switches perspectives between herself and the monster under her bed. Each are equally frightened and fascinated by the other, and the back-and-forth makes for an exhilarating dance. "You Should See Me In A Crown" takes its name from a Sherlock quote, and its beat drops straight from the depths of hell itself. "You Should See Me In A Crown" was the first single Eilish released from the album, and when it arrives halfway through the album, it almost sounds like a prophecy fulfilled. She's already "running this nothing town."
But the album is as much a display of Eilish's vulnerability and restraint as it is an assertion of power and potential. The singer writes all her own songs, and each one is infused with the particular pains of being a teenage girl. On the fuzzy, bass-heavy "Xanny," Eilish laments the lonely struggle of being the only straight-edge kid in her friend group, "In the secondhand smoke / Still just drinking canned coke." I imagine it's relatable for many of Eilish's young listeners, and for me a couple years out of her target demographic, it's a visceral throwback to my own high school years drinking warm Sprite.
Despite her fame, Eilish is still the victim of the ultimate teenage plague — unrequited love. On "8," Eilish toggles between her regular soft, languid singing voice and one that's pitch-shifted up, angling for attention from a crush that doesn't seem to know she even exists."Wish You Were Gay" was faced with its fair share of controversy upon its release, but in the context of the rest of these songs, it's just another facet of the agony of being young. Eilish explores horror in all its forms — the theatrics of actual monsters and nightmares, and the everyday terror of being made invisible by someone you love.
The contrast between her relatability and artistry is part of what makes When We All Fall Asleep, Where Do We Go? so fascinating. The album is full of bizarre, genius production choices that elevate it further, taking Eilish's astute songwriting to a whole other level. Eilish and her producer brother Finneas are a musical dream team. The blown-out bass and delicate piano of "Xanny" convey Eilish's sober honesty in that song, and the Michael Scott quotes peppered into "My Strange Addiction" make it, well, that much stranger and more addicting. It's the kind of album that demands to be listened to with your best headphones, so you don't miss any of the weirdo turns of sound — the audiences laughing along to "Wish You Were Gay," the whispers layered upon whispers in the outro of "Bad Guy." Every new listen of the album uncovers a new layer in the labyrinthian production.
At times, I feel like When We All Fall Asleep, Where Do We Go? is one of those high-frequency ringtones that only dogs and super young people can hear. I'm just over the cusp of not being able to connect with it in that way — to have it speak to me and to see Billie Eilish as the prophet who's singing what everyone in that generation is feeling. But even from a bit of distance, the trick mirror of Eilish's music is brilliant. It's alternately knife-tongued and delicate, indulgent in horror and quietly hopeful. Eilish is fiercely talented even at 17, with a long and monstrously exciting career ahead of her. Join the line of yellow-beanied, orange-pantsed fans now and get a spot at the front while you still can.
When We All Fall Asleep, Where Do We Go? is out now via Darkroom/Interscope. Get it here.