Last week was a beer marathon. A beer-a-thon, if you will. Collecting the best beers from each state teaches you a lot about beer, craft, and taste in general. First, there are a ton of Russian and American Imperial stouts out there that people looooooove. On most lists, those are usually followed by Double IPAs and little else. To be fair, those styles can be delicious.
But you have to ask yourself if that's what people are really drinking when they head down to the local microbrewery — much less their grocery store. The answer is…kinda. Just because a beer is rated well, doesn't mean it's beloved. When I dove a little further into the breweries who were making those world-class beers, I found hidden gems waiting to shine, hoping that their styles will become en vogue again.
Beer tasting, I realized, should always include a sense of discovery.
There was also a clear beer style that's just on the horizon. Beneath the surface of all those bitter beers with 100 point ratings was the new kid in town. Sour beers are now being brewed all over the country. And while the bitter IPAs still dominate, they're slowing being usurped by the sours.
There's a reason for this shift: hopping can make a great IPA but it's also often used to hide the lack of craftsmanship on behalf of the brewer. Sour beers are a whole different beast, requiring secondary fermentations with proprietary yeast strains, aging, blending, bottle conditioning, and even more aging. You can't just double hop it and hope to hide your shortcomings. As more and more beer lovers take these sort of peeks behind the brewer's curtain, the more American Wild Ales, Berliner Weisses, Lambics, and Saisons are popping up around the country.
What's great about lists like these is that next year — hell, six months from now — we could make a whole new list as beer culture grows, brewers bring back styles or master new ones, and a whole new batch of beers are birthed. Every time we pop that top, a living fluid mixes with the atmosphere and then enters our senses. All those grains, flowers, yeasts, and water come together in an emulsion that can play a thousand variations on a single theme.
It gets us drunk. It makes us happy. And it tastes so damn good when it's done right.

THE NORTHEASTERN STATES:
The best beers in America's Northeastern states featured an eclectic mix of classics, in a region where IPAs still reign supreme. It's hard to argue with Dogfish Head and their massive impact on the microbrew scene and its transformation into the "craft beer" scene. And we can't leave the Northeast without a shout out to just-missed-the-final-cut-beer Ann, from Hill Farmstead.
THE SOUTHEASTERN STATES:
The best beers in America's Southeastern states saw a surge in more refreshing beers, brewed to quench your thirst on a hot summer day. TrimTab's Raspberry Berliner Weisse and Bibo's Pilsner felt like the perfect beers for a hot day from states that have a lot of hot days.
THE MIDWEST STATES:
Pciking the best beers in America's Midwest states made for a tough call, with several states owning deep, deep benches of brewers — we're looking at you Illinois, Wisconsin, Ohio, and Michigan. Still, we discovered some beautiful Belgian styles popping up in Nebraska and Missouri that buck trends and satisfy palates.

THE SOUTHWESTERN STATES: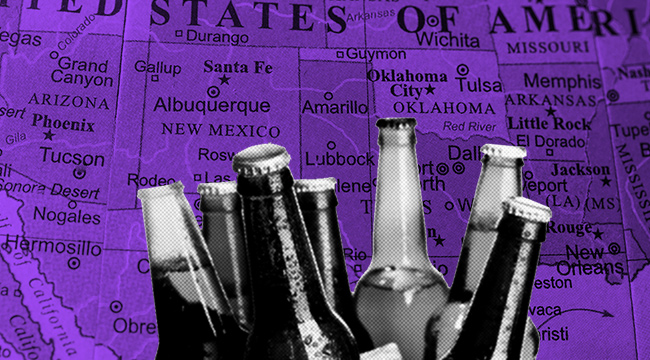 The best beers in America's Southwest lean heavily into the "it's hot, so let's drink super refreshing beers" category. Huss' Koffee Kölsch and Live Oak's Hefeweizen stand out as great examples of German beers done right in America.
THE WESTERN STATES:
And, lastly, the best beers in America's Western states say a lot of showdowns between old school micro-breweries and newer "craft breweries." Old school Deschutes Brewery is still making amazing beers 29 years on, while relative newcomers like Holy Mountain Brewing up in Washington state are hitting it out of the park already.