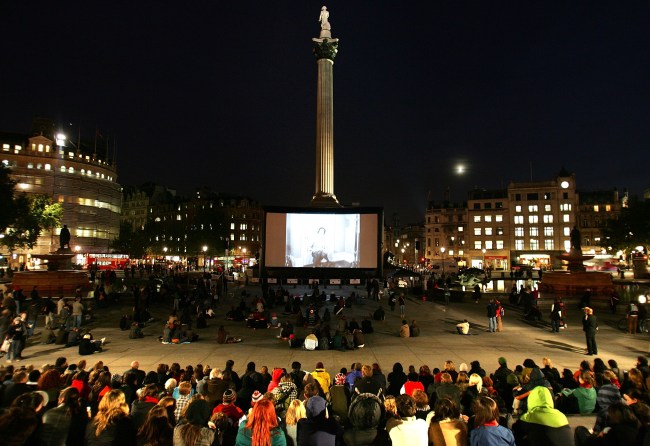 Ask any director, writer, or cinematographer for advice on breaking into the industry and they'll all say the same thing: Get directing. Get writing. Start shooting ASAP. Figure it out on the fly. There are 16-year-olds out there making movies, why aren't you?
Film school isn't like being a doctor. There are no promises of wealth once you graduate. Perhaps you should reconsider going into massive debt and create your own film school by hitting the festival circuit. Imagine, you'll be watching films from directors all over the world. You'll have the ability to chat with the minds behind the art. You'll be exposed to the cutting edge of the industry's technological boom. You'll build a network of peers, producers, distributors and financiers that will be crucial to getting your own work on screen one day.
There are so many reasons to the travel the world — #VanLife, Inca trails, Instagram fame. Every time you travel, you learn. You grow. You evolve. So check out this month-by-month breakdown of the best film festivals around the world, all 100% worth booking a ticket to and learning from:
MAY
May is a big month for movies. Cannes (11-22 May 2016) and its Marche du Film are the gold standard of film festivals. Cannes itself is a tiny city on the Cote d'Azur and not without its charms. But unless you have a really good reason to be doing business in Cannes, it's not the most consumer-friendly of festivals. If you really want to get a grasp on how to get a film made, then the Marche du Film's talks and market are essential film schools and worth the price of admission. Cannes' Marche du Film and Berlinale's European Film Market are where films get made and you find your network. Plus, while in Cote d'Azur you'll have time to explore Nice and Monaco. Wine, seafood, gorgeous beaches, and beautiful people: It's the French Riviera in a nutshell.
Access to March du Film is €339. For an extra €60, you can also attend Producer's Talks and lunches to pitch your film and learn from the masters. Don't come unprepared. Practice that pitch until it's no more difficult to recite than taking a breath. Research who you want to pitch to and why. Know who they are inside and out. Note: Even with the above accreditation pass, you still need an "invitation" to many of the screenings.
Alternative Fest: Transylvania International Film Festival in Cluj, Romania, (27 May-5 June 2016) is a mid-sized fest that caters heavily to local culture, music, and cinema. Plus, it is in a largely untouched corner of Europe. Despite the local focus, there's still a strong international documentary program. Accreditation with full access is €50. Tickets to films and concerts are 15RON (about $3.50) a pop.
JUNE
Sheffield Doc Fest (10-15 June 2016) is probably the most fun you'll have at a documentary festival. The focus here falls on innovations, industry parties, and a great program of shorts and features from big names and unknowns alike. The staff at Sheffield is exceptionally helpful at making sure attendees enjoy the fest as much as possible. They'll even help you set up meetings to pitch your ideas to the right people. Their Alternate Realities section features some seriously cool stuff happening with virtual reality in the world of documentary. Like other doc fests, attendees get access to filmmakers and artists through Q&As and industry events that allow them to dive deep into the medium. And they screen movies in a cave. Sheffield itself is a nice little town up Yorkshire way right next to the Peak District, which is also definitely worth exploring.
Passes start at £129 for limited access to screenings, and £249 for full access.
Alternative Fest: Seattle International Film Fest (29 May-12 June 2016) is a great second tier fest where you'll find all the features and docs from the bigger hitters. Seattle is an awesome place to spend time, and watch movies and SIFF spends a lot of time making a very user-friendly program, and spends the money to bring the big names to promote their films. Plus, SIFF operates out of just two venues, the classic Egyptian Theater and Uptown, so you won't have to spend too much time running between screenings. Ticket packages start at $54 (six screenings), and passes start at $1,000. Party tickets start at $45.
JULY
Auckland International Film Festival (14-31 July) is a long way to go for movies, but this part of the world is definitely worth the trip. The movies are just nice cherries on top of the travel sundae. NZIFF offers a wonderful showcase of films from Southeast Asia, Australia, and New Zealand. The fest also highlights local and international indigenous cinema in its vast program. New Zealand's film industry is booming, thanks mostly to Peter Jackson staying local. And you'll be in New Zealand, a country resplendent with natural beauty and Jemaine Clement! What more could you possibly want?
NZIFF is an open festival. There's no market, really, but you'll meet and hang with some great local filmmakers. Tickets are available online or at the box office and start at NZ$18 (about $12).
Alternative Fest: Karlovy Vary International Film Festival (1-9 July 2016) is situated in a picturesque little corner of Bohemia amidst mountains, forests, and bubbling hot springs. This fest spends money to bring in top-level talent to mingle in the streets and spas. KVIFF also offers a great glimpse into Central and Eastern European features and docs that may not get exported beyond Europe. Industry accreditation is CZK3,000 (about $125). Individual tickets are available at ticket counters around town and cinema box offices from CZK250-CZK500 ($10-$20).
AUGUST
The Sarajevo International Film Festival (12-20 August 2016) has a lot to offer for young filmmakers and cinemagoers alike. It has a wonderfully regional specific program plus industry events with interesting international talent. The industry and the audience blend since the access is fairly open to anyone willing to pay for a pass. Sarajevo also allows you to explore Bosnian culture alongside filmmakers and artists still grappling with the horrors of the recent past. Bosnia in general is a great place to explore the often forgotten world of Europe's largest Muslim community. It's a truly unique and personal experience.
Passes start at €149 for general admission to films, and €227 for full access to everything.
Alternative Fest: FIC Monterrey (25-30 August 2016) in Mexico is a fine festival that offers a fantastic selection for features, shorts, documentary, and animation mostly focused on Mexican filmmakers and artists, combined with a wonderfully thought-out selection from the international community. And if animated film is your jam, this is your fest, to say nothing of the spectacular venues: Check out the Teatro de la Cuidad for a modernist masterpiece of cinema architecture. No ticket prices are available online, but expect to pay around $7-$12 per screening.
SEPTEMBER
This is the month of Toronto, Telluride and Venice, which also means those fests will have the last premieres for any major films arriving in time for Oscar consideration that year. (Unless it's a documentary, because their deadline is August 31 for some reason.)
Let's go with Toronto because it's probably the most accessible to young filmmakers. TIFF is a mammoth film festival that ranges from huge industry films to small experimental shorts, and everything in between. The industry side of the festival is Canada's biggest film market and an absolute must if you can't afford the flight to Berlin or Cannes earlier in the year. Industry events range from amazing talks on breaking into the feature or doc industry, to Q&As with some established pros from all the film markets. There are pitching events, lunches, and ubiquitous parties (if you're savvy enough to score invites). TIFF also offers one of the best kids' programs around, and offer really cool interactive workshops to get younger audiences interested in filmmaking.
Tickets start at $13 and go up to $22.75 for special screenings. Industry pass costs $250 with access to screenings and all industry events.
Alternative Fest: San Sebastian International Film Festival (16-24 September 2016) is a fantastic fest held at one of the best food destinations on the planet and it's a great antidote to the industry-heavy TIFF and Venice.
They also offer great support to young filmmakers trying to make it in the industry. Case in point, their industry accreditation is only €70. Tickets cost €7.20 each, and €2 (!) for kids' films. Ticket packages offer up to 25% discounts. A full screening pass is €390.
OCTOBER
Let's take a break from the serious fests and enjoy some horror. Sitges Film Festival — or Festival Internacional de Cinema Fantastic de Catalunya, if you're not into the whole brevity thing — is a horror fest that takes place about 45 minutes south of Barcelona in a little beach town called Sitges. Sitges focuses on fantasy and horror, and they spare no expense in bringing the big names into town to promote their movies. If you're a horror fan and want to explore that corner of the industry, then this fest is where to catch all the gory wonders that are coming your way in the world of horror. Sitges itself is a great beach town: What better way to shake off a terrifying film than to sit on a beach and drink vermouth?
Tickets start at €4.50 for matinees then range from €6-15 for most screenings. Packages range from €99-€350. Industry accreditation is only €45.
Alternative Fest: Jihlava International Documentary Festival (25-30 October 2016) is a documentary showcase and industry fest in Jihlava, Czech Republic and another must stop for emerging filmmakers and producers. Jihlava also offers a great program from international docs to Eastern European gems. Plus, any reason to hang out in the Czech Republic is always worth it. They do beer and pork extremely well.
Accreditation starts at CZK350 ($14.50!) for an all access pass to screenings. That's an insane value.
NOVEMBER
November has some important doc fests: IDFA in Amsterdam and DOKLeipzig in Leipzig. These fests are musts for lovers and makers of documentary and their industry events are legendary. However, there's a little fest in Mecklenburg-Vorpommern in the former East Germany that is such an intimate affair that it's also a can't-miss. DokumentART (11-15 November 2016) is a small festival in a tiny town that each year features about 30 films in competition and a nicely selected counter program. The fest values young talent and bring in filmmakers to the screenings for intimate Q&As. This is a place where you can truly sit down with a filmmaker for a beer and chat, a rarity in an ever-growing documentary film industry. Neubrandenburg itself is a quaint little town with a medieval wall around it and a nice lake to relax by about two and a half hours north of Berlin. Once you're done in Neubrandenbrug, you can always head down to Leipzig or over to Amsterdam for some industry meetings.
Prices start a €5 per screening, and €40 for a pass. Accreditation is €15 for industry, and €5 for film students!
Alternative Fest: Cork Film Festival is another intimate affair. Here you will find an array of young talent and a showcase for the best Ireland has to offer in features, shorts, animation, and documentary. Cork itself is an excellent city to spend days exploring. It has pedestrian-friendly streets teeming with delicious eateries and a plethora of pubs. The surrounding area along the sea is gorgeous, as well, and worth an extra day or two between films. Tickets are between €7-€10. Passes start at €48.
DECEMBER
Festival Internacional del Nuevo Cine Latinoamericano (1-18 December 2016) will have its 37th fest this year in Havana, Cuba. This fest offers a wonderful glimpse into Latin American and Caribbean features, shorts, docs, and animation. There are also the requisite parties, music and art to go along with the films. Many of these films are not exported widely, so attendance means you'll be seeing some truly unique movies. Plus Havana is full of cinemas from a bygone era with fantastic architecture. (It's worth the trip for their cinemas alone.) With Cuba opening up to U.S. travelers (everyone else has already been there, sorry), this fest is easily within reach.
Accreditation is only $45, but you'll need to properly register with authorities which takes 60 days. Ticket prices are under $2.
Alternative Fest: Dubai International Film Festival (7-14 December 2016) is a fairly new fest with a lot of money. That allows for a great program and for a lot of big names to be flown in to hobnob. The festival itself has a program of high-end films from around the world which screen in amazing, new, shiny cinemas across Dubai. The Dubai Film Market is quickly becoming the place to go for pan-Asian filmmaker, and the fest has done an amazing job building this festival in a short amount of time. It ain't cheap, though — individual ticket prices range from $8-$20 and they don't advertise their industry passes.
JANUARY
This one it easy. The Sundance Film Festival (19-29 January 2017) is one of the most important fests in the U.S. The features, shorts, and documentaries screening at Sundance put the focus on indie and emerging filmmakers, and will give you the first look at what the year will bring pop culture-wise in the film industry. If you want an idea who and what could be nominated for Oscars in 2018, go to Sundance in 2017. The festival is also making great strides in embracing the nearly invisible world of Native American filmmaking.
Also, you get to trudge around in the snow in a pretty small town where running into your favorite filmmaker, or actor, is a huge possibility. Downside: There's no harder place to score an invite to a party than Sundance (except maybe Cannes). So don't get your hopes up for going numb while vaping with Leo.
The cheapest pass for Sundance is the Grand Theatre pass at $300. $3,500 for all access.
Alternative Fest: The Palm Springs International Film Festival serves as a preview to Sundance. It's usually held the first week of January. If you ever wonder why everyone is so tanned at Sundance, it's because they just spent a week in Palm Springs. Palm Springs also highlights Gay and Latino cinema (mostly out of L.A.), and hosts great parties and screenings celebrating those segments of the industry. Tickets start at $13 a pop. You can attend the Galas for $50-$75 per ticket.
FEBRUARY
February is when the whole industry heads to the snowy streets of Berlin for the Berlinale (9-19 February 2017). The Berlinale is a massive festival that spans most of the city. It also hosts the European Film Market which draws 10,000 industry movers and shakers to the city. If you want to get a film made, you have to get that elevator pitch ready and attend the EFM. Filmwise, you can enjoy hundreds of movies, screened across Berlin's historic and beautiful cinemas. Berlinale boasts major premieres and amazing new filmmakers coming out of Asia, Africa, and South America. The fest also focuses heavily on films with political and humanitarian messages alongside Hollywood blockbusters. It's a heady mix. Recently, Berlinale has also upped its Culinary Cinema game. You can watch some of the best food-porn being produced exclusively on their IMAX screen!
You can get accredited for €125 and have free access to every film and the EFM (and various parties thrown by the EFM attendees). That's one of the cheapest all-access passes for any major film festival! Once you have access to the EFM, you'll have access to the thousands of industry pros. For everyone else, tickets are between €10-€14 per movie and are available for purchase online.
Alternative Fest:  Portland International Film Festival (11-27 February 2017) is an intimate affair compared to the massive size of a Berlinale or Sundance. You don't have as many industry people and you're not going to hear of any deals getting made. That said, it's a great fest to watch films from around the world making the festival rounds. (And maybe you'll bump into Fred and Carrie.) PIFF is part of the NW Film Center, so locals with the Director Level Membership can attend most screenings with a free guest pass for $400. PIFF also offers an Out of Towner pass for each weekend of the fest, at $95 per weekend per person.
MARCH
SXSW is a happening (March 11-20, 2017), and it's 100% worth attending for Austin alone. After all the snow and ice of Sundance and Berlin some sun, Shiner Bock, and BBQ is in order. SXSW started as a small music festival. Today, it's a mashup of all things pop culture, tech, and gastronomy. SXSW also offers some of the best accessibility to all of its events from tech companies to bands to film screenings — for a price. Overall, you should come to SXSW to have a little fun after the heady wheeling and dealing that happens in Berlin.
To get all access, you're going to have to lay down $1,745. Alternately, a film badge is $695, a music badge is $895, and the Interactive badge is $1,295. Not. Cheap. And expect ridiculous lines for events.
Alternative Fest: Cinema du Reel (16-27 March 2016) is a much smaller affair that takes place in Paris. The fest focuses heavily on documentary film from all around the world alongside French cinema, and its organizers put in a painstaking amount of work to create a wonderfully eclectic mix of film, from avant-garde selections to hard-hitting social docs. Most of the screenings take place at the Centre Pompidou, which is a beautiful building housing a palace to art and film. Plus, you'll get to wander around Paris watching great movies and drinking copious amounts of wine. Tickets are €6 a pop (€4 for matinees), or €29 for a book of ten!
APRIL
Visions du Reel (15-23 April 2016) in Nyon, Switzerland, is a great place for documentary. The form is moving in a lot of directions at the moment thanks to developments in VR, the advent of interactive/web-based programming, and an influx of money from streaming services. Vision du Reel brings together documentary industry movers and shakers with the artists who bring documentary to life on the screen, mixing the work of established masters with newcomers. Entertainment industry pretension are almost nonexistent at doc fests likes this, which is part of the attraction.
One ticket will set you back CHF 15. A Festival pass with almost full access to everything will cost you CHF 180 (USD and CHF are basically equal in value).
Alternative Fest: Tribeca (13-24 April 2016) is a great festival. Full stop. The Robert De Niro-backed fest has been focusing a lot of technology lately, and its documentary game is strong, as well. Plus, it's in New York, so in-between screenings, options are near endless. A full access pass is $1,250. Single ticket passes start at $45.
See you on the road and in the theater!
Zachary Johnston is a director, writer, traveler, and part-time chef and mixologist. You can see for yourself on Instagram @ztp_johnston, or on Twitter@ZTPJohnston.