Berlin is a lot of cities rolled into one: West and East, the bourgeoisie and the blue collar, the hipsters and the refugees (90,000 so far) all living side-by-side-by-side. Somehow it all works. Also, Berlin is cheap. Really, really cheap.
One could argue that Berlin isn't really all that German. It's an outlier in the Bundesrepublik. Only 70% of Berlin's population is German. The city boasts 25 non-indigenous communities: Turkish, Polish, Vietnamese, Iranian, Israeli, Russian, American…it goes on. With that diversity comes dynamic culture, eclectic food, and an exciting art scene that sets Berlin apart from any typical associations with classic German culture. But, don't worry, they still have beer gardens! The water is clean. The city is green. Over 500,000 people commute to work and school every day via bicycle.
Further visual evidence of the city's general excellence:
THE PARKS
Berlin is a city of parks, boasting 2,500 parks and gardens. That's a lot. Berlin most recently converted its third airport, Tempelhof, into a massive open park. Its runways are now jogging, skating, wind-surfing lanes. Its lawns are filled with barbecues in the summer. One corner has baseball diamonds, another has dog runs, yet another has a massive public garden. In the summer, they host a music festival.

If you get lost finding Tempelhof, don't worry — you'll probably just stumble into one of the other 2,499 parks. There are palaces with amazing gardens! There are forests with wild boar and fox! There are working farms! There's outdoor Karaoke! It's the best way to enjoy Berlin. Grab a crate of beer, a disposable BBQ, some food to grill on said BBQ, and head outside.
https://www.instagram.com/p/BAcoxd3xRry/
https://www.instagram.com/p/7pWA7qAI33/

https://www.instagram.com/p/BDjKaHjvQ-f/
THE BEER
Beer is about as German as you can get. Berlin already imports an impressive amount of German, Czech and Polish beers into the city. So the choices are damn near endless in corner shops and grocery stores. Probably one of the greatest traditions in Berlin is the Späti, or corner shop. They're usually open 24/7 (a real rarity for Germany). They sell beer just above cost. So a .5l bottle will set you back no more than €1.50/$1.70 for top shelf beer! You can buy your beer and snacks then just head across the street to a park to enjoy said beer and snacks.
Although the craft scene came late to Berlin, it's exploded with tasty beers of every variety being brewed across the city. Since about 2008, over 30 microbrews have popped up. Funnily enough, the American population is a large force behind this movement.

https://www.instagram.com/p/BBbFOfEKDqT/
And, lastly, there are the beer gardens. Once spring rolls around, the gardens start to open all over the city. There are over 30 to choose from. Whether you're in the middle of the city, hiking in the park outside the city, or just exploring a neighborhood, you're bound to bump into a lush and convivial beer garden in Berlin. They all serve food and beer, and often have a play park for the kids to amuse themselves with while mommy and daddy get their tipple on.

THE FOOD
Berlin's population is 30% immigrant. That means one thing: Great food from all over the world. It would be easy to just fill the rest of this post with Instagram shots of Berlin's food (it's temping!). Mexican, check. Israeli, check. Thai, check. Taiwanese soup kitchens, check. Vietnamese markets, check. Seafood bars, check.
You get the point. Berlin has evolved into a the food-loving epicenter of not only Germany, but central Europe. It's an island of BBQ, over-stuffed burgers, klopse, smoothies, vegans, omnivores, and every damn thing in between. Even 10 years ago, this was not the case, as a decent burger and taco were very hard to come by. Not so today. There are places in Berlin where you can get a really decent falafel for €1/$1.14. NOTE: That is the cost for a meal.
https://www.instagram.com/p/BDflTyHDIMM/

THE FESTIVALS

Between the start of spring and the end of summer, there are about 80 festivals across Berlin. Some of them are small affairs like block parties, others are massive events drawing hundreds of thousands to the streets. May Day, Carnival of Cultures, Open Air Galleries, Night of the Sciences, Fete de la Musique, Christopher Street Day, Night of the Open Museums — the city knows how to party. Berlin even holds the Berlin International Beer Festival. This is two miles of blocked off streets, right in the center of the city, with over 2,000 beer vendors from around the world. Last year, nearly half a million people attended. And the fact that it is in the height of summer, it makes for a great alternative to Oktoberfest: that is, no asshole bouncers, better selection of beer, and always great weather.
https://www.instagram.com/p/5AP8ybmTDr/
https://www.instagram.com/p/3GOhbCMbo6/

Whatever your lifestyle or interests, there's bound to be a fest for you to enjoy on your visit. All of these events are open air, and FREE to attend. You'll find food, live music, art installations, crafts, and plenty of alcohol and weed to go around.
During May Day, they close off a whole neighborhood. There are about 30 stages of every genre of music you can image, hundreds of bars and food stalls, and a lot of people. And then this happens:
It also helps that the beer costs €1…
THE CINEMAS
Berlin has a long and storied history with movies. Some of Hollywood's greatest cut their teeth in this city. Today, Berlin hosts the Berlinale which brings tens-of-thousands of industry heavy hitters and cinephiles to the city. One of the great things about that fest and Berlin is that it has a great collection of classic cinemas across the city that span from the Weimar years to Communism to present day.

As a traveler, immersing yourself in the local culture goes beyond churches, museums, restaurants and history. To get the current heartbeat of the city, learn their sense of humor, what makes them jump, and where their psyche is, watch their movies with a local audience! Plus you'll get a pretty cool architectural tour, too:
https://www.instagram.com/p/BDjdaVsPilu/
Given Berlin's varied demography, you can easily find German, Turkish, Russian, and French films subtitled for English speaking audiences. It's also one of the only places you'll find that plays movies from the Anglo-sphere in their original, no dubbed glory.

THE ART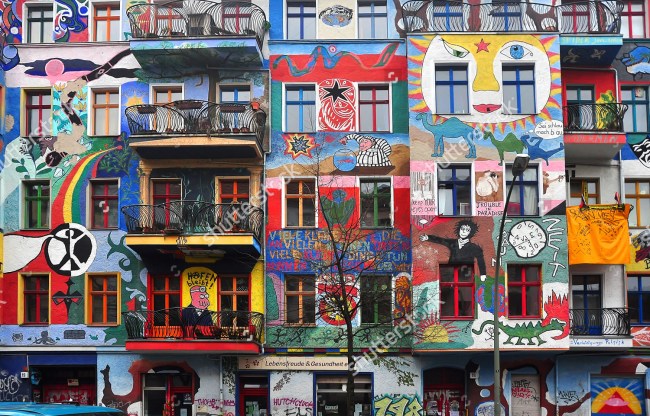 Berlin has a large selection of the typical museums to offer the visitor and there's a literal plethora of art galleries littering each neighborhood. The real pleasure of Berlin is the free street art covering buildings, trains, and, of course, the wall.
Berlin embraces street art. If you want practice, head over to Mauerpark and hone some skills. House owners commission graffiti artists to paint their buildings. The public transportation even turns a blind eye to artists using trains and stations as a canvas. Basically, the whole city is one big art installation.
https://www.instagram.com/p/Q1ZPCOhYbJ/
THE ACCOMMODATION IS CHEAP

Like most cities these days, Airbnb is huge. Berlin also has some of the cheapest hostels, hotels, and flats in all of Europe. You can easily find a bed in a hostel for €10 a night if that's your jam. Mid-range corporate hotels have standard rooms for €30-50 a night, making Berlin one of the cheapest places to stay in Europe. Not to mention, nearly every place you stay will have a full breakfast included in the price. So there's one meal's expense saved!
If you want to go big, then there's an abundance of boutique and 5-star establishments to quench that thirst.

THE BVG
This is how you build a world class public transport network. There are very, very few places in the world, much less Europe, where you can get from the airport to the city center for €2.70/$3.08 in less than 30 minutes. Berlin has one of the oldest subway and elevated train systems in the world, the U-Bahn. This is augmented by the S-Bahn lines, tram lines, bus lines, and regional trains. ALL of which run 24 hours Friday to Sunday, and only close from 2 a.m. to 4 a.m. from Monday to Thursday, with the some metro bus lines still functioning 24/7. Each ride is €2.70 for a two-hour ride with as many changes between forms of transport as needed. A day pass costs just €7. That's $8 t0 go everywhere in Berlin for 24 hours. Given that is nearly how much it costs just to a single journey in Zone 1 in London, it's clearly a steal.
Plus it's a great way to explore the city. Just don't be a gawky tourist during rush hour.

THE NIGHTLIFE
https://www.instagram.com/p/BAKJpvmL3u0/
People have been traveling to Berlin to party for 100 years. From Josephine Baker and Marlene Dietrich to Bowie and Iggy to Nick Cave to Bono, Berlin has been where you go to embrace the artist and hedonist inside and let them run the show for awhile.
https://www.instagram.com/p/BDx66aHt6Sk/

Berlin has the perfect confluence of cheap alcohol, easy access to recreational drugs, and iconic venues to make it a place to get lost in the haze of intoxicants. For some that's proven a little too easy. For others, it's just part of the life of a Berliner. Berlin houses renowned cocktail bars, clubs, discos, bars, music venues, speakeasies, kiosks, and every place in between to get your tipple on. And you'll always be able to hit a Späti to get that all important last beer for the ride home.
There are literally too many places to list. Even if this entire post was just about Berlin nightlife, it wouldn't be enough space to cover everything. In any given neighborhood, you'll discover a damn near endless variant of options to lose yourself for a night, weekend, month…
Check: Simon Dach, Boxey, Schlesi, Holzmarkt, Kotti, Mehringdamm, Potsdamerstr., Kantstr., Winterfeldplatz, Torstr., Schillerkiez…or just wander.
https://www.instagram.com/p/BECfngiP6mi/

https://www.instagram.com/p/BCV4YXNLvF6/
WHERE IT COMES ALL TOGETHER
The Thai Park
In Preussenpark every weekend, the Thai community comes together and puts together a massive, pop up food market. It's in a park. It's multi-cultural. The food is delicious and affordable (nothing is over €5/$5.70). The drinks are amazing and cheap (€1.50/$1.70 for a .5l beer). There's a huge playground for the kids. There are even decent public toilets. It's everything that makes Berlin great rolled into one place. If they'd just show a movie, it would be this whole list at once!
People bring blankets and friends and family and spend the day L.I.V.I.N'. Berlin is a great city for that…Which is all we've been trying to say all along.
https://www.instagram.com/p/8aop7nFkrX/
https://www.instagram.com/p/72573EsPTQ/