Legendary traveler Christopher Many famously said that he could live on $6,000 a year. That's because he was inching along at a glacial pace and had a system worked out in which he cooked every night and bought inexpensive, local, ingredients. He almost never stays in campsites.
How bad do you really need that beer at the end of the day? It sure feels good, but, over time, it'll cost ya. If you're moving into a van to live cheaply, know that it will be cheap, but not free. If you're not someone who is able to cook, going out to eat every night is costly. Unless you plan these things out, it adds up fast. Cooking every night is important, you can eat healthier and you'll feel better. But how and where are you going to keep those groceries? And does your van have the means to cook every morning and night comfortably?

3. Let's Talk About Campsites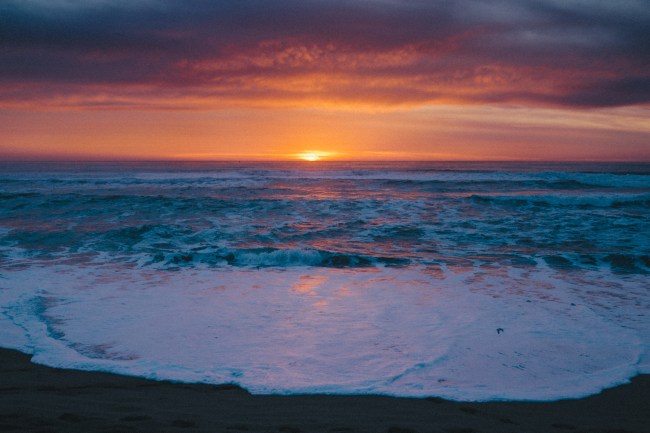 Yes, Walmart parking lots are free and they usually don't kick you out. But who wants to stay underneath florescent lights in the middle of a city every night? It is a point of pride that we've never stayed in one. Rest stops? Sure. Walmarts? I just can't do it.
Get a map, or download one. Learn to get to your campsite before sundown. If you're staying out west, free camping is relatively easy to find with fire service roads and removed turnouts. If you're staying back east, things are a little harder and run the risk of being more expensive. Matt McDonald writes about this topic brilliantly. You should check it out.
You can surely park your van in a nice looking neighborhood, but keep in mind that living in a vehicle, by definition, makes you homeless. Residents of that nice looking neighborhood are well within their rights to ask you to leave or call the police. If such a thing happens, be respectful and don't test people's comfort. They will call the cops. The van I own is home to myself, my girlfriend, and our dog, but I sometimes forget that a lot of other people don't see it that way. Respect those who don't appreciate what you're doing and avoid looking like a menace. People tend to ask menaces to leave.
In order to avoid the 3 a.m. police lights, do some research. Data is expensive here in the states. So when you have internet, use part of your web browsing time to plan out your moves. Traveling with someone, be prepared for the daily "where are we sleeping?" conversation. If you're moving regularly, it is a topic that will consume a fair bit of your morning and evening talks. If you're unwilling to discuss that topic, chances are you'll end up sleeping in a Walmart parking lot.
There are a few apps/websites to help you out, freecampsites.net is a great network that is primarily U.S. based and iOverlander covers the states, as well as international roads really well. Use them and feel free to contribute when you find a spot of your own.
4. Be Ready To Change Plans
Once upon a time, we were racing to the Northern California coast to find a place to sleep before sundown. It was raining, as it often does in Northern Cali. I was driving. While cruising through the woods, I spotted a particularly pretty beam of light. I stopped the van and reversed excitedly thinking of the photos we could shoot in that light. Our '87 G20 is not lifted and at the time had very small tires. I blinked and…*SHEEEE-THUNK*
The corner of the road gave out and we slipped into a ditch. Just like that, we were grounded.
Another time, I got back from a surf to find a flat tire that we then needed to patch up. Because of the setback I missed the wind switch and couldn't get another surf in that day. Tragic, I know. Soon after the van had a funky smell and we needed to investigate. The parking lot where we stopped to track down the funk source became "home" that night. Two weeks later, we were leaking coolant…from somewhere that coolant wasn't supposed to be in the first place. $600 later we were back on the road.